Phoenix scoops up Martian soil
BY DR EMILY BALDWIN
ASTRONOMY NOW
Posted: June 3, 2008
One week after landing on the Red Planet, Phoenix lifted its first scoop of Martian soil as a test of the lander's 2.35 metre long Robotic Arm.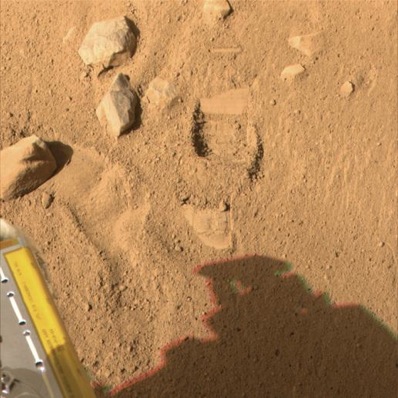 The first dig test area to the north of the lander. The sample was taken from the centre of this image; the Robotic Arm's scraping blade left a small horizontal depressiong above the sample collection site. Image: NASA/JPL-Caltech/University of Arizona/Texas A&M University.
The practice scoop was emptied onto a designated dump area on the ground after the Robotic Arm Camera photographed the soil inside the scoop. Unidentified white fragments were noticed in the scoop and also in the hole from which the sample came, glinting against the rust-coloured soil.
"That bright material might be ice or salt," says Ray Arvidson, Phoenix co-investigator for the Robotic Arm. "We're eager to do testing of the next three surface samples collected nearby to learn more about it."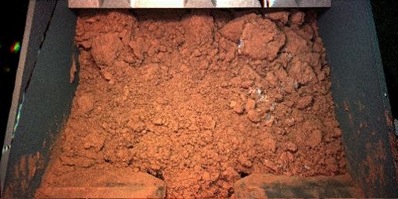 The product of the first dig into the Martian arctic soil. Scientists speculate that the white patches seen in the right hand side of the image are ice or salt deposits, probably similar to the material seen under the lander earlier this week. Image: NASA/JPL-Caltech/University of Arizona/Max Planck Institute.
The project team speculate that this white material is probably the same material seen in previous images from under the lander in which dust was swept from the upper surface of an ice table during the landing phase. They propose that the material could be cementing the soil, making it slightly cohesive, and suggest that Phoenix has exposed the top of a thick layer of ice, with bits of that ice being scraped off by the Robotic Arm.
Later this week, the Phoenix team will direct the arm to deliver its next scoopful of Martian soil to the onboard suite of instruments that will heat up and sniff out the constituent ingredients.



Related Stories

Jun 2 Phoenix sees possible ice read more
May 30 Phoenix flexes robotic arm read more
May 28 HiRISE captures Phoenix descent read more
May 26 Spectacular new colour view of Mars read more
May 23 Phoenix prepares for Mars landing read more