Smallest extrasolar planet found
BY DR EMILY BALDWIN
ASTRONOMY NOW
Posted: June 3, 2008
An international team of astronomers has discovered an extrasolar planet just three times the mass of Earth orbiting a star so small that it may not be massive enough to maintain nuclear reactions.
Discovering a planet with a similar mass to Earth is considered the holy grail of the search for extrasolar planets, and maybe even life in other solar systems, but the majority of planets found to date have been massive Jupiter-sized gas giants orbiting their parent stars at a fraction of the orbit of Mercury. The discovery of MOA-2007-BLG-192Lb and its parent star is the first "small" extrasolar planetary system to be discovered.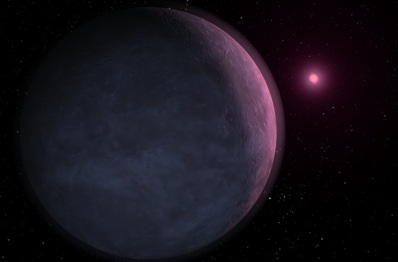 Artist impression of the newly discovered planet orbiting a brown dwarf star with a mass of just six percent of our Sun. The planet is 3.3 Earth masses and could be made of rock and ice, with an ocean covering its entire surface. Image: NASA.
The breakthrough discovery was made possible by the new MOA-II telescope at New Zealand's Mt. John Observatory, which made use of the gravitational microlensing method. This technique requires two stars to line up perfectly from our point of view here on Earth, a rare and often brief – on the order of a day or less – occurrence. As the two stars begin to line up, the foreground star acts as a lens to magnify and distort the light from the more distant star. In this case, there was an additional gravitational distortion from the planet orbiting the foreground star MOA-2007-BLG-192L, which enabled the astronomers to collect data from both the planet and the star.
"The new MOA telescope-camera system allows us to monitor virtually all of the known microlensing events for planetary signals," says David Bennett of the University of Notre Dame. "We would not have made this discovery without it."
Follow-up observations from the Very Large Telescope confirmed that the host star has a mass of about six percent the mass of our Sun, placing it into the category of either a brown dwarf or very low mass hydrogen burning star. "Our discovery indicates that even the lowest mass stars can host planets," says Bennett. No planets have previously been found to orbit stars with masses less than about 20 percent of that of the Sun.
There are also other similarities to our own Solar System: the 3.3 Earth mass planet orbits its host star with a distance similar to that of Venus, however, because the star is likely to be several thousand times fainter than the Sun, the top of the planet's atmosphere may be colder than Pluto. But, its massive atmosphere would allow warmer temperatures nearer the surface, and it is possible that heating by radioactive decay in the planet's interior could make its surface as warm as the Earth's. There is even speculation that the rocky planet could be completely covered by a deep ocean.
The discovery lays the course for NASA's Kepler mission, to be launched early next year, and for NASA's planned James Webb Space Telescope, scheduled for launch in 2013, which will search for signs of life on Earth mass planets orbiting low mass stars.
"I'll hazard a prediction that the first extrasolar Earth mass planet will be found by microlensing," says Bennett. "But we'll have to be very quick to beat the radial velocity programs and NASA's Kepler mission."