New map shines light on Moon's shadowed craters
BY DR EMILY BALDWIN
ASTRONOMY NOW

Posted: 19 June, 2009

A new high resolution map of the Moon's rugged south pole region provides new and unprecedented detail of permanently shadowed craters that could be hiding water ice deposits.
The discovery of water ice reservoirs on the Moon would be a significant step to the future of maintaining a long-term human presence on the Moon. "Since the beginning of time, these lunar craters have been invisible to humanity," says Barbara Wilson of NASA's Jet Propulsion Laboratory and manager of the study. "Now we can see detailed topography inside these craters down to 40 metres per pixel, with height accuracy of better than 5 metres."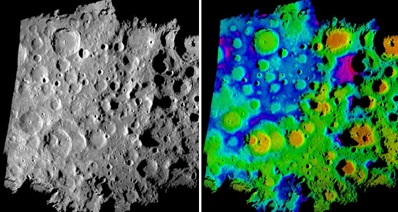 The black and white image on the left is a computer generated view of the pole from radar reflectance data. The colour image on the right is a topographic map of that same area and is the highest resolution topography map to date of the Moon's south pole.
The map was compiled using data from the Deep Space Network's Goldstone Solar System Radar, which, in a two and a half second round trip, uses a 70 metre dish to send radar signals to the Moon that are reflected back and detected by two 34 metre antennas.
The Goldstone data was compared with laser altimeter data recently released by the Japanese Aerospace Exploration Agency's Kaguya mission to position and orient the radar images and maps. The new map provides contiguous topographic detail over a region approximately 500 kilometres by 400 kilometres and will help scientists working on the Lunar Crater Observation and Sensing Satellite (LCROSS) to plan their encounter with a permanently dark crater close to the south pole.
LCROSS launched Thursday evening and along with its attached Centaur upper stage rocket will separately collide with the Moon, throwing up a pair of debris plumes which will be analysed for the presence of water ice or water vapour, hydrocarbons and other hydrated material.
Together with the Lunar Reconnaissance Orbiter, which also launched yesterday and will create further detailed maps of the lunar surface, NASA will be well-equipped for human exploration of the lunar south pole.