Top Stories





Mud volcanoes could bubble up life on Mars

...According to scientists presenting their research at LPSC, mud volcanism on Mars could provide a unique window into the astrobiological exploration of the red planet...

Scientists fine-tune Hubble from the ground

...A scientist at Rochester Institute of Technology has expanded the Hubble Space Telescope's capability without the need for new technology, by recalibrating existing instruments...

100 hours of astronomy

...Another great Cornerstone Project of the International Year of Astronomy kicks off this week with 100 hours of astronomy - the largest single science public outreach event ever organised...



Spaceflight Now +





Subscribe to Spaceflight Now Plus for access to our extensive video collections!
How do I sign up?
Video archive

STS-120 day 2 highlights

Flight Day 2 of Discovery's mission focused on heat shield inspections. This movie shows the day's highlights.

Play

STS-120 day 1 highlights

The highlights from shuttle Discovery's launch day are packaged into this movie.

Play

STS-118: Highlights

The STS-118 crew, including Barbara Morgan, narrates its mission highlights film and answers questions in this post-flight presentation.

Full presentation
Mission film

STS-120: Rollout to pad

Space shuttle Discovery rolls out of the Vehicle Assembly Building and travels to launch pad 39A for its STS-120 mission.

Play

Dawn leaves Earth

NASA's Dawn space probe launches aboard a Delta 2-Heavy rocket from Cape Canaveral to explore two worlds in the asteroid belt.

Full coverage

Dawn: Launch preview

These briefings preview the launch and science objectives of NASA's Dawn asteroid orbiter.

Launch | Science

Become a subscriber
More video







Galaxy Zoo aims for one million classifications in one hundred hours
BY DR EMILY BALDWIN
ASTRONOMY NOW

Posted: 02 April, 2009
As part of the International Year of Astronomy's 100 Hours of Astronomy event, Galaxy Zoo are challenging their users to make one million classifications in the next one hundred hours.
On the first day of 100 Hours of Astronomy the "Zoonometer" has already hit over a quarter of a million clicks, but there is still a long way to go. Join in and not only be a part of producing the world's largest and most detailed catalogue of galaxies, but also be a part of the International Year of Astronomy.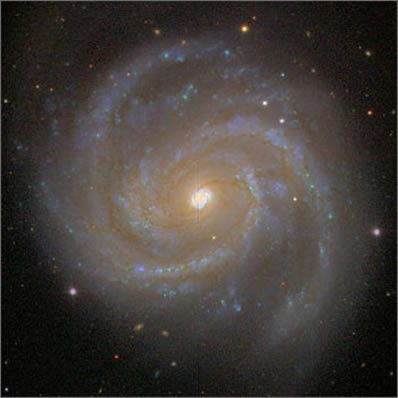 How many spiral arms does this galaxy have and which way is it rotating? Classify galaxies this International Year of Astronomy at www.galaxyzoo.org and help Galaxy Zoo make one million hits as part of 100 Hours of Astronomy.
"In this International Year of Astronomy, it's great to have so many people looking at these beautiful image of galaxies from the Sloan Digital Sky Survey," says Professor Bob Nichol of the University of Portsmouth, a member of the original Galaxy Zoo team. "No single professional astronomer has ever looked at all these images and sometimes astronomers miss the wonder of what they are. I think the public get this better than us."
Galaxy Zoo 2 was launched earlier this year, calling on the public to delve deeper into 250,000 galaxies highlighted in the original Galaxy Zoo as being particularly weird and wonderful. The first Galaxy Zoo asked users to say whether a galaxy was spiral or elliptical, and which way it was rotating, but Galaxy Zoo 2 asks for details on the number of spiral arms, the type of central bulge and if a merging event is taking place.
Astronomers came up with the idea of getting online volunteers
involved because the human brain is better at pattern
recognition tasks than a computer. The initiative was met with resounding enthusiasm and tens of millions of classifications have already been made by more than 150,000 armchair astronomers from all over the world. Visitors to Galaxy Zoo can spend any length of time working on the site - even one classification will add value and insight into understanding how galaxies, including our own Milky Way, formed and evolved.
Link directly to Galaxy Zoo here and keep track of the number of classifications over the weekend. There are hundreds of different events taking place all across the world as part of 100 Hours of Astronomy, to find out where your nearest event is, check out www.100hoursofastronomy.org.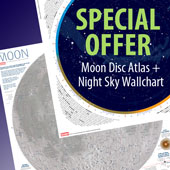 The Planets


From tiny Mercury to distant Neptune and Pluto, The Planets profiles each of the Solar System's members in depth, featuring the latest imagery from space missions. The tallest mountains, the deepest canyons, the strongest winds, raging atmospheric storms, terrain studded with craters and vast worlds of ice are just some of the sights you'll see on this 100-page tour of the planets.


GET YOUR COPY


Hubble Reborn


Hubble Reborn takes the reader on a journey through the Universe with spectacular full-colour pictures of galaxies, nebulae, planets and stars as seen through Hubble's eyes, along the way telling the dramatic story of the space telescope, including interviews with key scientists and astronauts.


GET YOUR COPY


3D Universe


Witness the most awesome sights of the Universe as they were meant to be seen in this 100-page extravaganza of planets, galaxies and star-scapes, all in 3D!


GET YOUR COPY