Top Stories





Giant waves twisting in solar atmosphere

...Scientists have detected giant waves twisting in the Sun's lower atmosphere, shedding light on the mystery of why the solar corona is hotter than the Sun's visible surface...

The latest theory-defying supernova

...A star one hundred solar masses and one million times brighter than our Sun before it exploded, should not have self-destructed so early in its life, according to the fundamental theories of stellar evolution...

Planck and Kepler Exclusive Interviews

...Astronomy Now talks to the scientists and engineers behind the Herschel and Planck missions...



Spaceflight Now +





Subscribe to Spaceflight Now Plus for access to our extensive video collections!
How do I sign up?
Video archive

STS-120 day 2 highlights

Flight Day 2 of Discovery's mission focused on heat shield inspections. This movie shows the day's highlights.

Play

STS-120 day 1 highlights

The highlights from shuttle Discovery's launch day are packaged into this movie.

Play

STS-118: Highlights

The STS-118 crew, including Barbara Morgan, narrates its mission highlights film and answers questions in this post-flight presentation.

Full presentation
Mission film

STS-120: Rollout to pad

Space shuttle Discovery rolls out of the Vehicle Assembly Building and travels to launch pad 39A for its STS-120 mission.

Play

Dawn leaves Earth

NASA's Dawn space probe launches aboard a Delta 2-Heavy rocket from Cape Canaveral to explore two worlds in the asteroid belt.

Full coverage

Dawn: Launch preview

These briefings preview the launch and science objectives of NASA's Dawn asteroid orbiter.

Launch | Science

Become a subscriber
More video







100 hours of astronomy
BY DR EMILY BALDWIN
ASTRONOMY NOW

Posted: 30 March, 2009
Another great Cornerstone Project of the International Year of Astronomy kicks off this week with 100 hours of astronomy - the largest single science public outreach event ever organised.
The worldwide event, which so far has over 1,500 events registered in 130 countries, will kick off on 2 April and continue through to 5 April. Over one million people are expected to participate, whereby amateur and professional astronomers alike will share the experience and wonders of the night sky with people who may never have even looked through a telescope before.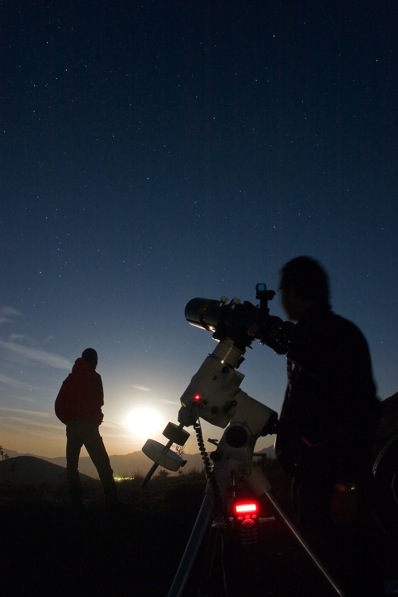 For 100 hours, from 2 to 5 April 2009, amateur astronomers, professional astronomers, educators and people all around the world will share the experience of observing the sky. Image: TWAN/Babak Tafreshi.
One ambitious event planned for the occasion is "Around the World in 80 Telescopes", a live 24 hour video webcast that will begin at 9am on 3 April and will follow the leading ground- and space-based observatories for 24 hours. The project will take viewers to all corners of the Earth, and beyond, with participating telescopes including Gemini North, Keck, the Anglo-Australian Telescope, telescopes in the Canary Islands, the Southern African Large Telescope and ESO's Very Large Telescope. Even space-based telescopes are taking part, including the Hubble Space Telescope, XMM-Newton and Integral, in a truly world-united event.
The webcast itself will be hosted at the European Southern Observatory's headquarters in Munich, Germany with live streaming by Ustream.tv. Anyone with a web browser supporting Flash will be able to follow the show via the 100 Hours of Astronomy (100HA) website and thus be a part of the project.
100HA will also be celebrated with the "Global Star Party", commencing at sunset on 4 April. Amateur astronomers and societies will be setting up telescopes in public places, from busy streets to shopping centres and military bases to rest homes, to allow as many people as possible to look at the night sky.
While Global Star Party and Around the World in 80 Telescopes are the headline acts, 100HA is also being supported by many other global initiatives such as "Sun Day" to celebrate and highlight the importance of our Sun, "100 Hours of Astronomy Junior", to connect amateur and professional astronomers with young children around the world, and 100 Hours of Remote Astronomy where observatories around the world are giving free access to their telescopes.
Be a part of a record-breaking worldwide event this International Year of Astronomy, and support your local 100HA events! Search www.100hoursofastronomy.org for your nearest event.