Spitzer paints portrait of gaseous rivers flowing around stars
BY DR EMILY BALDWIN
ASTRONOMY NOW

Posted: 09 December, 2008
A new image from NASA's Spitzer Space Telescope shows a turbulent star-forming region where rivers of gas and stellar winds are blowing out cavities in the dusty Swan nebula.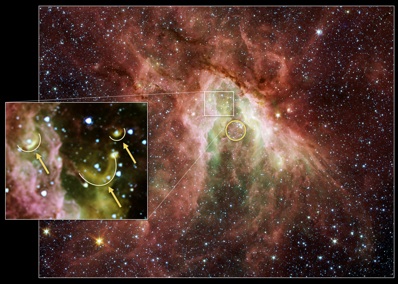 Spitzer's new infrared view of M17, otherwise known as the Swan nebula, which is located about 6,000 light-years away in the constellation Sagittarius Bow shocks (inset) reveal the directions that the stellar winds blow. Image: NASA/JPL-Caltech/Univ. of Wisc.
The picture of M17, otherwise known as the Swan nebula, provides some of the best examples yet of bow shocks, manifested as ripples of gas, that can form around stars in turbulent cosmic waters. "The stars are like rocks in a rushing river," says Matt Povich of the University of Wisconsin. "Powerful winds from the most massive stars at the centre of the cloud produce a large flow of expanding gas. This gas then piles up with dust in front of winds from other massive stars that are pushing back against the flow."
Dominating the centre of the Swan is a group of massive stars,
some exceeding 40 times the mass of our Sun and shining with a brightness up to one million times greater. Powerful radiation and winds of charged particles roar through the nebula at speeds of up to 7.2 kilometres per hour, carving out a deep cavity (yellow circle in the centre of the picture above). Astronomers believe this is an ongoing process thought to trigger the birth of new stars. As the cavity expands, gas is pushed up against winds from other massive stars, creating bow shocks in the shape of a smiley face. The direction of the bow shocks are like interstellar weather vanes, telling researchers exactly which way the stellar wind is blowing.
Povich and his colleagues also used Spitzer to take an infrared
picture of a star-forming region called RCW 49; both photographs provide the first examples of multiple bow shocks around the massive stars of star-forming regions. Ultimately, the new observations will help researchers understand how solar systems like our own are able to form and persist in the rough, celestial seas of space.
"The gas being lit up in these star-forming regions looks very
wispy and fragile, but looks can be deceiving," says Robert Benjamin, also of the University of Wisconsin. "These bow shocks serve as a reminder that stars aren't born in quiet nurseries but in violent regions buffeted by winds more powerful than anything we see on Earth."
The results of this study are presented in the 10 December issue of the Astrophysical Journal.