Top Stories





Hibernating magnetar springs to life

...a mysterious celestial object that emitted 40 visible light flashes before disappearing again could be a missing link in the family of neutron stars...

Evidence of life could survive in Martian meteorites

...an artificial meteorite plunged through the Earth's atmosphere has shown that traces of life could survive the high temperatures and pressures endured in such an ordeal...

Solar wind at 50 year low

...the Sun's solar wind output is at its lowest levels since recordings began, an effect that could see our natural shielding to cosmic rays diminish...



Spaceflight Now +





Subscribe to Spaceflight Now Plus for access to our extensive video collections!
How do I sign up?
Video archive

STS-120 day 2 highlights

Flight Day 2 of Discovery's mission focused on heat shield inspections. This movie shows the day's highlights.

Play

STS-120 day 1 highlights

The highlights from shuttle Discovery's launch day are packaged into this movie.

Play

STS-118: Highlights

The STS-118 crew, including Barbara Morgan, narrates its mission highlights film and answers questions in this post-flight presentation.

Full presentation
Mission film

STS-120: Rollout to pad

Space shuttle Discovery rolls out of the Vehicle Assembly Building and travels to launch pad 39A for its STS-120 mission.

Play

Dawn leaves Earth

NASA's Dawn space probe launches aboard a Delta 2-Heavy rocket from Cape Canaveral to explore two worlds in the asteroid belt.

Full coverage

Dawn: Launch preview

These briefings preview the launch and science objectives of NASA's Dawn asteroid orbiter.

Launch | Science

Become a subscriber
More video







A bigger challenge for Opportunity
BY DR EMILY BALDWIN
ASTRONOMY NOW

Posted: September 29, 2008
Having recently risen from Victoria Crater, NASA's intrepid Opportunity rover now has a crater 20 times larger set firmly in its sights. At over 10 kilometres away, Opportunity must trek a distance comparable to the total distance it has clocked up since landing on Mars in early 2004 to reach the giant crater known as Endeavour to mission scientists.
"We may not get there, but it is scientifically the right direction to go anyway," says Steve Squyres of Cornell University, principal investigator for the science instruments on Opportunity and its twin rover, Spirit. "This crater is staggeringly large compared to anything we've seen before."
This aerial view of Opportunity's domain, made up of around 50 images taken by the Mars Odyssey Orbiter, really puts into perspective the difference in size between Victoria and Endeavour, and the challenge the plucky rover now faces. Image: NASA/JPL/ASU.
Getting there would offer a look inside a 22 kilometre-wide crater, and the chance to probe a much deeper stack of rock layers than those examined in Victoria Crater for the last two years.
"I would love to see that view from the rim," says Squyres. "But even if we never get there, as we move southward we expect to be getting to younger and younger layers of rock on the surface. Also, there are large craters to the south that we think are sources of cobbles that we want to examine out on the plain. Some of the cobbles are samples of layers deeper than Opportunity will ever see, and we expect to find more cobbles as we head toward the south."
At 100 metres a day, the rover is unlikely to reach the target crater for another two years, an ambitious goal given that the rovers are showing more and more signs of wear and tear after surviving on the red planet's surface for well beyond their initial 90 day mission.
"This is a bolder, more aggressive objective than we have had before," says John Callas, the project manager for both Mars rovers. "It's tremendously exciting. It's new science. It's the next great challenge for these robotic explorers."
But two new resources that weren't available during the 6.5 kilometre drive toward Victoria Crater in 2005 and 2006 could make the journey slightly easier. One is the HiRISE camera onboard the Mars Reconnaissance Orbiter that can identify drive paths and navigate around potential hazards, such as boulders, on the same scale as the rover itself.
"This is a great example of how different parts of NASA's Mars Exploration Program reinforce each other," says Callas.
Another advantage comes from a new version of flight software uplinked to Opportunity and Spirit in 2006, boosting their ability to autonomously choose routes and avoid hazards such as sand dunes.
During its first year on Mars, Opportunity found geological evidence that the area where it landed had surface and underground water in the distant past. The rover's explorations since have added information about how that environment changed over time. As Opportunity now faces the long trek towards Endeavour, it could find rock layers above or below the layers already examined, adding windows into later or earlier periods of time.
Related Stories

Aug 29 Opportunity rises from Victoria Crater read more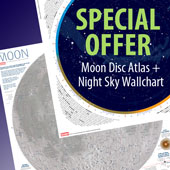 The Planets


From tiny Mercury to distant Neptune and Pluto, The Planets profiles each of the Solar System's members in depth, featuring the latest imagery from space missions. The tallest mountains, the deepest canyons, the strongest winds, raging atmospheric storms, terrain studded with craters and vast worlds of ice are just some of the sights you'll see on this 100-page tour of the planets.


GET YOUR COPY


Hubble Reborn


Hubble Reborn takes the reader on a journey through the Universe with spectacular full-colour pictures of galaxies, nebulae, planets and stars as seen through Hubble's eyes, along the way telling the dramatic story of the space telescope, including interviews with key scientists and astronauts.


GET YOUR COPY


3D Universe


Witness the most awesome sights of the Universe as they were meant to be seen in this 100-page extravaganza of planets, galaxies and star-scapes, all in 3D!


GET YOUR COPY