All eyes on Rosetta for
Steins fly-by
BY DR EMILY BALDWIN
ASTRONOMY NOW

Posted: September 04, 2008
The Rosetta control room is buzzing with anticipation as ESA's comet-chasing spacecraft makes its final preparations for a fly-by of asteroid (2867) Steins on the evening of 5 September.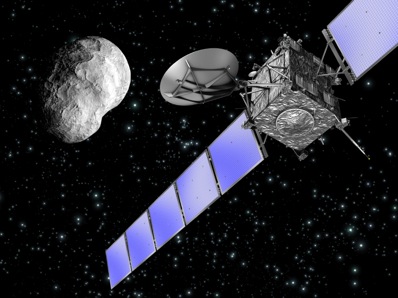 Artist impression of Rosetta as it swoops towards asteroid (2867) Steins. Closest approach is scheduled for 20:58 Central European Summer Time. Image: ESA/C. Carreau.
Just prior to closest approach the spacecraft will be flipped, and switched into a specially designed asteroid fly-by mode, providing optimal observation and tracking conditions. Science observations will be at their best thanks to good illumination conditions from the Sun. At the time of closest approach Rosetta will skim past the asteroid at a distance of 800 kilometres and a speed of 8.6 kilometres per second relative to Steins. At this time, communications between the Earth and the satellite will take 20 minutes each way.
Rosetta's stop-off at Steins is extremely important, since asteroids represent samples of Solar System material at different stages of evolution, allowing planetary scientists to put together the jigsaw puzzle of Solar System evolution and finding the Earth's place amongst the chaos.
After the call-in on Steins, Rosetta will make one more fly-by of the Earth in November 2009 before being placed back into deep space hibernation for three years prior to reaching its final destination of Comet 67P/Churymov-Gerasimenko in 2014.
A time line of fly-by events are scheduled as follows (all times in CEST, Central European Summer Time):
4 September
1320-1820
Last opportunity to acquire images for optical navigation
5 September
0720-1020
Slot for possible trajectory correction manoeuvre
1020
Navigation cameras switch to tracking mode
1100
Uplink fly-by commands for asteroid fly-by mode
2018-2038
Spacecraft flip over
2039
Spacecraft switches automatically to asteroid fly-by mode
2056
Sun illuminates Rosetta from the back and the asteroid fully
2058
Closest approach, at a planned distance of 800 km from the asteroid
2227
First post-fly-by acquisition of signal
telemetry received via NASA's Goldstone ground station
2230
Start of science data download via Goldstone
6 September
1200
Live streaming of Rosetta Steins fly-by press conference from the European Space Operations Centre begins
1300
Images from fly-by published on ESA web
1500
End of press conference streaming
1601
End of reception of first set of science data
A Rosetta blog and expanded timeline of events is available at: http://webservices.esa.int/blog/blog/5/ and images from the fly-by will be streamed on the ESA website.


Related Stories

Aug 05 Rosetta sets Steins in sites... read more
Jul 07 Rosetta woken from hibernation... read more