Top Stories





Hubble celebrates 100,000 trips around the Earth

...Hubble is today celebrating its 100,000th orbit around the Earth with the release of a spectacular image of a fantasy-like landscape embellished with scenes of stellar birth and renewal...

Computer simulations put Solar System in its place

...traditional theories of Solar System formation assume our neighbourhood to be pretty run of the mill, but in a new study using data from 300 exoplanets discovered orbiting other stars, our planetary haven turns out to be one of a kind...

Dark matter clumps and streams in

Milky Way

...researchers have reason to believe that dense clumps and streams of dark matter lurk in the inner regions of the Milky Way's galactic halo...



Spaceflight Now +





Subscribe to Spaceflight Now Plus for access to our extensive video collections!
How do I sign up?
Video archive

STS-120 day 2 highlights

Flight Day 2 of Discovery's mission focused on heat shield inspections. This movie shows the day's highlights.

Play

STS-120 day 1 highlights

The highlights from shuttle Discovery's launch day are packaged into this movie.

Play

STS-118: Highlights

The STS-118 crew, including Barbara Morgan, narrates its mission highlights film and answers questions in this post-flight presentation.

Full presentation
Mission film

STS-120: Rollout to pad

Space shuttle Discovery rolls out of the Vehicle Assembly Building and travels to launch pad 39A for its STS-120 mission.

Play

Dawn leaves Earth

NASA's Dawn space probe launches aboard a Delta 2-Heavy rocket from Cape Canaveral to explore two worlds in the asteroid belt.

Full coverage

Dawn: Launch preview

These briefings preview the launch and science objectives of NASA's Dawn asteroid orbiter.

Launch | Science

Become a subscriber
More video







Perseids hit maximum
this week
BY DR EMILY BALDWIN
ASTRONOMY NOW

Posted: August 11, 2008
The evening of the 12th August and morning of the 13th August will see the annual maximum of the Perseid meteor shower. Download Astronomy Now's Perseid Observing Log and help tell the story of this year's display.
Active from late July and persisting right through to the end of August, the Perseid rates will climb tonight towards a peak on Tuesday evening to early Wednesday morning. At its maximum and in a clear, dark sky up to 80 meteors may be visible per hour, and it should be possible to see a meteor at least every few minutes.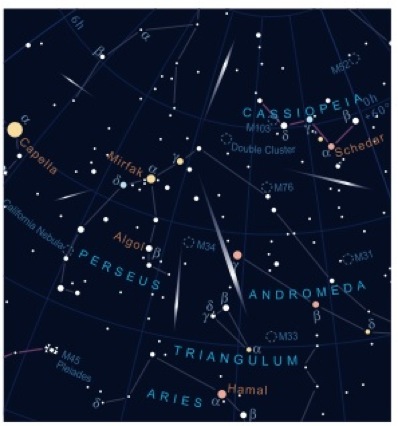 Perseid meteors can be seen to emanate from a point just below the 'W' of Cassiopeia, around the constellation of Perseus. Astronomy Now graphic by Greg Smye-Rumsby.
Meteors are the result of small particles entering the Earth's atmosphere at high speeds, around 60 kilometres per second in the case of the Perseid shower, which results from the Earth passing through from the tail of Comet Swift-Tuttle, last in the vicinity of the Earth in 1992. Meteors appear as brief streaks of light flashing across the sky, and unlike many astronomical phenomena, are best seen with the unaided eye, rather than through a telescope or binoculars. All that you need is some warm clothing and a comfortable viewing position!
The Perseids are seen to originate from a 'radiant' in the constellation of Perseus, hence the name Perseid, just below the familiar 'W' shape of Cassiopeia found high in the eastern sky in the early hours. Although the waxing gibbous Moon will be in the evening sky, it will have set by about 1230, leaving several hours of dedicated dark-sky observing time before sunrise.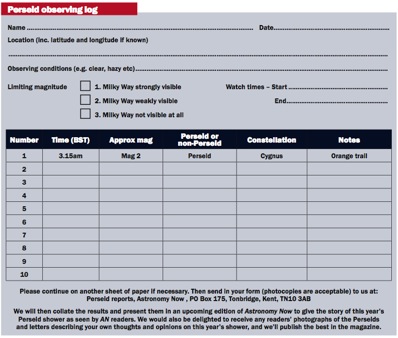 Use the form to record your Perseid observations and share with other Astronomy Now readers. Download a higher-resolution copy here.
Don't forget to keep count of the meteors you see using Astronomy Now's Perseid Observing Log, which you can download here or find in the current issue of the magazine, and send into us using the details provided on the form. All contributions will be used to tell the story of this year's Perseid shower, and the best photographs will be published in the magazine. If you'd also like to see your images online, you can email the Web Editor at eclipse2008<at>astronomynow.com, with 'Perseids' as the message title.
Happy observing!