The December issue is on sale now!

The December 2013 issue of Astronomy Now is on sale at newsagents or available direct by from our online store.

Also available for the iPad and iPhone. Download the Astronomy Now app from the Apple iTunes store.
Focus: Comets
A European mission to a comet is just the next step in our quest to get ever closer to one of these icy bodies.
'Hairy stars', the ancient Greeks called them. Where do comets come from and what causes them to grow a tail?
There is a breed of comet that likes it hot - skirting the solar corona, they swoop in from the frozen depths to be incinerated. Now Comet ISON is set to join these Sun-grazers, but will it survive?
Features
With the Sun at its most active in eleven years, now is the perfect time to visit northern Europe to see the Northern Lights. Aurora photographer Fredrik Broms describes these shimmering lights, where to see them and how to view them.
It is a bumper Night Sky section this issue, with D-day for Comet ISON, Venus a magnificent evening star, a double length beginners' sky tour and the Crab Nebula as our object of the month.
Orion is overflowing with multiple stars as John Nanson hones in on two separate pockets of delectable doubles.
As the Kepler mission comes to an end, astronomers are already turning their attention towards what comes next. Keith Cooper reports on a mission to measure the atmospheres of exoplanets.

Regulars
In the news this month: Kepler serves up another helping of exoplanets, Evaporating lakes on Titan, The asteroid with six tails and Did a comet once explode over Egypt?
This month's night sky section features a plethora of planets including Mercury, Venus, Mars and Jupiter, plus an in-depth look at the Pleiades star cluster.
There is no better introduction to observational astronomy for budding astronomers than to delve into the delights of the spectacular winter sky.
The efficiency with which light is transported down your telescope tube is almost as important as the quality of your optics.
BUY ONLINE Free First Class delivery in the UK!
DOWNLOAD The iPad and iPhone edition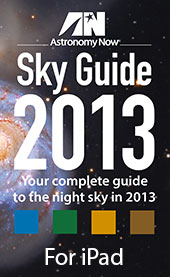 Infinity Rising
This special publication features the photography of British astro-imager Nik Szymanek and covers a range of photographic methods from basic to advanced. Beautiful pictures of the night sky can be obtained with a simple camera and tripod before tackling more difficult projects, such as guided astrophotography through the telescope and CCD imaging.


U.K. STORE

E.U. STORE

U.S. & WORLDWIDE STORE

Hubble Reborn

Hubble Reborn takes the reader on a journey through the Universe with spectacular full-colour pictures of galaxies, nebulae, planets and stars as seen through Hubble's eyes, along the way telling the dramatic story of the space telescope, including interviews with key scientists and astronauts.


U.K. STORE


E.U. STORE


U.S. & WORLDWIDE STORE


The Planets

From tiny Mercury to distant Neptune and Pluto, The Planets profiles each of the Solar System's members in depth, featuring the latest imagery from space missions. The tallest mountains, the deepest canyons, the strongest winds, raging atmospheric storms, terrain studded with craters and vast worlds of ice are just some of the sights you'll see on this 100-page tour of the planets.


U.K. STORE


E.U. STORE


U.S. & WORLDWIDE STORE


3D Universe

Witness the most awesome sights of the Universe as they were meant to be seen in this 100-page extravaganza of planets, galaxies and star-scapes, all in 3D!


U.K. STORE


E.U. STORE


U.S. & WORLDWIDE STORE


Mars rover poster
This new poster features some of the best pictures from NASA's amazing Mars Exploration Rovers Spirit and Opportunity.


U.K. STORE

E.U. STORE

U.S. & WORLDWIDE STORE