ISS marathon begins tonight
BY DR EMILY BALDWIN
ASTRONOMY NOW
Posted: May 21, 2008
The next few evenings will provide excellent opportunities for observing the International Space Station multiple times in one evening from locations in Europe in North America.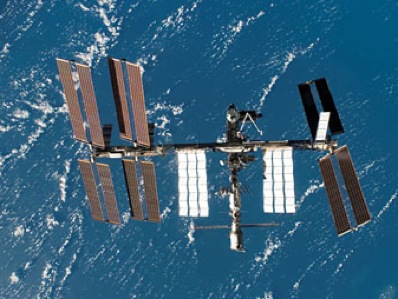 The ISS will be visible up to five times in one 24-hour period over the next three evenings depending on your location. Image: ESA.
Beginning tonight, 21 May and through to 23 May, the ISS will pass overhead between two and five times depending on your location. Because of the stations current orientation and flight path, it will almost continuously be highlighted in sunlight.
With a powerful enough telescope, you may even be able to make out Europe's major contributions to the ISS, including the Columbus Laboratory attached to the front, port-side, and the Jules Verne Automated Transfer Vehicle.
The clear view of the ISS comes at a significant time for European spaceflight, following Monday's announcement that ESA are recruiting astronauts for the first time since 1992 (see our news item 'Are you made of the right stuff?'). Over one thousand applications have already been received; four successful candidates may find themselves on the ISS within just five years.
To check viewing times of the ISS from your location visit ESA's ISS: Where Is It Now? website: http://esa.heavens-above.com/esa/iss_step1.asp?nored=1