Spaceflight Now +





Subscribe to Spaceflight Now Plus for access to our extensive video collections!
How do I sign up?
Video archive

STS-120 day 2 highlights

Flight Day 2 of Discovery's mission focused on heat shield inspections. This movie shows the day's highlights.

Play

STS-120 day 1 highlights

The highlights from shuttle Discovery's launch day are packaged into this movie.

Play

STS-118: Highlights

The STS-118 crew, including Barbara Morgan, narrates its mission highlights film and answers questions in this post-flight presentation.

Full presentation
Mission film

STS-120: Rollout to pad

Space shuttle Discovery rolls out of the Vehicle Assembly Building and travels to launch pad 39A for its STS-120 mission.

Play

Dawn leaves Earth

NASA's Dawn space probe launches aboard a Delta 2-Heavy rocket from Cape Canaveral to explore two worlds in the asteroid belt.

Full coverage

Dawn: Launch preview

These briefings preview the launch and science objectives of NASA's Dawn asteroid orbiter.

Launch | Science

Become a subscriber
More video







ISS marathon begins tonight
BY DR EMILY BALDWIN
ASTRONOMY NOW
Posted: May 21, 2008
The next few evenings will provide excellent opportunities for observing the International Space Station multiple times in one evening from locations in Europe in North America.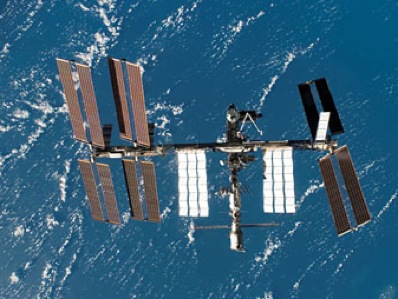 The ISS will be visible up to five times in one 24-hour period over the next three evenings depending on your location. Image: ESA.
Beginning tonight, 21 May and through to 23 May, the ISS will pass overhead between two and five times depending on your location. Because of the stations current orientation and flight path, it will almost continuously be highlighted in sunlight.
With a powerful enough telescope, you may even be able to make out Europe's major contributions to the ISS, including the Columbus Laboratory attached to the front, port-side, and the Jules Verne Automated Transfer Vehicle.
The clear view of the ISS comes at a significant time for European spaceflight, following Monday's announcement that ESA are recruiting astronauts for the first time since 1992 (see our news item 'Are you made of the right stuff?'). Over one thousand applications have already been received; four successful candidates may find themselves on the ISS within just five years.
To check viewing times of the ISS from your location visit ESA's ISS: Where Is It Now? website: http://esa.heavens-above.com/esa/iss_step1.asp?nored=1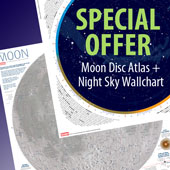 The Planets


From tiny Mercury to distant Neptune and Pluto, The Planets profiles each of the Solar System's members in depth, featuring the latest imagery from space missions. The tallest mountains, the deepest canyons, the strongest winds, raging atmospheric storms, terrain studded with craters and vast worlds of ice are just some of the sights you'll see on this 100-page tour of the planets.


GET YOUR COPY


Hubble Reborn


Hubble Reborn takes the reader on a journey through the Universe with spectacular full-colour pictures of galaxies, nebulae, planets and stars as seen through Hubble's eyes, along the way telling the dramatic story of the space telescope, including interviews with key scientists and astronauts.


GET YOUR COPY


3D Universe


Witness the most awesome sights of the Universe as they were meant to be seen in this 100-page extravaganza of planets, galaxies and star-scapes, all in 3D!


GET YOUR COPY