Are you made of the right stuff?
BY DR EMILY BALDWIN
ASTRONOMY NOW
Posted: May 19, 2008
The European Space Agency opens its gates today for what is expected to be a deluge of applications in response to its latest recruitment drive for new talent to bolster its astronaut corps for future missions to the International Space Station, the Moon and beyond.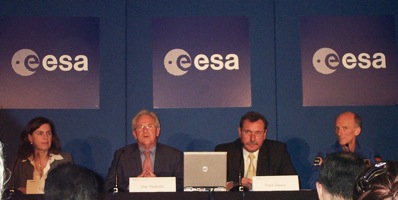 Representatives of the European Space Agency (ESA) held a press conference at the Science Museum, London to announce their latest recruitment drive for new astronauts. From left to right: Clare Mattock, Alan Thirkettle (ISS program manager), Frank Danesy (Human Resources) and Gerhard Thiele (Space Shuttle astronaut and head of ESA's Astronaut Corps). Image: Kulvinder Singh Chadha.
An expected 50,000 applicants will be whittled down to just four successful astronauts after several rounds of intensive medical and psychological testing. Budding astronauts are even required to upload a medical examination certificate – identical to the criteria you would need to meet to become a private pilot on a single-engine aircraft – before even receiving an application form.
"What we're asking for is a medical certificate up front," says Frank Danesy, Head of ESA human resources, speaking at a press conference held at the Science Museum, London last week. "If you meet the requirements of the medical certificate, and demonstrate all the personality traits that we are looking for then it is likely you'll get through to the first round of psychological testing."
So what is the right stuff? The first thing is age: ESA are only taking on new candidates between the ages of 27 and 37. But although you have to be young, you also have to be experienced: at least three years in the relevant field is required. You must hold a degree, preferably in engineering, science, maths or medicine, and being a qualified pilot is bonus, as is the ability to speak Russian. The recruitment team are also setting their sights on people who demonstrate a high level of motivation, flexibility, emotional stability, strong communication and interpersonal skills, and those who are capable of working as a team.
Successful candidates will undergo an intensive one year basic training program, and then advanced training for another year, followed by rigorous mission-specific training leading up to a stint on board the ISS. Training incorporates everything from space engineering and space policy to underwater diving, robotics and the Russian language. "The astronauts can be faced with grueling training schedules," Frank Danesy tells Astronomy Now. "They can be training in Germany one minute and Houston or Russia the next."
The ultimate goal: to live and work onboard the International Space Station. Image: ESA.
As astronaut Gehard Thiele reminds us, flying into space is the highlight, but it only comprises a small portion of your time. "It is also the task of an astronaut to support ESA's program as a larger, sustainable program," he says. "When you're not training for a flight you provide technical support to spaceflight programs and contribute to public relations, to explain the importance of space and human spaceflight."
"It's important to interest the young in science so that Europe can continue its technological development. Astronauts are the icons of inspiration for youth to get into sciences." Alan Thirkettle, ESA's ISS progam manager.
The successful candidates will likely use their experience on the ISS as a stepping stone for more daring missions to the Moon, Near-Earth Objects and ultimately, Mars. Indeed, with the pledge to return humans to the Moon by the mid 2020s, it is entirely possible that one of the candidates from this recruitment drive will walk on the Moon. There may, however, be the unusual and potentially embarrassing situation that a UK astronaut may be selected even though the UK government does not currently subscribe to the manned spaceflight program. Will this count against a UK applicant being selected? Apparently not, assures Alan Thirkettle. The agency insists that there will be no bias towards any of the subscribing member states and that the best candidate could come from any one of ESA's 17 member nations. "What we're looking for is the ideal candidate," he says. "This doesn't mean that a UK person will be chosen. The best person will be chosen but having the right passport is not one of the requirements."
And with the possibility of space tourism also on the cards – the phenomenon of tourists paying for flights into space without the scrutiny of intensive medical exams – ESA's team leaders only have words of encouragement. "Space tourism is brilliant," says Frank Danesy. "It gives an outstanding impetus to further our technological development in certain areas of spaceflight that might not have otherwise been considered."
"It is human nature to explore, that's a historical fact. Europe is an exploring continent. For that we need astronauts." Alan Thirkettle.
Europe is on the cusp of opportunity. Applications open today, 19 May, and close on the 15 June. The first ESA astronaut selected from this recruitment drive will be announced in the first quarter of 2009, and the new recruits could be sent into space just five years later. Details of the astronaut training program and how to apply can be found at http://www.esa.int