| | |
| --- | --- |
| Phases of the Moon | All times GMT/UT |
The Sun
Date
Sunrise
Sunset
5th
06:36
17:48
15th
06:14
18:05
25th
05:51
18:22
(Data referred to the centre of the British Isles: 54° N, 2.5° W.)
Quick look what's up
| | | |
| --- | --- | --- |
| March | 3rd | Mars at opposition |
| Mon | 5th | Mercury at greatest elongation east (18 degrees, best UK apparition); Mars makes its closest approach of 100,781,946km (5pm); Alpha Cancri (Acubens, mag +4.2) reappears from lunar occultation (London 11:23pm, Edinburgh 11:17pm) |
| Tue | 20th | Asteroid (8) Flora is at opposition (mag +9.6); 5am Vernal Equinox |
| Mon | 26th | Uranus is three degrees south of the Moon (12am); Venus is 1.8 degrees north of the Moon (6pm) |
| Tue | 27th | Venus is at greatest elongation east, 46 degrees (8am) |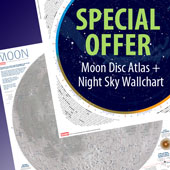 The Planets


From tiny Mercury to distant Neptune and Pluto, The Planets profiles each of the Solar System's members in depth, featuring the latest imagery from space missions. The tallest mountains, the deepest canyons, the strongest winds, raging atmospheric storms, terrain studded with craters and vast worlds of ice are just some of the sights you'll see on this 100-page tour of the planets.


GET YOUR COPY


Hubble Reborn


Hubble Reborn takes the reader on a journey through the Universe with spectacular full-colour pictures of galaxies, nebulae, planets and stars as seen through Hubble's eyes, along the way telling the dramatic story of the space telescope, including interviews with key scientists and astronauts.


GET YOUR COPY


3D Universe


Witness the most awesome sights of the Universe as they were meant to be seen in this 100-page extravaganza of planets, galaxies and star-scapes, all in 3D!


GET YOUR COPY