British astronaut assigned to space station mission
BY STEVEN YOUNG
ASTRONOMY NOW
Posted: 20 May 2013


The UK's first astronaut to officially represent Queen and country was assigned today to a six month stay aboard the International Space Station. European Space Agency (ESA) astronaut Timothy Peake, a former test pilot and major in the British Army Air Corps, was named to the Expedition 46/47 mission, scheduled to fly to the orbiting outpost in 2015.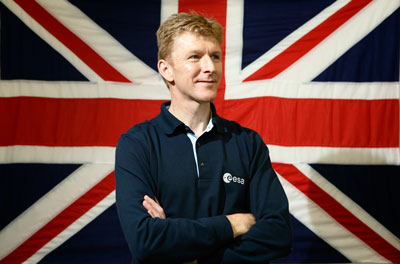 British astronaut Timothy Peake. Credit: UK Space Agency
"I'm absolutely delighted with this decision," said Peake "It really is a true privilege to be assigned to a long duration mission to the International Space Station. For me it feels like the highlight and the high point of a long career in aviation."
Peake will fly to the space station in late 2015 aboard a Russian Soyuz capsule launched from Baikonur in Kazakhstan. He will be joined by two yet to be named crew mates from Russia and America.
"I think this is a great day for the British space programme," said Minister for Universities and Science David Willetts, who made that announcement at the Science Museum in London. "I very much hope that Timothy Peake – Major Tim as we will call him – will also promote a British resurgence in science and technology."
Peake also voiced hope that his mission would be an inspiration. Although he admitted that space station commander Chris Hadfield, who became a social media sensation with his rendition of David Bowie's Space Oddity, would be a hard act to follow.
"I do play the guitar, but very badly and I wouldn't inflict my singing on anybody," he said.
Peake will not be the first British astronaut. That distinction went to Helen Sharman, who flew to the Mir space station in 1991 in a commercial venture with the Soviet space programme. There have also been other British-born space travellers. Mike Foale, Piers Sellers and Nicholas Patrick became American citizens in order to fly aboard NASA's space shuttle. Foale, one of NASA's most respected astronauts, also made long duration flights aboard Mir and the International Space Station. NASA astronaut Greg Johnson and space tourist Richard Garriott were also born in the UK to American parents.
"This is a momentous day, not just for Tim Peake but for Great Britain," said Prime Minister David Cameron. "It is a great sign of our thriving British space sector, which has seen real growth thanks to our world-class research, and now supports nearly 30,000 jobs.
A resurgence in the United Kingdom's interest in space including some limited government funding of ESA's manned space programmes, helped open up the possibility of a UK citizen becoming an astronaut. Peake and five others were chosen from over 8,000 applicants to join the European astronaut corps in 2009. He graduated from the initial astronaut training programme the following year.