On Sale Now!





The October 2014 issue of Astronomy Now is on sale! Order direct from our store (free 1st class post & to UK addresses). Astronomy Now is the only astronomy magazine specially designed to be read on tablets and phones. Download the app from Google Play Store or the Apple App Store.





Top Stories





Earthshine used to test life detection method
...By imagining the Earth as an exoplanet, scientists observing our planet's reflected light on the Moon with ESO's Very Large Telescope have demonstrated a way to detect life on other worlds...
READ MORE

Solid buckyballs discovered in space
...Astronomers using NASA's Spitzer Space Telescope have detected a particular type of molecule, given the nickname "buckyball", in a solid form for the first time...
READ MORE

Steamy water-world gets the Hubble treatment
...Hubble Space Telescope observations of a 7 Earth-mass planet find an unusual water-rich world swathed in a thick, steamy atmosphere...
READ MORE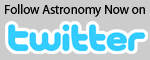 Venus and Jupiter in the morning sky
BY MARK ARMSTRONG
ASTRONOMY NOW
Posted: 28 June 2012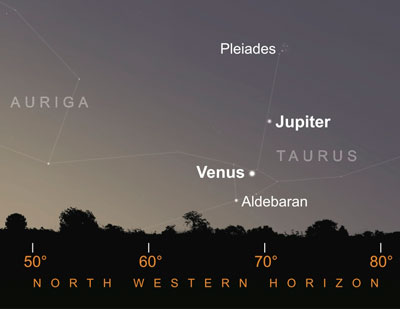 Fresh from its solar transit, Venus returns to the morning skies, putting on a joint appearance with Jupiter. Astronomy Now graphic by Greg Smye-Rumsby
If you are a morning person or a night owl with a penance for all-night observing then you are in prime position to see the emergence of Venus and Jupiter into the morning eastern sky, heralding the latters exciting 2012 apparition and the formers extended stay in the morning sky, right through the rest of the year. The observing circumstances in June and early July are not ideal this early into their observing windows but given a flat, unobstructed east-north-east horizon, both planets will be so bright as to be unmistakeable in the pre-dawn sky.
In late June the morning twilight makes its presence felt by 3.15am BST in London and Jupiter is the first to appear, a mere five degree above the horizon and about seven degrees below the wonderful Pleiades open cluster (M45). By 4am the Sun has crept within six degrees of the horizon (it rises at 4.45am) and brilliant Venus has cleared the horizon by six degrees, lying among the stars of Taurus and embedded in the 'V' shaped Hyades open cluster, with orangey-red first magnitude Aldebaran just over two degrees south. Jupiter has climbed to ten degrees altitude by this time.
Venus is a blazing beacon at a dazzling -4.4 magnitude and it will brighten by about a tenth of a mag. on its way to greatest brilliancy on 12 July and reach greatest elongation west of the Sun (46 degrees) just over a month later on 15 August. By this time it will rise four hours ahead of the Sun but start to fade by a couple of tenths of a magnitude. 2012 is a great year for Venus watchers following the memorable evening apparition earlier in the year. Venus exhibits a thin crescent illuminated by 15 percent with an apparent diameter of 45 arcseconds. Jupiter is a long way from opposition in early December but it is still a brilliant object at mag. +2.1, albeit overshadowed by Venus. If you can get a telescope on it then it will show a disc some 34 arcseconds in apparent diameter, although the seeing is likely to be too turbulent to allow for detecting much other than the major belts and zones. Observers in the more Equatorial regions have already started to secure Jovian images and its clear that the North Equatorial Belt (NEB) is in a state of upheaval. To follow Jupiter's progress through to opposition visit planetary imager extraordinaire Christopher Go's website at http://jupiter.cstoneind.com/
We will have more on Venus and Jupiter shortly as their respective apparitions continue to excitingly evolve.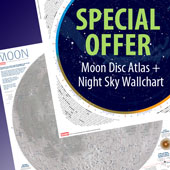 The Planets


From tiny Mercury to distant Neptune and Pluto, The Planets profiles each of the Solar System's members in depth, featuring the latest imagery from space missions. The tallest mountains, the deepest canyons, the strongest winds, raging atmospheric storms, terrain studded with craters and vast worlds of ice are just some of the sights you'll see on this 100-page tour of the planets.


GET YOUR COPY


Hubble Reborn


Hubble Reborn takes the reader on a journey through the Universe with spectacular full-colour pictures of galaxies, nebulae, planets and stars as seen through Hubble's eyes, along the way telling the dramatic story of the space telescope, including interviews with key scientists and astronauts.


GET YOUR COPY


3D Universe


Witness the most awesome sights of the Universe as they were meant to be seen in this 100-page extravaganza of planets, galaxies and star-scapes, all in 3D!


GET YOUR COPY