On Sale Now!





The October 2014 issue of Astronomy Now is on sale! Order direct from our store (free 1st class post & to UK addresses). Astronomy Now is the only astronomy magazine specially designed to be read on tablets and phones. Download the app from Google Play Store or the Apple App Store.





Top Stories





Earthshine used to test life detection method
...By imagining the Earth as an exoplanet, scientists observing our planet's reflected light on the Moon with ESO's Very Large Telescope have demonstrated a way to detect life on other worlds...
READ MORE

Solid buckyballs discovered in space
...Astronomers using NASA's Spitzer Space Telescope have detected a particular type of molecule, given the nickname "buckyball", in a solid form for the first time...
READ MORE

Steamy water-world gets the Hubble treatment
...Hubble Space Telescope observations of a 7 Earth-mass planet find an unusual water-rich world swathed in a thick, steamy atmosphere...
READ MORE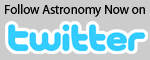 Venus joins Jupiter for a dazzling conjunction
MARK ARMSTRONG
ASTRONOMY NOW
Posted: 09 March 2012
Photo update: 12 March


Anybody casually glancing up at the western sky shortly after sunset at the moment cannot fail to spot one of nature's great and humbling sights, the conjunction of two bright planets. We are fortunate this month that the two brightest planets, Venus and Jupiter, are very close together (within five degrees) from now until 17 March, with closest approach between Monday 12th and Wednesday 14th, when they are about three degrees apart.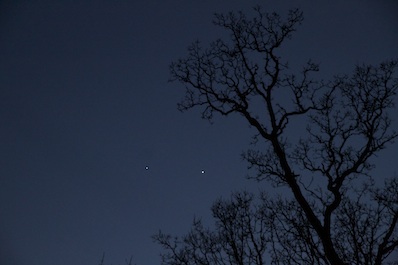 Venus and Jupiter as seen from Tonbridge, Kent on the evening of Sunday 11 March. Image: Steven Young/Astronomy Now.


Jupiter by any standards is bright, although it has been steadily fading from mag. -2.9 at last October's opposition to its current value of -2.1. But it's still bright, and only Mars at its best can rival it. But up against the dazzling brilliance of Venus (mag. -4.2) it struggles to compete. In fact, Venus is seven times as bright. Venus is permanently shrouded in a thick, noxious atmosphere that does a great job of reflecting most of the sunlight (50 times more than Jupiter receives) that falls on it back into space. Venus has the highest albedo (measure of the reflectivity of an object) of any planet; Jupiter is not too shabby in this respect, coming a close second. Add to that the fact that Venus is much closer to the Sun and us and it's clear why it appears so bright.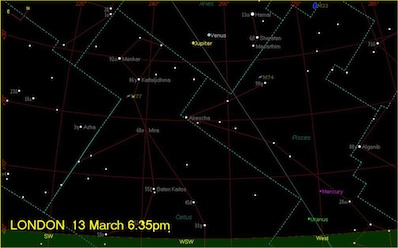 Click for larger image. View the spectacular conjunction of Venus and Jupiter in the western sky shortly after sunset. This is the view from London at 6.35pm on 13 March. Graphic made using the Sky version 5 www.bisque.com.



Venus sets around 10.30pm at mid-month – that's almost four and a half hours after the Sun, and it's possible to view both planets in an astronomically dark sky (astronomical twilight ends around 8pm in London) while they are at a decent altitude, just above the crucial 20-degree mark. This is when Venus is almost unbelievably bright – just a few nights ago the sight took my breath away!

If you own a pair of big binoculars (15 x 70s), then you will be able to see both planets in the same field of view and showing perceptible discs. Jupiter is almost twice as large as Venus and attended by its four bright Galilean satellites. Through a small telescope Venus shows close to a half-phase illuminated by 58 percent and spanning 20 arcseconds around mid-month. Venus will continue to brighten slightly as the month progresses, growing in apparent diameter as its phase decreases.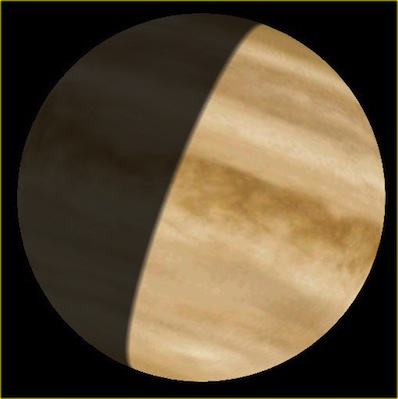 Through a small telescope around mid-month Venus will show close to a half-illuminated disc. Graphic made using Guide 8 www.projectpluto.com.



Venus' steady eastwards motion through Pisces and now Aries has been taking it closer to the gas giant this month and this motion, together with Jupiter's steady decline towards the horizon, will take it rapidly away. By the end of March the gap will have widened to almost 15 degrees. So if we are blessed with clear skies, make the most of this spectacular observing and imaging opportunity.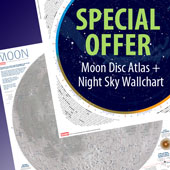 The Planets


From tiny Mercury to distant Neptune and Pluto, The Planets profiles each of the Solar System's members in depth, featuring the latest imagery from space missions. The tallest mountains, the deepest canyons, the strongest winds, raging atmospheric storms, terrain studded with craters and vast worlds of ice are just some of the sights you'll see on this 100-page tour of the planets.


GET YOUR COPY


Hubble Reborn


Hubble Reborn takes the reader on a journey through the Universe with spectacular full-colour pictures of galaxies, nebulae, planets and stars as seen through Hubble's eyes, along the way telling the dramatic story of the space telescope, including interviews with key scientists and astronauts.


GET YOUR COPY


3D Universe


Witness the most awesome sights of the Universe as they were meant to be seen in this 100-page extravaganza of planets, galaxies and star-scapes, all in 3D!


GET YOUR COPY