Amateur astronomers watch asteroid "buzz" Earth
FAULKES TELESCOPE PRESS RELEASE, adapted for ASTRONOMY NOW
Posted: 28 June 2011


When an asteroid the size of a small bus whizzes by the planet at 12,000 miles per hour at a distance of only a few thousand miles, bringing it under the orbital height of the GPS network, you know it's a bit special. That's why the Faulkes Telescope project allocated time to Astronomy Now's equipment consultant Nick Howes and BBC Stargazing Live's Mark Thompson to collect data and image this fast-moving space rock.

Asteroid 2011MD swung past the Earth on 27 June. Image: NASA.


The asteroid was first spotted by the LINEAR (Lincoln Near-Earth Asteroid Research) telescopes in New Mexico on 22 June, which scan the skies for potentially hazardous asteroids, and was subsequently confirmed and imaged by UK observer Peter Birthwhistle, who has discovered dozens of asteroids himself. The asteroid, known as 2011MD, posed no threat to the Earth, despite coming within 12,000 kilometres at closest approach.

Using the two-metre £5,000,000 Faulkes South telescope in Siding Spring, Australia, Howes and Thompson coordinated their observing efforts using the social network Twitter, with thousands of followers tracking their progress live as the images of asteroid 2011MD were acquired.

"It's amazing that we were able to share the images and videos of this fast moving asteroid with so many people so quickly," commented Howes, who is working with the CARA Comet Research group team members Ernesto Guido and Giovanni Sostero tracking comets and near Earth objects using the twin Faulkes telescopes in Hawaii and Australia.

The asteroid was moving at an incredible 179 arcseconds/minute during the first run by Howes, and over 230 arcseconds/minute by the time Thompson took control, which meant that the 10 arcminute field of view on the Faulkes CCD had to be re-positioned several times in under 10 minutes, which the two imagers had to do, to keep it in frame.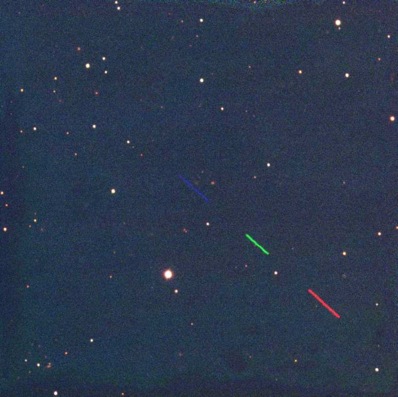 Three red, green and blue exposures separated by around ten seconds give an indication as to how fast the asteroid had travelled in a short period of time. Image: Faulkes South.


Thompson, on literally his first imaging run on Faulkes commented: "What a great example of how technology can make astronomy accessible. I was impressed with the ease of controlling the multi-million pound telescope across the web from my iPad. Capturing the asteroid was fast and furious but it was great that I could keep my followers up to date with progress."

By the time of closest approach, which occurred over Antarctica on 27 June at just after 1700UT, the asteroid was moving at close to 4000 arcseconds/minute. The news story which resulted from Thompson and Howes's imaging has already featured in National Geographic, several National UK newspapers, Discovery Channel Science and was also aired on Fox TV News in the USA.

The Faulkes telescope network, managed by the University of Glamorgan, is conducting further observations with Howes and his team on NEO objects and comets, and post regular updates via Twitter on the telescope's activities. "CARA are working closely now with coordinated observing programs aimed at maximising the scope's potential," adds Howes.

Follow Nick Howes and Mark Thompson on Twitter via @nickastronomer and @peoplesastro, respectively; Faulkes Telescope via @faulkestel, and Astronomy Now magazine via @astronomynow.