Top Stories





Unique 3D view of
distant galaxies

...Using the Hubble Space Telescope and ESO's Very Large Telescope, astronomers have obtained unique three-dimensional views of distant galaxies...

New evidence for dark matter around
small galaxies

...Astronomers studying the Perseus galaxy cluster with the Hubble Space Telescope have uncovered a new line of evidence that suggests galaxies are embedded in halos of dark matter...

Keck and Kepler to
join forces

...Two of astronomy's most powerful planet hunters will join forces this summer to scrutinize distant Earths...



Spaceflight Now +





Subscribe to Spaceflight Now Plus for access to our extensive video collections!
How do I sign up?
Video archive

STS-120 day 2 highlights

Flight Day 2 of Discovery's mission focused on heat shield inspections. This movie shows the day's highlights.

Play

STS-120 day 1 highlights

The highlights from shuttle Discovery's launch day are packaged into this movie.

Play

STS-118: Highlights

The STS-118 crew, including Barbara Morgan, narrates its mission highlights film and answers questions in this post-flight presentation.

Full presentation
Mission film

STS-120: Rollout to pad

Space shuttle Discovery rolls out of the Vehicle Assembly Building and travels to launch pad 39A for its STS-120 mission.

Play

Dawn leaves Earth

NASA's Dawn space probe launches aboard a Delta 2-Heavy rocket from Cape Canaveral to explore two worlds in the asteroid belt.

Full coverage

Dawn: Launch preview

These briefings preview the launch and science objectives of NASA's Dawn asteroid orbiter.

Launch | Science

Become a subscriber
More video







Local She's an Astronomer event success
BY DR EMILY BALDWIN
ASTRONOMY NOW

Posted:20 March, 2009
Astronomy Now's website editor Emily Baldwin joined solar physicist Lucie Green and rocket scientist Mini Saaj at Surrey University to share their experiences as women in astronomy related careers to aspiring students.
She is an Astronomer is a Cornerstone Project of the International Year of Astronomy, with a goal to demonstrate that women are just as capable as men in achieving their dream careers in astronomy. Events are being held on a national and local level to showcase female astronomers through lecture series and workshops.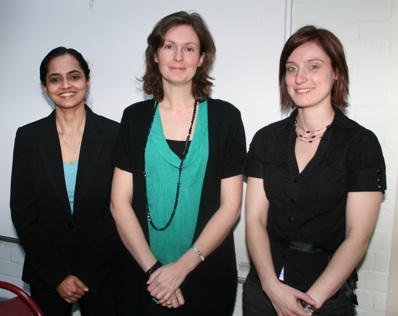 From left to right: Mini Saaj (Surrey Space Centre), Lucie Green (Mullard Space Science Laboratory) and Emily Baldwin (Astronomy Now). Image: John Axtell/GAS.
Once such local event "She is an Astronomer, She is a Rocket Scientist" was held by the Guildford Astronomical Society (GAS) earlier this week. The three speakers, all women with backgrounds in science, discussed their journeys into astronomy with a group of young adults, many of which were already taking physics A-levels and seeking advice on physics and astronomy related university degree courses.
First up was Astronomy Now's Website Editor Dr Emily Baldwin, who opened the programme with a brief history of women in astronomy, where the audience learnt how women have played a significant role in astronomical discoveries from as early as the 1500s. Emily then took the audience on an impact cratering tour of the Solar System, and shared her experiences of doing a planetary science degree at University College London (UCL). On completion of a PhD in impact cratering at UCL last year, Emily side-stepped into a career in science journalism with Astronomy Now, quashing myths that astronomy related careers all had to be maths based!
Next up was Dr Lucie Green from the Mullard Space Science Laboratory, an expert in solar research and funded by the Royal Society. The audience were treated to movies of solar flares and prominences leaping off the surface of the Sun, and shown just how influential our Sun is on our everyday lives. Lucie's journey into astronomy was, in her own words "by accident". She had always been very passionate about physics, and by pursuing that as a career thought what better way to use her knowledge than by studying the physics of our own Sun and the Universe that we live in. After Lucie's talk, the audience had the chance to look through a solar telescope to see the Sun's disc, which unfortunately was rather quiet.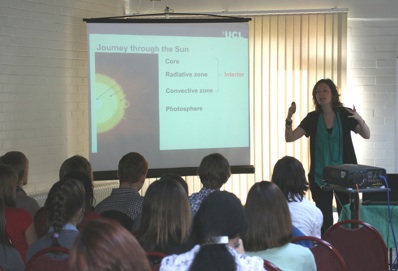 Lucie Green took the audience on a journey through the Sun. Image: John Axtell/GAS.
Dr Mini Saaj then described her path into rocket science, an interesting and inspiring journey that saw her leave her home town in India to pursue her dream job in the space industry, which took her across Europe to Germany, and on to Surrey Space Centre (SSC), which is based on the Surrey University campus. Mini told the audience about many of the exciting missions that SSC and Surrey Satellite Technology Ltd (SSTL) is involved in, including missions to the Moon and Mars, and described the space centre and company as the future of small, low cost space missions, which has successfully launched 32 satellites to date. She also spoke about exciting career opportunities, both in the UK Space industry and academia.
A question and answer session concluded the day where the students had the opportunity to quiz the speakers on everything from what first inspired them to become astronomers, to space tourism, life on Mars and what a university education is all about. "I personally thought it quite inspirational," said John Axtell, Secretary of GAS. "The speakers showed the youngsters just what educational and career opportunities there are to be found within this fascinating area."
"Several people have commented to me that they couldn't see how the students could fail to be inspired," added John Evans, GAS President. "I think that says it perfectly and I know that all of us from GAS thought that the speakers communicated the 'She is an Astronomer' theme very powerfully."
Later in the year, the She is an Astronomer website will be launching, which will profile women in astronomy from all eras and offer advice to today's budding female scientists. In the meantime, and for more information about the She is an Astronomer project, as well as all other IYA events, visit www.astronomy2009.org.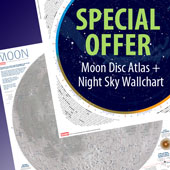 The Planets


From tiny Mercury to distant Neptune and Pluto, The Planets profiles each of the Solar System's members in depth, featuring the latest imagery from space missions. The tallest mountains, the deepest canyons, the strongest winds, raging atmospheric storms, terrain studded with craters and vast worlds of ice are just some of the sights you'll see on this 100-page tour of the planets.


GET YOUR COPY


Hubble Reborn


Hubble Reborn takes the reader on a journey through the Universe with spectacular full-colour pictures of galaxies, nebulae, planets and stars as seen through Hubble's eyes, along the way telling the dramatic story of the space telescope, including interviews with key scientists and astronauts.


GET YOUR COPY


3D Universe


Witness the most awesome sights of the Universe as they were meant to be seen in this 100-page extravaganza of planets, galaxies and star-scapes, all in 3D!


GET YOUR COPY