Opportunity rises from Victoria Crater
BY DR EMILY BALDWIN
ASTRONOMY NOW

Posted: August 27, 2008; updated August 29.
After nearly a year of daring exploration within Victoria Crater, NASA's Mars Exploration rover Opportunity has successfully climbed back out to the surrounding Martian plains to examine exposed ancient rock layers, and boulders thrown from massive impact events.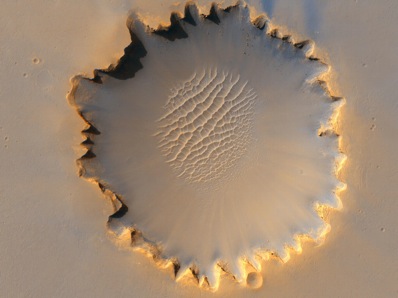 Victoria Crater, as observed by the Mars Reconnaissance Orbiter, which Opportunity has been exploring for the past year. Image: NASA.
"We've done everything we entered Victoria Crater to do and more," says Bruce Banerdt, project scientist for Opportunity and its rover twin, Spirit.
Opportunity used its own entry tracks from nearly a year ago as the path for a drive of 6.8 metres out over the top of the inner
slope and through a sand ripple at the lip of Victoria Crater. The exit drive was conducted late Thursday evening and completed a series of drives covering 50 metres since the rover team decided about a month ago that it had completed its scientific investigations inside the crater.
Some of the fist-sized boulders lined up for Opportunity's tools in the next phase of the mission are rocks thrown from distant impact craters in massive impact events. Opportunity has already driven past scores of these cobbles but so far has only had time to examine a few.
"Our experience tells us there's lots of diversity among the cobbles," says Scott McLennan of the State University of New York, Stony Brook. "We want to get a better characterisation of them. A statistical sampling from examining more of them will be important for understanding the geology of the area."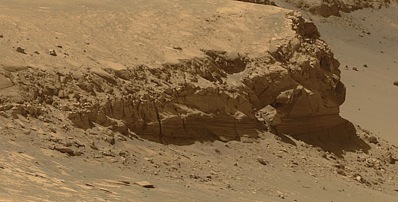 Cape Verde, embedded in the rim of Victoria Crater, shows distinct layering indicative of wind and water action. Image: NASA.
While in the crater, the rover dedicated a lot of time to the base of a cliff called Cape Verde, part of the crater rim, to capture extremely detailed images of a stack of rocky layers towering over six metres high. The data returned by Opportunity suggested that the sediments were deposited by wind and then altered by groundwater. "The patterns broadly resemble what we saw at the smaller craters Opportunity explored earlier," says McLennan. "By looking deeper into the layering, we are looking farther back in time."
Opportunity is now heading out for its next adventure on the plains of Meridiani. "We safely got into the crater, we completed our exploration there, and we safely got
out," says JPL's John Callas, project manager for Opportunity and its twin Mars rover, Spirit. "We were concerned that any wheel failure on our aging rover could have left us trapped inside the crater."
A spike in electric current drawn by the rover's left front wheel last month resembled one seen on Spirit when that rover lost the use of its right front wheel in 2006. Opportunity's six wheels are all still working after 10 times more use than they were designed to perform, but the team took the spike in current as a reminder that one could quit.
"If Opportunity were driving with only five wheels, like Spirit, it probably would never get out of Victoria Crater," says JPL's Bill Nelson, a rover mission manager. "We also know from experience with Spirit that if Opportunity were to lose the use of a wheel after it is out on the level ground, mobility should not be a problem."
Opportunity is already showing signs of aging and has to drive with its robotic arm out of the stowed position due to a degraded shoulder motor. The rover team chose not to risk having it stop working while the arm is stowed on a hook, so now the arm remains usable.

180 degree panorama of the southward vista from the location where Spirit is spending its third Martian winter. Image: NASA/JPL/Cornell.
Over the other side of Mars, Spirit has survived the harshest weeks of the southern Martian winter, and has resumed observations, although will remain in the same location until the amount of solar energy increases a few months from now. Meanwhile, the rover has completed half of a full-circle colour panorama from its Sun-facing location on the north edge of a low plateau called Home Plate. On completion of the panorama the plucky rover will then head south of Home Plate to investigate some previously identified bright, silica-rich soil which could be possible evidence of effects of hot water.
"Both rovers show signs of aging, but they are both still capable of exciting exploration and scientific discovery," says Callas.