GLAST, renamed Fermi, reveals first all-sky image
BY DR EMILY BALDWIN
ASTRONOMY NOW

Posted: August 27, 2008
NASA's newest space observatory GLAST has begun its mission of exploring the Universe in high-energy gamma rays and has been renamed the Fermi Gamma-ray Space Telescope in honour of Professor Enrico Fermi, a pioneer of high-energy physics on which the mission is founded.
Following the launch of the spacecraft on 11 June, the Large Area Telescope (LAT) and the GLAST Burst Monitor (GBM) instruments were tested and calibrated. Having passed their orbital check-up with flying colours, the mission team have unveiled the telescope's first LAT all-sky image, revealing the glowing gas of the Milky Way, blinking pulsars, and a blazing galaxy billions of light years away. The map combines 95 hours of the instrument's 'first light' observations, outdoing the now defunct Compton Gamma-ray Observatory's equivalent image which took years of observations to produce.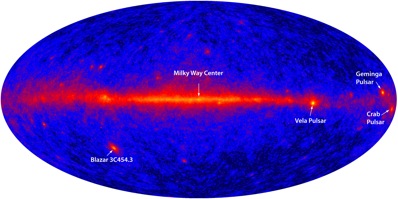 This all-sky view from GLAST reveals bright emission in the plane of the Milky Way (centre), bright pulsars and super-massive black holes. Click for higher resolution. Image: NASA/DOE/ International LAT Team.
The image shows a band of gas and dust in the plane of the Milky Way, lit up in gamma rays by cosmic ray collisions. The famous Crab Nebula and Vela pulsars, fast-spinning neutron stars originally discovered by their radio emissions, also shine brightly under LAT observation. The third pulsar, Geminga, is not a radio source and was discovered by an earlier gamma-ray satellite. Fermi is expected to discover many more radio-quiet pulsars, providing vital information about how these exotic objects operate. The fourth highlighted feature of the image is in the form of blazar 3C 454.3, which lies some 7.1 billion light-years away in Pegasus and is currently undergoing a flaring episode that makes it especially bright.
Scientists expect Fermi will discover many new pulsars in our own galactic backyard, reveal powerful processes near supermassive black holes at the cores of thousands of active galaxies and enable a search for signs of new physical laws. Our current understanding of the high-energy processes that the telescope will be seeking out is based on the physics that Professor Enrico Fermi (1901-1954) pioneered and for which the telescope has been renamed.
"Enrico Fermi was the first person to suggest how cosmic particles could be accelerated to high speeds," says Paul Hertz, chief scientist for NASA's Science Mission Directorate at NASA Headquarters in Washington. "His theory provides the foundation for understanding the new phenomena his namesake telescope will discover."
During the first year of operations, LAT all-sky scans, which take just three hours each to complete, will occupy most of the observing time and allow scientists to monitor rapidly changing sources. Meanwhile, the GBM instrument has already spotted 31 gamma-ray bursts – high-energy blasts that occur when massive stars die or when orbiting neutron stars spiral together and merge – in the first month of operations. Bursts seen by both instruments will produce an unrivaled survey of events across a broad gamma ray spectrum, enabling scientists to scrutinize the processes powering these phenomenal events.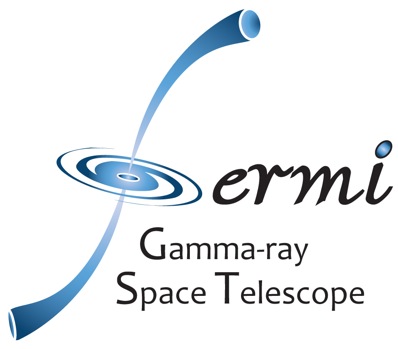 The new logo for the Fermi Gamma-ray Space Telescope. Image: NASA/Sonoma State University/Aurore Simonnetars.