Top Stories





Infrared sunglasses see black hole discs

...astronomers have finally found a way to obtain a clean view of the discs that theorists say should surround black holes, by using a polarising filter that only shows up the discs' infrared properties...

Stellar vampires make the Universe dusty

...for the first time, astronomers have witnessed the expulsion of a shell of dusty gas around a freshly erupted nova and tracked its evolution for over 200 days...

New planet announced at Scottish astronomy conference

...the discovery of a Jupiter-sized planet was announced at the international 'Cool Stars, Stellar Systems and the Sun' conference hosted by the University of St Andrews in Scotland last week...



Spaceflight Now +





Subscribe to Spaceflight Now Plus for access to our extensive video collections!
How do I sign up?
Video archive

STS-120 day 2 highlights

Flight Day 2 of Discovery's mission focused on heat shield inspections. This movie shows the day's highlights.

Play

STS-120 day 1 highlights

The highlights from shuttle Discovery's launch day are packaged into this movie.

Play

STS-118: Highlights

The STS-118 crew, including Barbara Morgan, narrates its mission highlights film and answers questions in this post-flight presentation.

Full presentation
Mission film

STS-120: Rollout to pad

Space shuttle Discovery rolls out of the Vehicle Assembly Building and travels to launch pad 39A for its STS-120 mission.

Play

Dawn leaves Earth

NASA's Dawn space probe launches aboard a Delta 2-Heavy rocket from Cape Canaveral to explore two worlds in the asteroid belt.

Full coverage

Dawn: Launch preview

These briefings preview the launch and science objectives of NASA's Dawn asteroid orbiter.

Launch | Science

Become a subscriber
More video







It IS rocket science!
BY DR EMILY BALDWIN
ASTRONOMY NOW

Posted: July 28, 2008
If you're planning on visiting the Edinburgh Fringe Festival this summer and fancy some light-hearted 'space-based silliness', then make sure Helen Keen's show – It Is Rocket Science – is on your itinerary.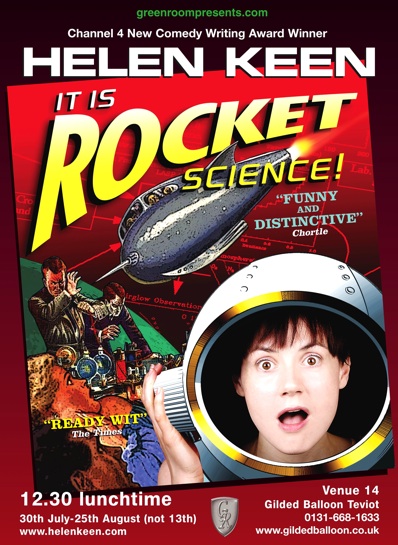 Helen Keen is a space-rocket fanatic, and brings her first solo stand-up show It Is Rocket Science to life with a fusion of comedy and a large amount of tinfoil, in a whistlestop tour of the 'Great Brains' who put monkeys, ladies, dogs and gentlemen into orbit. In her own words she describes the show as "space-based silliness" but her material is all based on her life-long passion of the story of rocketry, and accordingly her show is interspersed with personal stories too.
"Space is something I've been interested in as far back as I can remember," Helen told Astronomy Now. "I was always dragging my Dad outside to help me look for Halley's Comet in the night sky years before it actually returned."
"The development of the rocket is a fascinating, inspiring, disturbing story full of peculiar characters," she continues. "Obviously it's enjoyable to talk about things you're really, really interested in, so it was sort of a natural choice as a topic for my first show."
Helen started stand-up comedy as an adult, but impressively, only a year after she began to write comedy she won the first Channel 4 New Comedy Writing Award in 2005. Since then she has been nominated for various other awards including Hackney Empire's New Act of the Year, Funny Women and the Leicester Mercury Comedian of the Year. She has also contributed to popular comedy shows on TV and radio, including The Friday Night Project on Channel 4, The Now Show on BBC Radio 4 and BBC Radio 1's comedy show The Milk Run. She is currently developing programmes with BBC 3 and writing two sitcom pilot scripts for Channel 4.
"Mainly I just want to entertain people," she says. "But it's great to chat to people afterwards and find that it's more common than not to have had an interest in space and rockets and the stars at some stage. And if anyone who sees the show rediscovers that enthusiasm a bit then that's wonderful too."
Helen will be delivering her talk throughout the Fringe Festival from 30 July to 25 August (excluding 13 August) at 12:30 in The Gilded Balloon's Wee Room. Tickets are available from the Fringe website here. And for those you can't make it up to Edinburgh she will also be performing the show at the
Dana Centre in London on Tuesday 4 November at 7pm.
Further information about Helen Keen and It Is Rocket Science can be found on the following websites:
www.helenkeen.com/rocket
www.itisrocketscience.co.uk
www.myspace.com/helenlkeen
www.greenroompresents.com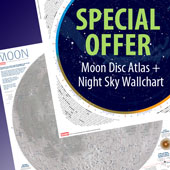 The Planets


From tiny Mercury to distant Neptune and Pluto, The Planets profiles each of the Solar System's members in depth, featuring the latest imagery from space missions. The tallest mountains, the deepest canyons, the strongest winds, raging atmospheric storms, terrain studded with craters and vast worlds of ice are just some of the sights you'll see on this 100-page tour of the planets.


GET YOUR COPY


Hubble Reborn


Hubble Reborn takes the reader on a journey through the Universe with spectacular full-colour pictures of galaxies, nebulae, planets and stars as seen through Hubble's eyes, along the way telling the dramatic story of the space telescope, including interviews with key scientists and astronauts.


GET YOUR COPY


3D Universe


Witness the most awesome sights of the Universe as they were meant to be seen in this 100-page extravaganza of planets, galaxies and star-scapes, all in 3D!


GET YOUR COPY