Top Stories





Cassini maps of Saturn's moons provides guideposts for future explorers

...a new, free, atlas of Saturn's tiny fractured moon Dione is now available from the Cassini Imaging Team...

The tiny star with a monster roar ...the brightest flare ever seen has been released from a star...

Spirit finds hot spring-like deposits on Mars ...nearly pure silica deposits could have formed when volcanic steam and hot water percolated through the ground...






Spaceflight Now +





Subscribe to Spaceflight Now Plus for access to our extensive video collections!
How do I sign up?
Video archive

STS-120 day 2 highlights

Flight Day 2 of Discovery's mission focused on heat shield inspections. This movie shows the day's highlights.

Play

STS-120 day 1 highlights

The highlights from shuttle Discovery's launch day are packaged into this movie.

Play

STS-118: Highlights

The STS-118 crew, including Barbara Morgan, narrates its mission highlights film and answers questions in this post-flight presentation.

Full presentation
Mission film

STS-120: Rollout to pad

Space shuttle Discovery rolls out of the Vehicle Assembly Building and travels to launch pad 39A for its STS-120 mission.

Play

Dawn leaves Earth

NASA's Dawn space probe launches aboard a Delta 2-Heavy rocket from Cape Canaveral to explore two worlds in the asteroid belt.

Full coverage

Dawn: Launch preview

These briefings preview the launch and science objectives of NASA's Dawn asteroid orbiter.

Launch | Science

Become a subscriber
More video







New red spot appears on Jupiter
BY DR EMILY BALDWIN
ASTRONOMY NOW
Posted: May 23, 2008
In what is beginning to look like a case of planetary measles, a third red spot has appeared alongside the Great Red Spot and Red Spot Junior in the turbulent Jovian atmosphere.
Just days after we reported on the rapid wind speeds recorded in Jupiter's junior red spot (Jupiter's Little Red Spot breaks wind speed record), and Jupiter has spawned a third, smaller, red oval in the same band of clouds as its big brother, the Great Red Spot (GRS). The new addition to the family was previously a white shaped oval storm; the change to a red colour indicates its swirling storm clouds are rising to heights like the clouds of its siblings, according to detailed analysis of the visible-light images taken by Hubble's Wide Field Planetary Camera 2 on May 9 and 10, and near-infrared adaptive optics images taken by the W.M. Keck telescope on May 11.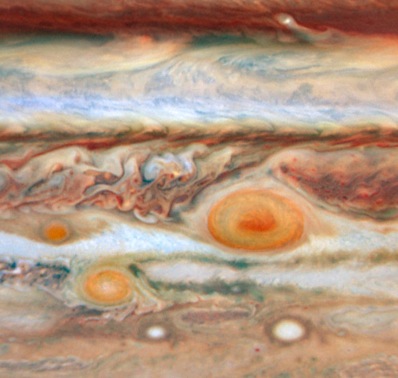 A new red spot appears on Jupiter (far left), in the same band of clouds as the Great Red Spot to the east. Image: M. Wong and I. de Pater (University of California, Berkeley).
The new observations support the idea that Jupiter is in the midst of global climate change, as first proposed by Professor Phil Marcus at the University of California in 2004, causing temperatures to change by about 10 degrees Celsius, getting warmer near the equator and cooler near the south pole. Marcus predicted that large changes would start in the southern hemisphere around 2006, causing the jet streams to become unstable and spawn new vortices, just as has been observed.

"The appearance of the planet's cloud system from just north of the equator down to 34 degrees south latitude keeps surprising us with changes and, in particular, with new cloud features that haven't been previously observed," says Marcus. "Whether or not Jupiter's climate has changed due to a predicted warming, the cloud activity over the last two and a half years shows dramatically that something unusual has happened."
The original two red spots are squeezed between bands called shear flows, where the flow above each storm is moving westward and the flow below is moving eastward. Since the shear flow in each band is slightly different, and the storms are different sizes, the GRS drifts in a westward direction while the Little Red Spot drifts eastward. The result is that the storms pass each other roughly every two years, with the next close encounter in June. But, because the new red spot is located in the same band of clouds as the GRS, if the two storms continue on their present courses they will collide in August, and the small oval will either be be consumed or repelled by Jupiter's persistent GRS.