On Sale Now!





The October 2014 issue of Astronomy Now is on sale! Order direct from our store (free 1st class post & to UK addresses). Astronomy Now is the only astronomy magazine specially designed to be read on tablets and phones. Download the app from Google Play Store or the Apple App Store.





Top Stories





Earthshine used to test life detection method
...By imagining the Earth as an exoplanet, scientists observing our planet's reflected light on the Moon with ESO's Very Large Telescope have demonstrated a way to detect life on other worlds...
READ MORE

Solid buckyballs discovered in space
...Astronomers using NASA's Spitzer Space Telescope have detected a particular type of molecule, given the nickname "buckyball", in a solid form for the first time...
READ MORE

Steamy water-world gets the Hubble treatment
...Hubble Space Telescope observations of a 7 Earth-mass planet find an unusual water-rich world swathed in a thick, steamy atmosphere...
READ MORE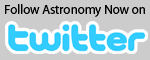 Hubble team unveils most colorful view of Universe
NASA PRESS RELEASE
Posted: 4 June 2014


Astronomers using NASA's Hubble Space Telescope have assembled a comprehensive picture of the evolving universe -- among the most colorful deep space images ever captured by the 24-year-old telescope.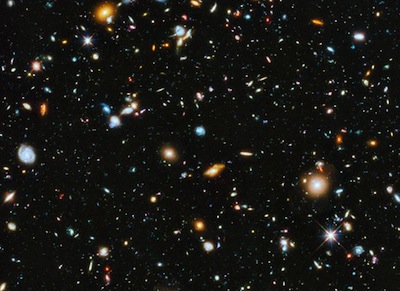 This is a composite image showing the visible and near infrared light spectrum collected from Hubble's ACS and WFC3 instruments over a nine-year period. See larger image. Image Credit: NASA/ESA

Researchers say the image, in new study called the Ultraviolet Coverage of the Hubble Ultra Deep Field, provides the missing link in star formation. The Hubble Ultra Deep Field 2014 image is a composite of separate exposures taken in 2003 to 2012 with Hubble's Advanced Camera for Surveys and Wide Field Camera 3.
Astronomers previously studied the Hubble Ultra Deep Field (HUDF) in visible and near-infrared light in a series of images captured from 2003 to 2009. The HUDF shows a small section of space in the southern-hemisphere constellation Fornax. Now, using ultraviolet light, astronomers have combined the full range of colors available to Hubble, stretching all the way from ultraviolet to near-infrared light. The resulting image -- made from 841 orbits of telescope viewing time -- contains approximately 10,000 galaxies, extending back in time to within a few hundred million years of the big bang.
Prior to the Ultraviolet Coverage of the Hubble Ultra Deep Field study of the universe, astronomers were in a curious position. Missions such as NASA's Galaxy Evolution Explorer (GALEX) observatory, which operated from 2003 to 2013, provided significant knowledge of star formation in nearby galaxies. Using Hubble's near-infrared capability, researchers also studied star birth in the most distant galaxies, which appear to us in their most primitive stages due to the significant amount of time required for the light of distant stars to travel into a visible range. But for the period in between, when most of the stars in the universe were born -- a distance extending from about 5 to 10 billion light-years -- they did not have enough data.
"The lack of information from ultraviolet light made studying galaxies in the HUDF like trying to understand the history of families without knowing about the grade-school children," said principal investigator Harry Teplitz of Caltech in Pasadena, California. "The addition of the ultraviolet fills in this missing range."
Ultraviolet light comes from the hottest, largest and youngest stars. By observing at these wavelengths, researchers get a direct look at which galaxies are forming stars and where the stars are forming within those galaxies.
Studying the ultraviolet images of galaxies in this intermediate time period enables astronomers to understand how galaxies grew in size by forming small collections of very hot stars. Because Earth's atmosphere filters most ultraviolet light, this work can only be accomplished with a space-based telescope.
"Ultraviolet surveys like this one using the unique capability of Hubble are incredibly important in planning for NASA's James Webb Space Telescope," said team member Dr. Rogier Windhorst of Arizona State University in Tempe. "Hubble provides an invaluable ultraviolet light dataset that researchers will need to combine with infrared data from Webb. This is the first really deep ultraviolet image to show the power of that combination."
The Hubble Space Telescope is a project of international cooperation between NASA and the European Space Agency. NASA's Goddard Space Flight Center in Greenbelt, Maryland, manages the telescope. The Space Telescope Science Institute (STScI) in Baltimore conducts Hubble science operations. STScI is operated for NASA by the Association of Universities for Research in Astronomy, Inc., in Washington.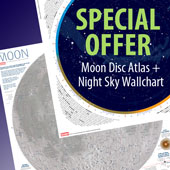 The Planets


From tiny Mercury to distant Neptune and Pluto, The Planets profiles each of the Solar System's members in depth, featuring the latest imagery from space missions. The tallest mountains, the deepest canyons, the strongest winds, raging atmospheric storms, terrain studded with craters and vast worlds of ice are just some of the sights you'll see on this 100-page tour of the planets.


GET YOUR COPY


Hubble Reborn


Hubble Reborn takes the reader on a journey through the Universe with spectacular full-colour pictures of galaxies, nebulae, planets and stars as seen through Hubble's eyes, along the way telling the dramatic story of the space telescope, including interviews with key scientists and astronauts.


GET YOUR COPY


3D Universe


Witness the most awesome sights of the Universe as they were meant to be seen in this 100-page extravaganza of planets, galaxies and star-scapes, all in 3D!


GET YOUR COPY