On Sale Now!





The October 2014 issue of Astronomy Now is on sale! Order direct from our store (free 1st class post & to UK addresses). Astronomy Now is the only astronomy magazine specially designed to be read on tablets and phones. Download the app from Google Play Store or the Apple App Store.





Top Stories





Earthshine used to test life detection method
...By imagining the Earth as an exoplanet, scientists observing our planet's reflected light on the Moon with ESO's Very Large Telescope have demonstrated a way to detect life on other worlds...
READ MORE

Solid buckyballs discovered in space
...Astronomers using NASA's Spitzer Space Telescope have detected a particular type of molecule, given the nickname "buckyball", in a solid form for the first time...
READ MORE

Steamy water-world gets the Hubble treatment
...Hubble Space Telescope observations of a 7 Earth-mass planet find an unusual water-rich world swathed in a thick, steamy atmosphere...
READ MORE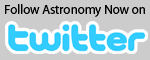 NASA's WISE survey turns up no sign of Planet X
JPL PRESS RELEASE
Posted: 16 March 2014


After searching hundreds of millions of objects across our sky, NASA's Wide-Field Infrared Survey Explorer (WISE) has turned up no evidence of the hypothesized celestial body in our solar system commonly dubbed "Planet X."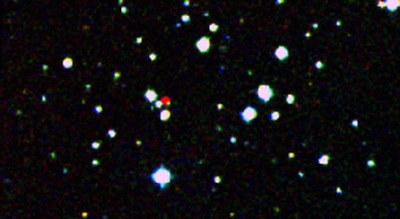 A nearby star stands out in red in this image from the Second Generation Digitized Sky Survey. DSS/NASA/JPL-Caltech

Researchers previously had theorized about the existence of this large, but unseen celestial body, suspected to lie somewhere beyond the orbit of Pluto. In addition to "Planet X," the body had garnered other nicknames, including "Nemesis" and "Tyche."
This recent study, which involved an examination of WISE data covering the entire sky in infrared light, found no object the size of Saturn or larger exists out to a distance of 10,000 astronomical units (au), and no object larger than Jupiter exists out to 26,000 au. One astronomical unit equals 93 million miles. Earth is 1 au, and Pluto about 40 au, from the sun.
"The outer solar system probably does not contain a large gas giant planet, or a small, companion star," said Kevin Luhman of the Center for Exoplanets and Habitable Worlds at Penn State University, University Park, Pa., author of a paper in the Astrophysical Journal describing the results.
But searches of the WISE catalog are not coming up empty. A second study reveals several thousand new residents in our sun's "backyard," consisting of stars and cool bodies called brown dwarfs.
"Neighboring star systems that have been hiding in plain sight just jump out in the WISE data," said Ned Wright of the University of California, Los Angeles, the principal investigator of the mission.
The second WISE study, which concentrated on objects beyond our solar system, found 3,525 stars and brown dwarfs within 500 light-years of our sun.
"We're finding objects that were totally overlooked before," said Davy Kirkpatrick of NASA's Infrared and Processing Analysis Center at the California Institute of Technology, Pasadena, Calif. Kirkpatrick is lead author of the second paper, also in the Astrophysical Journal. Some of these 3,525 objects also were found in the Luhman study, which catalogued 762 objects.
The WISE mission operated from 2010 through early 2011, during which time it performed two full scans of the sky -- with essentially a six-month gap between scans. The survey captured images of nearly 750 million asteroids, stars and galaxies. In November 2013, NASA released data from the AllWISE program, which now enables astronomers to compare the two full-sky surveys to look for moving objects.
In general, the more an object in the WISE images appears to move over time, the closer it is. This visual clue is the same effect at work when one observes a plane flying low to the ground versus the same plane flying at higher altitude. Though traveling at the same speed, the plane at higher altitude will appear to be moving more slowly.
Searches of the WISE data catalog for these moving objects are uncovering some of the closest stars. The discoveries include a star located about 20 light-years away in the constellation Norma, and as reported last March, a pair of brown dwarfs only 6.5 light-years away -- making it the closest star system to be discovered in nearly a century.
Despite the large number of new solar neighbors found by WISE, "Planet X" did not show up. Previous speculations about this hypothesized body stemmed in part from geological studies that suggested a regular timing associated with mass extinctions on Earth. The idea was that a large planet or small star hidden in the farthest reaches of our solar system might periodically sweep through bands of outer comets, sending them flying toward our planet. The Planet X-based mass extinction theories were largely ruled out even prior to the new WISE study.
Other theories based on irregular comet orbits had also postulated a Planet X-type body. The new WISE study now argues against these theories as well.
Both of the WISE searches were able to find objects the other missed, suggesting many other celestial bodies likely await discovery in the WISE data.
"We think there are even more stars out there left to find with WISE. We don't know our own sun's backyard as well as you might think," said Wright.
WISE was put into hibernation upon completing its primary mission in 2011. In September 2013, it was reactivated, renamed NEOWISE and assigned a new mission to assist NASA's efforts to identify the population of potentially hazardous near-Earth objects. NEOWISE will also characterize previously known asteroids and comets to better understand their sizes and compositions.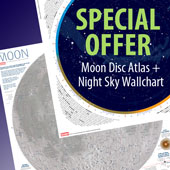 The Planets


From tiny Mercury to distant Neptune and Pluto, The Planets profiles each of the Solar System's members in depth, featuring the latest imagery from space missions. The tallest mountains, the deepest canyons, the strongest winds, raging atmospheric storms, terrain studded with craters and vast worlds of ice are just some of the sights you'll see on this 100-page tour of the planets.


GET YOUR COPY


Hubble Reborn


Hubble Reborn takes the reader on a journey through the Universe with spectacular full-colour pictures of galaxies, nebulae, planets and stars as seen through Hubble's eyes, along the way telling the dramatic story of the space telescope, including interviews with key scientists and astronauts.


GET YOUR COPY


3D Universe


Witness the most awesome sights of the Universe as they were meant to be seen in this 100-page extravaganza of planets, galaxies and star-scapes, all in 3D!


GET YOUR COPY