On Sale Now!





The October 2014 issue of Astronomy Now is on sale! Order direct from our store (free 1st class post & to UK addresses). Astronomy Now is the only astronomy magazine specially designed to be read on tablets and phones. Download the app from Google Play Store or the Apple App Store.





Top Stories





Earthshine used to test life detection method
...By imagining the Earth as an exoplanet, scientists observing our planet's reflected light on the Moon with ESO's Very Large Telescope have demonstrated a way to detect life on other worlds...
READ MORE

Solid buckyballs discovered in space
...Astronomers using NASA's Spitzer Space Telescope have detected a particular type of molecule, given the nickname "buckyball", in a solid form for the first time...
READ MORE

Steamy water-world gets the Hubble treatment
...Hubble Space Telescope observations of a 7 Earth-mass planet find an unusual water-rich world swathed in a thick, steamy atmosphere...
READ MORE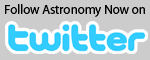 Astronomers surprised by proposed grounding of SOFIA
BY STEPHEN CLARK
ASTRONOMY NOW
Posted: 6 March 2014


NASA's proposed budget for 2015 would slash funding for a U.S.-German airborne infrared observatory unless international partners or other institutions supply money to keep the sophisticated astronomy platform in the sky.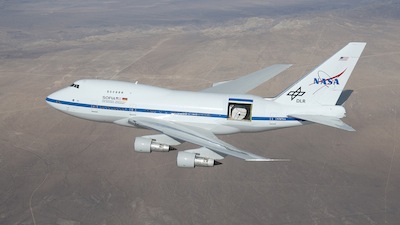 SOFIA in flight over California's Mojave Desert. Photo credit: NASA

The decision to ground a NASA-operated modified Boeing 747 jumbo jet housing a 2.5-meter (8.2-foot) telescope came just as the Stratospheric Observatory for Infrared Astronomy was fitted with a new instrument to fill out the airplane's complement of sensors.
"I was quite surprised that this decision had been made in what seems to have been a budgetary process without any input from the astronomical community," said Paul Goldsmith, an astronomer at NASA's Jet Propulsion Laboratory.
The White House's fiscal year 2015 budget requests a cut in SOFIA's funding from $84 to $12 million next year, but the spending plan can be changed by Congress.
Outfitted with a set of cameras and detectors, the flying telescope was scheduled to be fully operational later this year. SOFIA made its first science observations in 2010, and the 747's flight time has been split between research sorties and testing since then.
"SOFIA has earned its way," said NASA Administrator Charles Bolden. "It has done very well, but I had to make a choice and the choice was that we would focus on those other efforts and work with out international partners, particularly the Germans that are our No. 1 partner there, to find a way to get as much science as we can in the remaining part of 2014 and then come up with a go-forward plan for 2015 if ... we're unable to find either another partner or another source of money to cover the operational costs."
Designed for a service life of 20 years, SOFIA's strength is its ability to fly above 99 percent of the light-obscuring water vapor in the atmosphere, giving the telescope views in visible, infrared and sub-millimeter wavelengths, according to Goldstein.
Scientists say the airborne telescope can observe in a slice of the spectrum inaccessible from most ground-based telescopes.
"Telescopes at the very driest spots on the Earth's surface can observe, in the best weather, at certain wavelengths throughout this region, but some portions of the spectrum are still blocked completely," Goldstein said. "SOFIA is thus a great improvement compared to all ground-based sites, but is still not as good as being in space."
The jumbo jet flies at altitudes between 39,000 to 45,000 feet (12-14 kilometers) and can provide astronomers nearly 10 hours of flight time each observing night.
But SOFIA has its limitations.
It is not as large as many ground telescopes, putting SOFIA at a disadvantage in angular resolution. And SOFIA is unable to follow up on exciting discoveries of water vapor within the solar system and in star-forming regions made by Europe's Herschel infrared space telescope, Goldstein said.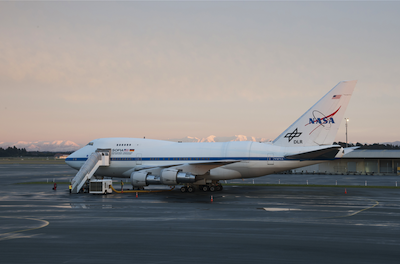 SOFIA was deployed to New Zealand last year for Southern Hemisphere flights. Photo credit: NASA/Carla Thomas

"SOFIA has great advantages and handicaps due to being an airborne platform," Goldstein said. "It has made use of being able to fly to the Southern Hemisphere, with a very successful deployment to New Zealand last year. On the other hand, the amount of time available is limited, and you generally need a flight plan that takes you back to where you have taken off from, which limits the time you can observe a given source."
Based at NASA's Armstrong Flight Research Center in Palmdale, Calif., the airborne telescope would be put in storage under the budget proposal unless NASA can find funding to keep the observatory flying.
The decision to cut SOFIA's funding ensured NASA's science budget could pay for extensions for the agency's existing missions, such as the Cassini spacecraft at Saturn and a fleet of rovers and orbiters at Mars, plus support development of future projects like the Wide-Field Infrared Space Telescope and a probe to Jupiter's moon Europa, according to Elizabeth Robinson, NASA's chief financial officer.
"In order to keep that balance, we're seeking ways with our current partner Germany and potential other partners to idnetify a path forwarad for SOFIA because we have greatly reduced funding there," Robinson told reporters Tuesday. "Unless we can find funds to continue operting SOFIA, NASA plans to place the aircraft in storage in 2015."
"I understand there are great financial pressures on the federal budget, and that is may be needed for NASA to make difficult choices among ongoing and future missions," Goldstein said. "It is not clear that the process for terminating SOFIA was made by careful weighing of the value of different options."
SOFIA is a joint project between NASA and DLR, the German space agency. It follows another flying astronomy platform, the Kuiper Airborne Observatory, which flew from 1974 to 1995 aboard a C-141 military transport plane.
Andreas Schutz, a DLR spokesperson, said Germany's contribution is about 20 percent of SOFIA's annual operating budget. German officials are working closely with NASA to find a solution to continue flying the observatory, Schutz said.
"This contribution takes place 'in kind' with personnel and parts and material," Schutz said. "In return, scientists from German research institutions use 20 percent of SOFIA's yearly research hours."
Paul Hertz, director NASA's astrophysics division, cited SOFIA's high operating costs as a reason for the budget cut. With pilots, fuel and maintenance for the one-of-a-kind aircraft and telescope, SOFIA costs more to operate than any other NASA astrophysics mission except the Hubble Space Telescope.
In a presentation this week to the National Research Council's Committee on Astronomy and Astrophysics, Hertz said NASA is not "throwing away" its investment in SOFIA because the airplane would be kept in storage in case the agency can afford the project in future years.
Follow Stephen Clark on Twitter: @StephenClark1.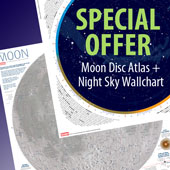 The Planets


From tiny Mercury to distant Neptune and Pluto, The Planets profiles each of the Solar System's members in depth, featuring the latest imagery from space missions. The tallest mountains, the deepest canyons, the strongest winds, raging atmospheric storms, terrain studded with craters and vast worlds of ice are just some of the sights you'll see on this 100-page tour of the planets.


GET YOUR COPY


Hubble Reborn


Hubble Reborn takes the reader on a journey through the Universe with spectacular full-colour pictures of galaxies, nebulae, planets and stars as seen through Hubble's eyes, along the way telling the dramatic story of the space telescope, including interviews with key scientists and astronauts.


GET YOUR COPY


3D Universe


Witness the most awesome sights of the Universe as they were meant to be seen in this 100-page extravaganza of planets, galaxies and star-scapes, all in 3D!


GET YOUR COPY