On Sale Now!





The October 2014 issue of Astronomy Now is on sale! Order direct from our store (free 1st class post & to UK addresses). Astronomy Now is the only astronomy magazine specially designed to be read on tablets and phones. Download the app from Google Play Store or the Apple App Store.





Top Stories





Earthshine used to test life detection method
...By imagining the Earth as an exoplanet, scientists observing our planet's reflected light on the Moon with ESO's Very Large Telescope have demonstrated a way to detect life on other worlds...
READ MORE

Solid buckyballs discovered in space
...Astronomers using NASA's Spitzer Space Telescope have detected a particular type of molecule, given the nickname "buckyball", in a solid form for the first time...
READ MORE

Steamy water-world gets the Hubble treatment
...Hubble Space Telescope observations of a 7 Earth-mass planet find an unusual water-rich world swathed in a thick, steamy atmosphere...
READ MORE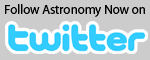 Launch of Gaia galaxy probe slips to late December
BY STEPHEN CLARK
ASTRONOMY NOW
Posted: 24 October 2013


Concerns over the health of two timing transponders inside Europe's Gaia spacecraft have delayed launch of the $1.2 billion mission to map the positions of a billion stars from Nov. 20 until at least late December, officials said Wednesday.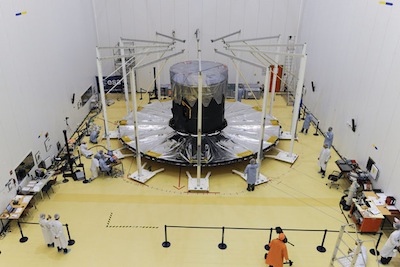 Gaia's sunshield deployed in French Guiana on Oct. 10 in a final prelaunch test. Credit: ESA/M. Pedoussaut

The European Space Agency said it plans to remove the suspect transponders from Gaia, which was about to be fueled for launch at the European-run Guiana Space Center in South America. Engineers will ship the items back to their manufacturer, Thales Alenia Space of Italy, for repairs.
The delay means Gaia will miss its current launch window, which opens Nov. 17 and closes Dec. 5. Gaia has another window beginning Dec. 17 and running through Jan. 5.
The spacecraft will scan the galaxy from a position at the L2 Lagrange point about a million miles from the night side of Earth, a thermally-stable position where gravity from the Earth and sun balance a satellite's motion.
Gaia can only launch at certain times to reach the L2 Lagrange point.
Gaia was on track for liftoff from French Guiana on Nov. 20 aboard a Europeanized version of Russia's Soyuz rocket.
Officials decided to push back Gaia's launch after a problem with similar transponders on a satellite already in orbit.
Thales will replace components inside two of Gaia's transponders responsible for generating "timing signals" for downlinking the mission's science data, according to an ESA statement.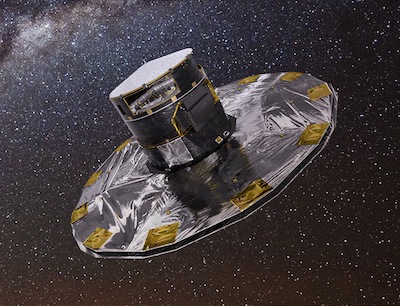 Artist's concept of Gaia in space. Credit: ESA

ESA did not identify the spacecraft with the problem that forced Gaia's launch delay, but two European space officials told Spaceflight Now the issue was similar to a glitch found on Thales-built broadband communications satellites launched in June for O3b Networks.
A Thales spokesperson did not respond to a request for comment.
Details of the problem with the O3b satellites have not been disclosed by O3b Networks or Thales, but O3b officials opted to delay the launch of four more spacecraft in September to absolve the new satellites of the issue.
The O3b launch on a Soyuz rocket in September was supposed to occur before Gaia's Soyuz flight, but the O3b delay put the commercial mission behind Gaia on the Soyuz manifest in French Guiana, which is managed by Arianespace.
Arianespace plans the launch of an Ariane 5 rocket with the ASTRA 5B and Amazonas 4A communications satellites Dec. 13, and it takes at least two weeks to reconfigure the French Guiana spaceport between Ariane 5 and Soyuz flights.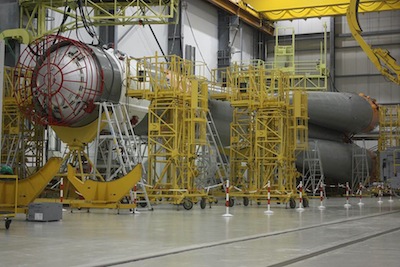 File photo of a Soyuz rocket inside an integration facility in French Guiana earlier this year. Credit: Stephen Clark/Spaceflight Now

If the Ariane 5 launch stays on schedule, and Gaia's transponder repairs go well, Gaia could launch the last week of December, a Guiana Space Center official said.
Arianespace has a busy Soyuz launch schedule to begin 2014, with up to four Soyuz missions slated before the middle of the year. After Gaia, which could take off before the end of 2013, Arianespace plans the O3b launch in early 2014, the launch of Europe's radar-equipped Sentinel 1A Earth observation satellite in the spring, and a mission with the first two fully operational spacecraft for the European Galileo navigation network.
The first Ariane 5 launch of 2014 is preliminarily set for Jan. 24 with the ABS 2 broadcasting satellite to cover the Asia-Pacific, Africa and the Middle East and the Athena-Fidus communications craft to serve French and Italian civil and military authorities.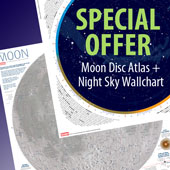 The Planets


From tiny Mercury to distant Neptune and Pluto, The Planets profiles each of the Solar System's members in depth, featuring the latest imagery from space missions. The tallest mountains, the deepest canyons, the strongest winds, raging atmospheric storms, terrain studded with craters and vast worlds of ice are just some of the sights you'll see on this 100-page tour of the planets.


GET YOUR COPY


Hubble Reborn


Hubble Reborn takes the reader on a journey through the Universe with spectacular full-colour pictures of galaxies, nebulae, planets and stars as seen through Hubble's eyes, along the way telling the dramatic story of the space telescope, including interviews with key scientists and astronauts.


GET YOUR COPY


3D Universe


Witness the most awesome sights of the Universe as they were meant to be seen in this 100-page extravaganza of planets, galaxies and star-scapes, all in 3D!


GET YOUR COPY