On Sale Now!





The October 2014 issue of Astronomy Now is on sale! Order direct from our store (free 1st class post & to UK addresses). Astronomy Now is the only astronomy magazine specially designed to be read on tablets and phones. Download the app from Google Play Store or the Apple App Store.





Top Stories





Earthshine used to test life detection method
...By imagining the Earth as an exoplanet, scientists observing our planet's reflected light on the Moon with ESO's Very Large Telescope have demonstrated a way to detect life on other worlds...
READ MORE

Solid buckyballs discovered in space
...Astronomers using NASA's Spitzer Space Telescope have detected a particular type of molecule, given the nickname "buckyball", in a solid form for the first time...
READ MORE

Steamy water-world gets the Hubble treatment
...Hubble Space Telescope observations of a 7 Earth-mass planet find an unusual water-rich world swathed in a thick, steamy atmosphere...
READ MORE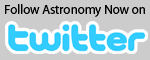 ISON makes lackluster showing in Mars flyby
BY STEPHEN CLARK
ASTRONOMY NOW
Posted: 7 October 2013


Comet ISON made its closest approach to Mars this week, and scientists in charge of the sharp-eyed camera aboard NASA's Mars Reconnaissance Orbiter say the long-awaited comet did not live up to expectations.


The HiRISE camera on NASA's Mars Reconnaissance Orbiter recored this series of images of Comet ISON. Credit: NASA/JPL/University of Arizona

It's too early to say what that means for ISON's swing by the sun in November, when observers on Earth are expected to get their best chance to see the comet in the sky.
MRO's High-Resolution Imaging Science Experiment, or HiRISE camera, took some time off its usual targets - the craters, dunes and rust-colored landforms of Mars - and pointed toward space as ISON sailed 8 million miles away from the red planet.
"Based on preliminary analysis of the data, the comet appears to be at the low end of the range of brightness predictions for the observation," HiRISE scientists Alan Delamere and Alfred McEwen wrote on the instrument's website. "As a result, the image isn't visually pleasing but low coma activity is best for constraining the size of the nucleus."
HiRISE was not designed to spot comets, and this week's observations were planned as an opportunity to collect bonus science.
Ball Aerospace and Technologies Corp. built the camera ahead of its launch aboard MRO in 2005. Scientists at the University of Arizona operate the camera, which is not affected by the ongoing partial government shutdown.
When used for its primary purpose of imaging the Martian surface, HiRISE can resolve objects as small as a dinner plate. MRO's view of ISON provides the closest view yet of the comet, which is speeding toward a grazing encounter with the sun on Nov. 28.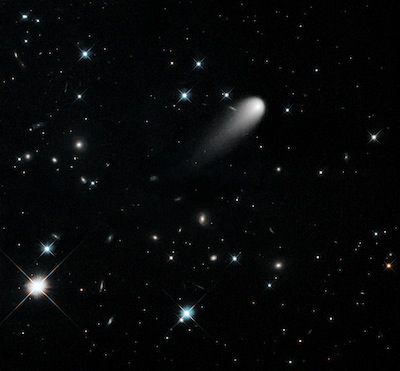 In this Hubble Space Telescope composite image taken in April 2013, the sun-approaching Comet ISON floats against a seemingly infinite backdrop of numerous galaxies and a handful of foreground stars. The icy visitor, with its long gossamer tail, appears to be swimming like a tadpole through a deep pond of celestial wonders. Credit: NASA/ESA

The comet's nucleus does not fill a single pixel in HiRISE's snapshots, but scientists can estimate ISON's size by observing the brightness of its coma, or atmosphere, composed of dust and water vapor streaming away from its rock-ice core.
"HiRISE saw a small spot at the position of ISON that is relatively bright, like a star, but moving relative to actual stars," Delamere and McEwen wrote. "The comet's coma is apparently very faint, so these data provide useful constraints on the size of the comet nucleus and its overall brightness, key measurements to understand its behavior and useful knowledge to subsequent observers."
Researchers say the coma will become more pronounced as ISON approaches the sun.
The best viewing from Earth will be in late November and early December, and although ISON's showing has not been as bright as first predicted, most astronomers expect the comet to be visible with the naked eye before and after it swings by the sun.
ISON will reach its closest point to Earth on Dec. 26 at a range of 40 million miles, six times farther than its flyby of Mars this week, according to the European Space Agency.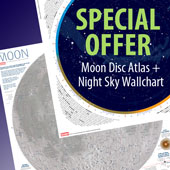 The Planets


From tiny Mercury to distant Neptune and Pluto, The Planets profiles each of the Solar System's members in depth, featuring the latest imagery from space missions. The tallest mountains, the deepest canyons, the strongest winds, raging atmospheric storms, terrain studded with craters and vast worlds of ice are just some of the sights you'll see on this 100-page tour of the planets.


GET YOUR COPY


Hubble Reborn


Hubble Reborn takes the reader on a journey through the Universe with spectacular full-colour pictures of galaxies, nebulae, planets and stars as seen through Hubble's eyes, along the way telling the dramatic story of the space telescope, including interviews with key scientists and astronauts.


GET YOUR COPY


3D Universe


Witness the most awesome sights of the Universe as they were meant to be seen in this 100-page extravaganza of planets, galaxies and star-scapes, all in 3D!


GET YOUR COPY