On Sale Now!





The October 2014 issue of Astronomy Now is on sale! Order direct from our store (free 1st class post & to UK addresses). Astronomy Now is the only astronomy magazine specially designed to be read on tablets and phones. Download the app from Google Play Store or the Apple App Store.





Top Stories





Earthshine used to test life detection method
...By imagining the Earth as an exoplanet, scientists observing our planet's reflected light on the Moon with ESO's Very Large Telescope have demonstrated a way to detect life on other worlds...
READ MORE

Solid buckyballs discovered in space
...Astronomers using NASA's Spitzer Space Telescope have detected a particular type of molecule, given the nickname "buckyball", in a solid form for the first time...
READ MORE

Steamy water-world gets the Hubble treatment
...Hubble Space Telescope observations of a 7 Earth-mass planet find an unusual water-rich world swathed in a thick, steamy atmosphere...
READ MORE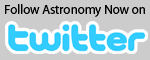 Mars orbiter granted reprieve from government closure
BY STEPHEN CLARK
SPACEFLIGHT NOW
Posted: 4 October 2013


Engineers returned to work on NASA's next Mars mission at the Kennedy Space Center on Thursday after receiving an emergency exception under federal law to continue launch preparations for a $671 million orbiter to probe the red planet's atmosphere.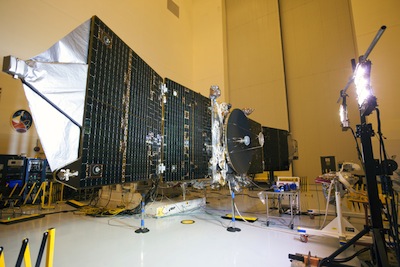 After a two-day shutdown, processing work will resume on the MAVEN spacecraft, shown here during an illumination test at NASA's Kennedy Space Center. Credit: NASA/Kim Shiflett.

The decision keeps the Mars Atmosphere and Volatile Evolution, or MAVEN, mission on schedule for liftoff Nov. 18 at the opening of a 20-day primary launch window.
"I learned this morning that NASA has analyzed the MAVEN mission relative to the Anti-Deficiency Act and determined that it meets the requirements allowing an emergency exception," said Bruce Jakosky, MAVEN's principal investigator from the University of Colorado at Boulder's Laboratory for Atmospheric and Space Physics.
NASA sent 97 percent of its civil servant workforce home Tuesday after Congress failed to pass a federal budget, only granting exceptions for activities deemed essential for the protection of life or property.
While administrators, support staffs and scientists were furloughed, operations of the International Space Station in support of its six-person crew continued this week, along with data-gathering activities on the Hubble Space Telescope and NASA's rovers and orbiters already at Mars.
But the government shutdown halted work on missions still in development on the ground, such as MAVEN.
Officials feared an extended government shutdown could threaten the mission's ability to launch by mid-December, the last chance to send a spacecraft to Mars until the planets are in the right positions again in early 2016.
With the MAVEN work stoppage lifted Thursday, engineers lost about three days of work on the spacecraft. But officials with Lockheed Martin Corp., MAVEN's prime contractor, said last week the mission was nine days ahead of schedule going into the shutdown.
"Good news for us, although we're very sensitive to the fact that there are still 800,000 government employees who are furloughed," Jakosky told Spaceflight Now.
Teams returned to work on MAVEN inside the Payload Hazardous Servicing Facility at KSC on Thursday afternoon, Jakosky said.
"We have already restarted spacecraft processing at Kennedy Space Center, working toward being ready to launch on Nov. 18," Jakosky wrote in an update emailed to reporters. "We will continue to work over the next couple of days to identify any changes in our schedule or plans that are necessary to stay on track."
Jakosky said it will take a day to ramp up activities and fully resume preparations on MAVEN.
NASA's exception for MAVEN was granted under the guise of the orbiter's importance as a communications replay platform for the $2.4 billion Curiosity rover and the venerable Opportunity robot exploring the Martian surface.
The Mars Odyssey mission and Mars Reconnaissance Orbiter currently provide communications support for the rovers, but both orbiters are flying well beyond their design lives.
"Launching MAVEN in 2013 protects the existing assets that are at Mars today," Jakosky said. "A delay in the launch date by more than a week past the end of the nominal launch period, or a delay of launch to 2016, would require additional fuel to get into orbit. This would have precluded having sufficient fuel for MAVEN to carry out its science mission and to operate as a relay for any significant time."
Scientists are also eager to launch MAVEN in time for the spacecraft's suite of solar wind monitors, particle sensors and atmospheric instruments to observe how the Martian atmosphere responds to stimuli from solar activity.
MAVEN is designed to study how gases escape from the upper atmosphere of Mars, which could tell scientists how the red planet evolved from a world hospitable for life to the barren planet of today.
"Although the exception for MAVEN is not being done for science reasons, the science of MAVEN clearly will benefit from this action," Jakosky said. "Launching in 2013 allows us to observe at a good time in the eleven-year solar cycle."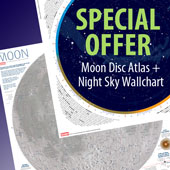 The Planets


From tiny Mercury to distant Neptune and Pluto, The Planets profiles each of the Solar System's members in depth, featuring the latest imagery from space missions. The tallest mountains, the deepest canyons, the strongest winds, raging atmospheric storms, terrain studded with craters and vast worlds of ice are just some of the sights you'll see on this 100-page tour of the planets.


GET YOUR COPY


Hubble Reborn


Hubble Reborn takes the reader on a journey through the Universe with spectacular full-colour pictures of galaxies, nebulae, planets and stars as seen through Hubble's eyes, along the way telling the dramatic story of the space telescope, including interviews with key scientists and astronauts.


GET YOUR COPY


3D Universe


Witness the most awesome sights of the Universe as they were meant to be seen in this 100-page extravaganza of planets, galaxies and star-scapes, all in 3D!


GET YOUR COPY