Top Stories





Earthshine used to test life detection method
...By imagining the Earth as an exoplanet, scientists observing our planet's reflected light on the Moon with ESO's Very Large Telescope have demonstrated a way to detect life on other worlds...
READ MORE

Solid buckyballs discovered in space
...Astronomers using NASA's Spitzer Space Telescope have detected a particular type of molecule, given the nickname "buckyball", in a solid form for the first time...
READ MORE

Steamy water-world gets the Hubble treatment
...Hubble Space Telescope observations of a 7 Earth-mass planet find an unusual water-rich world swathed in a thick, steamy atmosphere...
READ MORE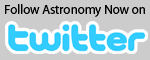 Comet ISON shows plenty of promise as it nears Mars
BY KEITH COOPER
ASTRONOMY NOW
Posted: 26 September 2013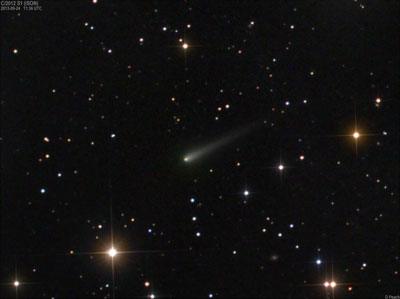 Damian Peach's image of Comet ISON, taken on 24 September through a 430mm (17-inch) Corrected Dall-Kirkham telescope with a Finger Lakes Instruments PL6303e camera. See larger version.
This great new image from British astrophotographer Damian Peach, who will be appearing at the Astronomy Now Comet Conference in London on 20 October, shows Comet C/2012 S1 ISON continuing to race towards the Sun. The glow of the comet's diffuse coma and growing tail are clearly visible as Comet ISON moves through the star-fields on the border between the constellations Cancer and Leo. Still 330 million kilometres from Earth, there remain strong hopes that ISON will eventually blossom to be as bright as Venus, or even brighter, when it approaches perihelion (its closest point to the Sun) on 28 November.
Currently the comet is at magnitude +11, which is far too faint to be seen with the unaided eye. Small telescopes should however provide a good view, with the comet coming well within range of binoculars by the beginning of November and, if all goes well, further brightening to be visible without optical aid by mid-November.
Before then, ISON has a close encounter with Mars on 1 October, coming within ten million kilometres of the red planet, which should provide a spectacular imaging opportunity for astrophotographers. NASA and ESA's fleet of robotic Mars orbiters will also take time away from Mars to study the comet. Reaching Mars will be a crucial time for Comet ISON – having crossed inside the 'snow line' in the Solar System that marks the point where water vapour freezes out, temperatures should begin to rise enough for water-ice to begin sublimating from the comet's surface and really bulk out its tail. By studying this behaviour astronomers will be able to get a better gauge on how spectacular ISON may become.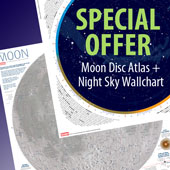 The Planets


From tiny Mercury to distant Neptune and Pluto, The Planets profiles each of the Solar System's members in depth, featuring the latest imagery from space missions. The tallest mountains, the deepest canyons, the strongest winds, raging atmospheric storms, terrain studded with craters and vast worlds of ice are just some of the sights you'll see on this 100-page tour of the planets.


GET YOUR COPY


Hubble Reborn


Hubble Reborn takes the reader on a journey through the Universe with spectacular full-colour pictures of galaxies, nebulae, planets and stars as seen through Hubble's eyes, along the way telling the dramatic story of the space telescope, including interviews with key scientists and astronauts.


GET YOUR COPY


3D Universe


Witness the most awesome sights of the Universe as they were meant to be seen in this 100-page extravaganza of planets, galaxies and star-scapes, all in 3D!


GET YOUR COPY