On Sale Now!





The October 2014 issue of Astronomy Now is on sale! Order direct from our store (free 1st class post & to UK addresses). Astronomy Now is the only astronomy magazine specially designed to be read on tablets and phones. Download the app from Google Play Store or the Apple App Store.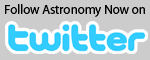 Mars rover gives negative result on Mars methane
BY STEPHEN CLARK
ASTRONOMY NOW
Posted: 23 September 2013


Contrary to earlier measurements from Earth and orbiting sensors, scientists analyzing data from the Curiosity rover have concluded the Martian atmosphere contains no methane, dashing hopes the red planet may still harbor microbial life.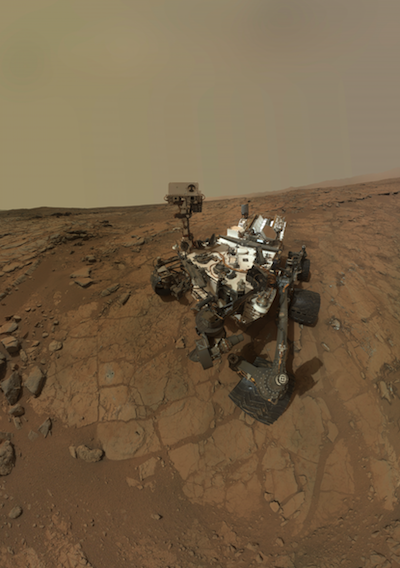 The rover's Mars Hand Lens Imager took dozens of exposures to be compiled into this mosaic self-portrait while Curiosity was stationed at a work site named "John Klein" earlier this year. Credit: NASA/JPL-Caltech/MSSS

The findings, reported Thursday in the journal Science Express, are based on analyses of six samples collected by Curiosity's tunable laser spectrometer inside the nuclear-powered rover's Sample Analysis at Mars, or SAM, instrument, the largest of 10 science instruments carried aboard Curiosity.
The SAM payload ingested Martian air six times from October 2012 through June, passing gas through a chamber illuminated by infrared lasers to check the atmosphere's chemical make-up for methane - a molecule formed by binding one carbon atom to four hydrogen atoms.
NASA says the lack of methane detected by Curiosity, coupled with the spectrometer's sensitivity, bracket the lower limit for the Martian atmosphere's methane concentration at no more than 1.3 parts per billion.
Ground telescopes and Europe's Mars Express orbiter collected data indicating methane's presence in the Martian atmosphere, an indication of current microbial life or undiscovered geologic activity - the two most likely sources of methane.
"It would have been exciting to find methane, but we have high confidence in our measurements, and the progress in expanding knowledge is what's really important," said the report's lead author, Chris Webster of NASA's Jet Propulsion Laboratory in Pasadena, Calif. "We measured repeatedly from Martian spring to late summer, but with no detection of methane."


This picture shows a lab demonstration of the measurement chamber inside the Tunable Laser Spectrometer, an instrument that is part of the Sample Analysis at Mars investigation on NASA's Curiosity rover. This demonstration uses visible lasers - rather than the infrared ones on the actual spectrometer - to show how the lasers bounce between the mirrors in the measurement chamber. Credit: NASA/JPL-Caltech

After initial methane detections from ground-based data in 2003, follow-up observations showed the methane almost completely vanished by 2006, indicating its concentrations could change with Martian seasons.
Curiosity began follow-up methane studies soon after the rover touched down inside Gale Crater on Mars in August 2012. Curiosity's tunable laser spectrometer offers 100 times better spectral resolution than any other instrument tasked with Mars methane research.
"This important result will help direct our efforts to examine the possibility of life on Mars," said Michael Meyer, NASA's lead scientist for Mars exploration. "It reduces the probability of current methane-producing Martian microbes, but this addresses only one type of microbial metabolism. As we know, there are many types of terrestrial microbes that don't generate methane."
Earlier measurements detected localized methane abundances of up to 45 parts per billion, but NASA says Curiosity's data are inconsistent with such concentrations of methane, even if it had dispersed globally.
"There's no known way for methane to disappear quickly from the atmosphere," said one of the paper's co-authors, Sushil Atreya of the University of Michigan, Ann Arbor. "Methane is persistent. It would last for hundreds of years in the Martian atmosphere. Without a way to take it out of the atmosphere quicker, our measurements indicate there cannot be much methane being put into the atmosphere by any mechanism, whether biology, geology, or by ultraviolet degradation of organics delivered by the fall of meteorites or interplanetary dust particles."
Curiosity is not finished with work on the methane question.
Scientists plan more observations to increase the fidelity of the data and seek methane concentrations well below 1 part per billion, according to NASA.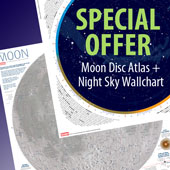 The Planets


From tiny Mercury to distant Neptune and Pluto, The Planets profiles each of the Solar System's members in depth, featuring the latest imagery from space missions. The tallest mountains, the deepest canyons, the strongest winds, raging atmospheric storms, terrain studded with craters and vast worlds of ice are just some of the sights you'll see on this 100-page tour of the planets.


GET YOUR COPY


Hubble Reborn


Hubble Reborn takes the reader on a journey through the Universe with spectacular full-colour pictures of galaxies, nebulae, planets and stars as seen through Hubble's eyes, along the way telling the dramatic story of the space telescope, including interviews with key scientists and astronauts.


GET YOUR COPY


3D Universe


Witness the most awesome sights of the Universe as they were meant to be seen in this 100-page extravaganza of planets, galaxies and star-scapes, all in 3D!


GET YOUR COPY