Top Stories





Earthshine used to test life detection method
...By imagining the Earth as an exoplanet, scientists observing our planet's reflected light on the Moon with ESO's Very Large Telescope have demonstrated a way to detect life on other worlds...
READ MORE

Solid buckyballs discovered in space
...Astronomers using NASA's Spitzer Space Telescope have detected a particular type of molecule, given the nickname "buckyball", in a solid form for the first time...
READ MORE

Steamy water-world gets the Hubble treatment
...Hubble Space Telescope observations of a 7 Earth-mass planet find an unusual water-rich world swathed in a thick, steamy atmosphere...
READ MORE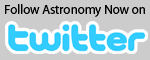 Hubble sees ISON against a cosmic tapestry
NASA IMAGE RELEASE
Posted: 29 July 2013


Approaching the sun, Comet ISON floats against a seemingly infinite backdrop of numerous galaxies and a handful of foreground stars. The icy visitor, with its long gossamer tail, appears to be swimming like a tadpole through a deep pond of celestial wonders.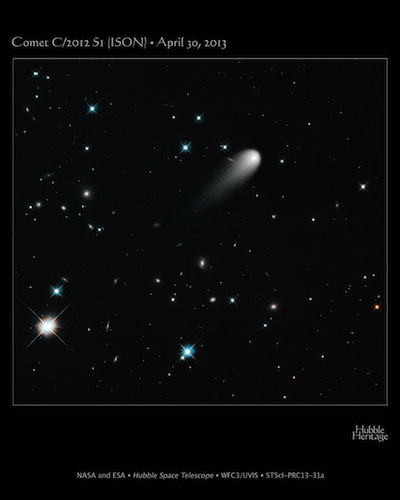 Artist's impression of snow lines around TW Hydrae. Credit: NASA, ESA, and the Hubble Heritage Team (STScI/AURA)

In reality, the comet is much, much closer. The nearest star to the sun is over 60,000 times farther away, and the nearest large galaxy to the Milky Way is over thirty billion times more distant. These vast dimensions are lost in this deep space Hubble exposure that visually combines our view of the universe from the very nearby to the extraordinarily far away.
In this composite image, background stars and galaxies were separately photographed in red and yellow-green light. Because the comet moved between exposures relative to the background objects, its appearance was blurred. The blurred comet photo was replaced with a single, black-and-white exposure. The images were taken with the Wide Field Camera 3 on April 30, 2013.
The Hubble Space Telescope is a project of international cooperation between NASA and the European Space Agency. NASA's Goddard Space Flight Center in Greenbelt, Md., manages the telescope. The Space Telescope Science Institute (STScI) in Baltimore, Md., conducts Hubble science operations. STScI is operated by the Association of Universities for Research in Astronomy Inc., in Washington, D.C.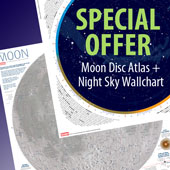 The Planets


From tiny Mercury to distant Neptune and Pluto, The Planets profiles each of the Solar System's members in depth, featuring the latest imagery from space missions. The tallest mountains, the deepest canyons, the strongest winds, raging atmospheric storms, terrain studded with craters and vast worlds of ice are just some of the sights you'll see on this 100-page tour of the planets.


GET YOUR COPY


Hubble Reborn


Hubble Reborn takes the reader on a journey through the Universe with spectacular full-colour pictures of galaxies, nebulae, planets and stars as seen through Hubble's eyes, along the way telling the dramatic story of the space telescope, including interviews with key scientists and astronauts.


GET YOUR COPY


3D Universe


Witness the most awesome sights of the Universe as they were meant to be seen in this 100-page extravaganza of planets, galaxies and star-scapes, all in 3D!


GET YOUR COPY