On Sale Now!





The October 2014 issue of Astronomy Now is on sale! Order direct from our store (free 1st class post & to UK addresses). Astronomy Now is the only astronomy magazine specially designed to be read on tablets and phones. Download the app from Google Play Store or the Apple App Store.





Top Stories





Earthshine used to test life detection method
...By imagining the Earth as an exoplanet, scientists observing our planet's reflected light on the Moon with ESO's Very Large Telescope have demonstrated a way to detect life on other worlds...
READ MORE

Solid buckyballs discovered in space
...Astronomers using NASA's Spitzer Space Telescope have detected a particular type of molecule, given the nickname "buckyball", in a solid form for the first time...
READ MORE

Steamy water-world gets the Hubble treatment
...Hubble Space Telescope observations of a 7 Earth-mass planet find an unusual water-rich world swathed in a thick, steamy atmosphere...
READ MORE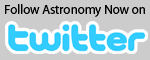 See Jupiter and Mars in the July morning sky
BY MARK ARMSTRONG
ASTRONOMY NOW
Posted: 22 July 2013


There's a splendid morning sky for night owls and early risers with the great sight of Mars and Jupiter close together among the stars of Gemini. You will need to find a flat east-north-east horizon to enjoy the spectacle as the two are less than ten degrees up at 4 am, about an hour or so before sunrise. Jupiter has been closing in on Mars all month and has finally caught up with and just passed the red planet.
Jupiter is by far the brighter of the two, shining at magnitude -1.9 and reveals its 32 arcsecond disc to a telescope as small as 50-mm. Binoculars will show the four Gallilean moons but all observations will be blighted by the turbulent atmosphere this close to the horizon. Mars is way off being at its best, shining at mag. +1.5 and subtending a tiny four arcsecond disc. That bright star just to the west of Jupiter is mu Geminorum, a cool red giant that shines at magnitude +2.9.
An ultra-wide eyepiece on a 200-mm SCT should frame both planets in the same field-of-view but detail will be very hard to discern on the gas giant but in moments of better seeing the major belts should be visible; the very latest images show the South Equatorial Belt (SEB) and the Northern Equatorial Belt (NEB) both prominent. Mars is too small to show any dusky surface markings. Nevertheless this will be a fine sight! As July draws to a close Jupiter pulls clear of Mars and gets as high as eight degrees above the horizon as astronomical twilight ends (Sun under 12 degrees below horizon).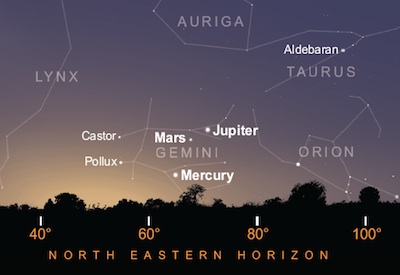 Mercury is joined by Mars and Jupiter in dawn skies. This is the view on 30 July. Astronomy Now graphic by Greg Smye-Rumsby

Mercury races west of the Sun following inferior conjunction earlier in the month and emerges low in the morning sky at the start of the last week of July. This is not one of Mercury's favourable morning presentations but it's not to be sniffed at, with the fleet-footed inner planet around six degrees up at the start of civil twilight (Sun less than six degrees below the horizon) at 4.45am BST (from London). Through a small telescope it shows a broad crescent shining at mag. +0.1. If you are going to sweep for it with binoculars or a telescope be sure to do so before the Sun rises and once captured you can enjoy the telescopic view in the morning daylight hours; the same goes for Mars and Jupiter.
Mercury's fellow inferior planet Venus is a blazing (mag. -4) but horizon hugging object, visible about 20 to 30 minutes after sunset in the west-north-west; a flat horizon is once again needed to see it. It's close to Regulus (mag. +1.4 )now but moves ever-eastwards away from Leo's luminary. Regulus should be visible with the naked eye but it's best to look for it as late as possible; it sets around 9.45pm from London.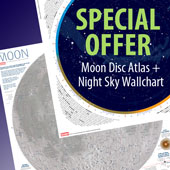 The Planets


From tiny Mercury to distant Neptune and Pluto, The Planets profiles each of the Solar System's members in depth, featuring the latest imagery from space missions. The tallest mountains, the deepest canyons, the strongest winds, raging atmospheric storms, terrain studded with craters and vast worlds of ice are just some of the sights you'll see on this 100-page tour of the planets.


GET YOUR COPY


Hubble Reborn


Hubble Reborn takes the reader on a journey through the Universe with spectacular full-colour pictures of galaxies, nebulae, planets and stars as seen through Hubble's eyes, along the way telling the dramatic story of the space telescope, including interviews with key scientists and astronauts.


GET YOUR COPY


3D Universe


Witness the most awesome sights of the Universe as they were meant to be seen in this 100-page extravaganza of planets, galaxies and star-scapes, all in 3D!


GET YOUR COPY