On Sale Now!





The October 2014 issue of Astronomy Now is on sale! Order direct from our store (free 1st class post & to UK addresses). Astronomy Now is the only astronomy magazine specially designed to be read on tablets and phones. Download the app from Google Play Store or the Apple App Store.





Top Stories





Earthshine used to test life detection method
...By imagining the Earth as an exoplanet, scientists observing our planet's reflected light on the Moon with ESO's Very Large Telescope have demonstrated a way to detect life on other worlds...
READ MORE

Solid buckyballs discovered in space
...Astronomers using NASA's Spitzer Space Telescope have detected a particular type of molecule, given the nickname "buckyball", in a solid form for the first time...
READ MORE

Steamy water-world gets the Hubble treatment
...Hubble Space Telescope observations of a 7 Earth-mass planet find an unusual water-rich world swathed in a thick, steamy atmosphere...
READ MORE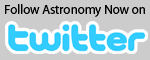 NASA conquers Curiosity computer concerns
BY STEPHEN CLARK
SPACEFLIGHT NOW
Posted: 19 March 2013


HOUSTON -- Sidelined by computer glitches since late February, NASA's Curiosity rover is on track to resume research on Mars after exiting a science-halting safe mode, officials said Tuesday.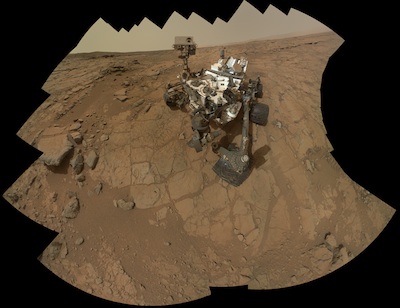 The Curiosity rover used a camera at the end of its robotic arm to take this self-portrait. Credit: NASA/JPL-Caltech/MSSS



Two safe mode events suspended Curiosity's science activities since Feb. 27. Engineers have diagnosed the cause of a safe mode disruption that occurred Saturday, and officials have a workaround in place to keep the rover from experiencing a fault like one that happened in late February.

The rover was scheduled to resume science operations as soon as Monday, according to John Grotzinger, Curiosity's project scientist at the Jet Propulsion Laboratory in Pasadena, Calif.

But Curiosity fell into safe mode Saturday when the rover was trying to delete unnecessary files from its computer as part of standard housekeeping activities.

The computer placed the rover into safe mode when a command file failed a size-check by the rover's protective software, NASA said in a statement. Controllers discovered a software bug that attached an unrelated file to the file scheduled for deletion, causing the size mismatch.

After a straightforward fix, the rover is out of safe mode, a type of precautionary standby status, NASA announced Tuesday.

Controllers expect to restore the rover to full operability later this week and begin further analysis of rock samples acquired by Curiosity's drill.

Curiosity's science activities have been suspended since the rover entered an apparently unrelated safe mode Feb. 27. Engineers blamed the glitch in late February on corrupted memory, which prompted NASA to swap the rover from its A-side computer to a redundant B-side computer.

Engineers aren't sure what caused the memory problem, but officials have verified the A-side computer is ready to take over should a similar problem occur on the B-side computer.

"We don't know exactly what caused it yet, whether it's a hardware issue or whether it was a radiation event," Grotzinger said. "However, the engineers do know where the corruption is, and they know how to map around it."

Grotzinger discussed the rover's status Monday at the 44th Lunar and Planetary Science Conference near Houston.

Officials want to ensure both of Curiosity's computers are healthy before Mars reaches the opposite side of the sun from Earth, an event known as solar conjunction. Because Mars will pass directly behind the sun as viewed from Earth, controllers will be unable to send commands to Curiosity for four weeks beginning April 4.

"The project has also been able to upload some patches to the software on the B-side, so that what occurred on the A-side won't happen on the B-side. We feel like we're good to go with that," Grotzinger said.

Before the solar conjunction halts communications with the rover, scientists want Curiosity to complete another on-board analysis of powder extracted by the rover's drill from sedimentary mudstone at a location named Yellowknife Bay inside the Gale Crater landing site.

Curiosity's Chemistry and Mineralogy experiment, or CheMin, and the Surface Analysis at Mars, or SAM, instrument packages measure the mineral and chemical make-up of samples collected by the rover's scoop and drill.

The on-board lab's first look at the powdered drill sample detected the chemical signature of a watery environment thought to have once been habitable for microbial life. The first analysis used only a fraction of the powder gathered by the first drill activity in February.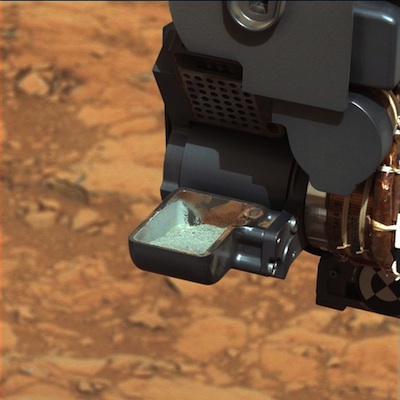 This image from NASA's Curiosity rover shows the first sample of powdered rock extracted by the rover's drill. Part of the sample was dumped into the rover's CheMin and SAM instruments, and another portion of the powder will by analyzed later this month. Credit: NASA/JPL-Caltech/MSSS



Grotzinger said a second analysis of the same sample is important to verify the result.

"You get to repeat what you did the first time and make sure it's real," he told Spaceflight Now. "Scientists do that all the time. The other thing is once we get comfortable with that, we can change the parameters of the experiment, so we can run it under different conditions and get a different result."

Controllers will program low-intensity science observations, such as weather monitoring and imaging with the rover's cameras, for Curiosity during the solar conjunction. Curiosity will transmit the data back to engineers when it is back in radio contact with Earth.

"During that time, we don't get anything because Mars is behind the sun and we don't even communicate. We don't even get any engineering data during that time," Grotzinger said.

After the conjunction ends in late April, Grotzinger said Curiosity will likely drill another hole in bedrock near its current location at Yellowknife Bay, then drive toward Mount Sharp, the rover's ultimate destination.

Mount Sharp is a three-mile-high mound at the center of Gale Crater, and data collected by Mars orbiters show the peak consists of layered clays which give researchers a glimpse into a wide chunk of the red planet's geological history.

Curiosity's primary science goal is to search for organic material, which could be embedded in Mount Sharp's sedimentary layers.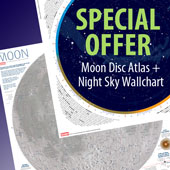 The Planets


From tiny Mercury to distant Neptune and Pluto, The Planets profiles each of the Solar System's members in depth, featuring the latest imagery from space missions. The tallest mountains, the deepest canyons, the strongest winds, raging atmospheric storms, terrain studded with craters and vast worlds of ice are just some of the sights you'll see on this 100-page tour of the planets.


GET YOUR COPY


Hubble Reborn


Hubble Reborn takes the reader on a journey through the Universe with spectacular full-colour pictures of galaxies, nebulae, planets and stars as seen through Hubble's eyes, along the way telling the dramatic story of the space telescope, including interviews with key scientists and astronauts.


GET YOUR COPY


3D Universe


Witness the most awesome sights of the Universe as they were meant to be seen in this 100-page extravaganza of planets, galaxies and star-scapes, all in 3D!


GET YOUR COPY