On Sale Now!





The October 2014 issue of Astronomy Now is on sale! Order direct from our store (free 1st class post & to UK addresses). Astronomy Now is the only astronomy magazine specially designed to be read on tablets and phones. Download the app from Google Play Store or the Apple App Store.





Top Stories





Earthshine used to test life detection method
...By imagining the Earth as an exoplanet, scientists observing our planet's reflected light on the Moon with ESO's Very Large Telescope have demonstrated a way to detect life on other worlds...
READ MORE

Solid buckyballs discovered in space
...Astronomers using NASA's Spitzer Space Telescope have detected a particular type of molecule, given the nickname "buckyball", in a solid form for the first time...
READ MORE

Steamy water-world gets the Hubble treatment
...Hubble Space Telescope observations of a 7 Earth-mass planet find an unusual water-rich world swathed in a thick, steamy atmosphere...
READ MORE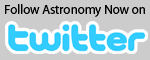 NASA rules out Apophis impact with Earth in 2036
NASA PRESS RELEASE
Posted: 14 January 2013


NASA scientists at the agency's Jet Propulsion Laboratory in Pasadena, Calif., effectively have ruled out the possibility the asteroid Apophis will impact Earth during a close flyby in 2036. The scientists used updated information obtained by NASA-supported telescopes in 2011 and 2012, as well as new data from the time leading up to Apophis' distant Earth flyby on Jan. 9.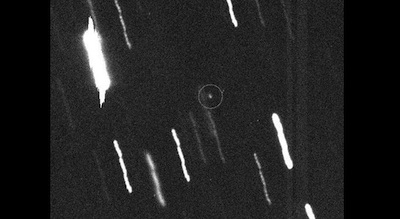 Asteroid Apophis was discovered on June 19, 2004. Credit: UH/IA

Discovered in 2004, the asteroid, which is the size of three-and-a-half football fields, gathered the immediate attention of space scientists and the media when initial calculations of its orbit indicated a 2.7 percent possibility of an Earth impact during a close flyby in 2029. Data discovered during a search of old astronomical images provided the additional information required to rule out the 2029 impact scenario, but a remote possibility of one in 2036 remained - until yesterday.
"With the new data provided by the Magdalena Ridge [New Mexico Institute of Mining and Technology] and the Pan-STARRS [Univ. of Hawaii] optical observatories, along with very recent data provided by the Goldstone Solar System Radar, we have effectively ruled out the possibility of an Earth impact by Apophis in 2036," said Don Yeomans, manager of NASA's Near-Earth Object Program Office at JPL. "The impact odds as they stand now are less than one in a million, which makes us comfortable saying we can effectively rule out an Earth impact in 2036. Our interest in asteroid Apophis will essentially be for its scientific interest for the foreseeable future."
The April 13, 2029, flyby of asteroid Apophis will be one for the record books. On that date, Apophis will become the closest flyby of an asteroid of its size when it comes no closer than 19, 400 miles (31,300 kilometers) above Earth's surface.
"But much sooner, a closer approach by a lesser-known asteroid is going to occur in the middle of next month when a 40-meter-sized asteroid, 2012 DA14, flies safely past Earth's surface at about 17,200 miles," said Yeomans. "With new telescopes coming online, the upgrade of existing telescopes and the continued refinement of our orbital determination process, there's never a dull moment working on near-Earth objects."
NASA detects and tracks asteroids and comets passing close to Earth using both ground and space-based telescopes. The Near-Earth Object Observations Program, commonly called "Spaceguard," discovers these objects, characterizes a subset of them and plots their orbits to determine if any could be potentially hazardous to our planet.
The Near-Earth Object Program Office at JPL manages the technical and scientific activities for NASA's Near-Earth Object Program of the Science Mission Directorate in Washington. JPL is a division of the California Institute of Technology in Pasadena.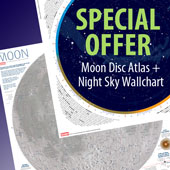 The Planets


From tiny Mercury to distant Neptune and Pluto, The Planets profiles each of the Solar System's members in depth, featuring the latest imagery from space missions. The tallest mountains, the deepest canyons, the strongest winds, raging atmospheric storms, terrain studded with craters and vast worlds of ice are just some of the sights you'll see on this 100-page tour of the planets.


GET YOUR COPY


Hubble Reborn


Hubble Reborn takes the reader on a journey through the Universe with spectacular full-colour pictures of galaxies, nebulae, planets and stars as seen through Hubble's eyes, along the way telling the dramatic story of the space telescope, including interviews with key scientists and astronauts.


GET YOUR COPY


3D Universe


Witness the most awesome sights of the Universe as they were meant to be seen in this 100-page extravaganza of planets, galaxies and star-scapes, all in 3D!


GET YOUR COPY