On Sale Now!





The October 2014 issue of Astronomy Now is on sale! Order direct from our store (free 1st class post & to UK addresses). Astronomy Now is the only astronomy magazine specially designed to be read on tablets and phones. Download the app from Google Play Store or the Apple App Store.





Top Stories





Earthshine used to test life detection method
...By imagining the Earth as an exoplanet, scientists observing our planet's reflected light on the Moon with ESO's Very Large Telescope have demonstrated a way to detect life on other worlds...
READ MORE

Solid buckyballs discovered in space
...Astronomers using NASA's Spitzer Space Telescope have detected a particular type of molecule, given the nickname "buckyball", in a solid form for the first time...
READ MORE

Steamy water-world gets the Hubble treatment
...Hubble Space Telescope observations of a 7 Earth-mass planet find an unusual water-rich world swathed in a thick, steamy atmosphere...
READ MORE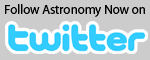 No sign of an atmosphere around distant Makemake
ESO PRESS RELEASE
Posted: 26 November 2012


Scientists have discovered the dwarf planet Makemake, a chilly world lying beyond Pluto, is not surrounded by a significant atmosphere, revealing new insights into the icy bodies populating the edge of the solar system.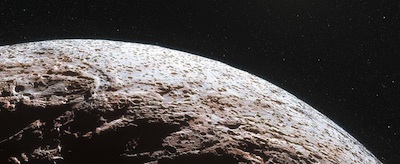 Artist's concept of Makemake. Credit: ESO

Astronomers have used three telescopes at ESO's observatories in Chile to observe the dwarf planet Makemake as it drifted in front of a distant star and blocked its light. The new observations have allowed them to check for the first time whether Makemake is surrounded by an atmosphere. This chilly world has an orbit lying in the outer Solar System and was expected to have an atmosphere like Pluto, but this is now shown not to be the case. The scientists also measured Makemake's density for the first time. The new results are to be published in the 22 November issue of the journal Nature.
Dwarf planet Makemake is about two thirds of the size of Pluto, and travels around the Sun in a distant path that lies beyond that of Pluto but closer to the Sun than Eris, the most massive known dwarf planet in the Solar System. Previous observations of chilly Makemake have shown it to be similar to its fellow dwarf planets, leading some astronomers to expect its atmosphere, if present, to be similar to that of Pluto. However, the new study now shows that, like Eris, Makemake is not surrounded by a significant atmosphere.
The team, led by Jose Luis Ortiz (Instituto de Astrofisica de Andalucia, CSIC, Spain), combined multiple observations using three telescopes at ESO's La Silla and Paranal observing sites in Chile - the Very Large Telescope (VLT), New Technology Telescope (NTT), and TRAPPIST (TRAnsiting Planets and PlanetesImals Small Telescope) - with data from other small telescopes in South America, to look at Makemake as it passed in front of a distant star.
"As Makemake passed in front of the star and blocked it out, the star disappeared and reappeared very abruptly, rather than fading and brightening gradually. This means that the little dwarf planet has no significant atmosphere," says Jose Luis Ortiz. "It was thought that Makemake had a good chance of having developed an atmosphere - that it has no sign of one at all shows just how much we have yet to learn about these mysterious bodies. Finding out about Makemake's properties for the first time is a big step forward in our study of the select club of icy dwarf planets."
Makemake's lack of moons and its great distance from us make it difficult to study, and what little we do know about the body is only approximate. The team's new observations add much more detail to our view of Makemake - determining its size more accurately, putting constraints on a possible atmosphere and estimating the dwarf planet's density for the first time. They have also allowed the astronomers to measure how much of the Sun's light Makemake's surface reflects - its albedo. Makemake's albedo, at about 0.77, is comparable to that of dirty snow, higher than that of Pluto, but lower than that of Eris.
It was only possible to observe Makemake in such detail because it passed in front of a star - an event known as a stellar occultation. These rare opportunities are allowing astronomers for the first time to find out a great deal about the sometimes tenuous and delicate atmospheres around these distant, but important, members of the Solar System, and providing very accurate information about their other properties.
Occultations are particularly uncommon in the case of Makemake, because it moves in an area of the sky with relatively few stars. Accurately predicting and detecting these rare events is extremely difficult and the successful observation by a coordinated observing team, scattered at many sites across South America, ranks as a major achievement.
"Pluto, Eris and Makemake are among the larger examples of the numerous icy bodies orbiting far away from our Sun," says Jose Luis Ortiz. "Our new observations have greatly improved our knowledge of one of the biggest, Makemake - we will be able to use this information as we explore the intriguing objects in this region of space further."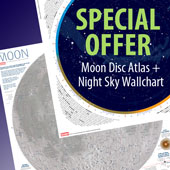 The Planets


From tiny Mercury to distant Neptune and Pluto, The Planets profiles each of the Solar System's members in depth, featuring the latest imagery from space missions. The tallest mountains, the deepest canyons, the strongest winds, raging atmospheric storms, terrain studded with craters and vast worlds of ice are just some of the sights you'll see on this 100-page tour of the planets.


GET YOUR COPY


Hubble Reborn


Hubble Reborn takes the reader on a journey through the Universe with spectacular full-colour pictures of galaxies, nebulae, planets and stars as seen through Hubble's eyes, along the way telling the dramatic story of the space telescope, including interviews with key scientists and astronauts.


GET YOUR COPY


3D Universe


Witness the most awesome sights of the Universe as they were meant to be seen in this 100-page extravaganza of planets, galaxies and star-scapes, all in 3D!


GET YOUR COPY