Top Stories





Earthshine used to test life detection method
...By imagining the Earth as an exoplanet, scientists observing our planet's reflected light on the Moon with ESO's Very Large Telescope have demonstrated a way to detect life on other worlds...
READ MORE

Solid buckyballs discovered in space
...Astronomers using NASA's Spitzer Space Telescope have detected a particular type of molecule, given the nickname "buckyball", in a solid form for the first time...
READ MORE

Steamy water-world gets the Hubble treatment
...Hubble Space Telescope observations of a 7 Earth-mass planet find an unusual water-rich world swathed in a thick, steamy atmosphere...
READ MORE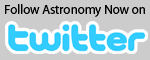 Venus, Jupiter and the Moon in the morning
BY MARK ARMSTRONG
ASTRONOMY NOW
Posted: 14 July 2012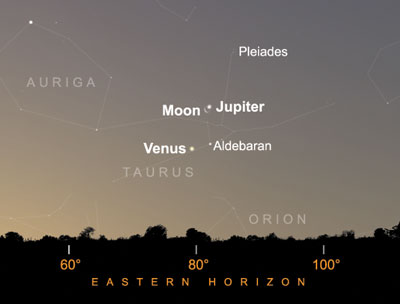 In pre-dawn skies, the Moon, Jupiter, Venus and the star clusters of Taurus the Bull make for a wonderful photographic opportunity mid-month. AN graphic by Greg Smye-Rumsby.
Over the next few mornings there is a beautiful sky scene in the pre-dawn eastern sky with blazing Venus and giant Jupiter joined by an old crescent moon against the backdrop of the great winter constellation of Taurus. The morning of the 15 July sees the Moon actually occult Jupiter from some parts of the UK, lying just to the north of the famous 'V' shaped Hyades open cluster. The brilliant red star Aldebaran, actually not a physical member of the Hyades, only adds to the splendour, with Venus just under three degrees north-east. Venus is simply a magnificent sight, a brilliant morning star shining at mag. -4.5 and sporting a 30 percent illuminated crescent phase through a small telescope. Jupiter is simply overshadowed despite its -2.1 magnitude. As July progresses Venus moves rapidly eastwards towards the border with Gemini with Jupiter making more sedate progress in the same direction. This is a great astrophotographic opportunity and Astronomy Now would love to receive any images. Send them to gallery2012 @ astronomynow.com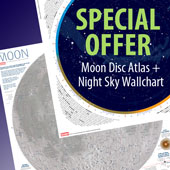 The Planets


From tiny Mercury to distant Neptune and Pluto, The Planets profiles each of the Solar System's members in depth, featuring the latest imagery from space missions. The tallest mountains, the deepest canyons, the strongest winds, raging atmospheric storms, terrain studded with craters and vast worlds of ice are just some of the sights you'll see on this 100-page tour of the planets.


GET YOUR COPY


Hubble Reborn


Hubble Reborn takes the reader on a journey through the Universe with spectacular full-colour pictures of galaxies, nebulae, planets and stars as seen through Hubble's eyes, along the way telling the dramatic story of the space telescope, including interviews with key scientists and astronauts.


GET YOUR COPY


3D Universe


Witness the most awesome sights of the Universe as they were meant to be seen in this 100-page extravaganza of planets, galaxies and star-scapes, all in 3D!


GET YOUR COPY