Top Stories





Earthshine used to test life detection method
...By imagining the Earth as an exoplanet, scientists observing our planet's reflected light on the Moon with ESO's Very Large Telescope have demonstrated a way to detect life on other worlds...
READ MORE

Solid buckyballs discovered in space
...Astronomers using NASA's Spitzer Space Telescope have detected a particular type of molecule, given the nickname "buckyball", in a solid form for the first time...
READ MORE

Steamy water-world gets the Hubble treatment
...Hubble Space Telescope observations of a 7 Earth-mass planet find an unusual water-rich world swathed in a thick, steamy atmosphere...
READ MORE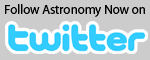 Huge sunspot threatens disruption
BY MARK ARMSTRONG
ASTRONOMY NOW
Posted: 10 May 2012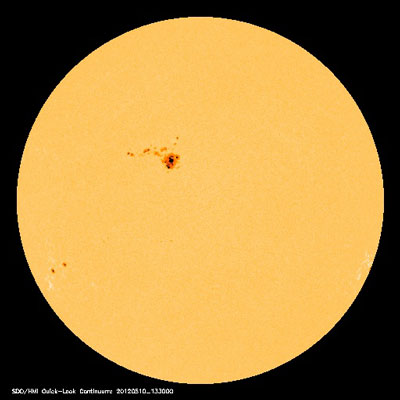 SOHO image of the large sunspot. Image: ESA/NASA.
One of the largest sunspot groups for some time rotated into view on the Sun over the weekend including the huge spot AR1476, which is already unleashing M-class flares and lots of radio activity. There is a chance that it will produce X-class flares, the strongest type, which can cause disruption to communications here on Earth and more welcoming, beautiful aurora displays. National Oceanic and Atmospheric Administration (NOAA) observers and forecasters are continuing to monitor the huge spot as it continues its transit across the solar disc.
AR1476 is over 100,000 kilometres from end and end and there are at least three other smaller, associated spots which are larger than Earth. The group is so large that it has been reported by naked-eye observers when close to local, smog-filled horizons (remember, it's best not to view the Sun directly at any time, even if it appears to be dimmed by atmospheric conditions as permanent damage to your eyesight may result) and solar observers should be able to easily observe and secure some great images if the seemingly permanent cloud cover across the UK ever lifts. The forecast is a bit more promising for this coming weekend.
Astronomy Now would be pleased to receive any sketches or images at gallery2012(at)astronomynow(dot)com. Keep up to date with events here and at http://spaceweather.com. For an explanation of the classification of solar flares visit http://spaceweather.com/glossary/flareclasses.html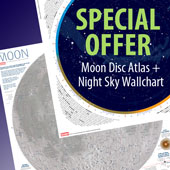 The Planets


From tiny Mercury to distant Neptune and Pluto, The Planets profiles each of the Solar System's members in depth, featuring the latest imagery from space missions. The tallest mountains, the deepest canyons, the strongest winds, raging atmospheric storms, terrain studded with craters and vast worlds of ice are just some of the sights you'll see on this 100-page tour of the planets.


GET YOUR COPY


Hubble Reborn


Hubble Reborn takes the reader on a journey through the Universe with spectacular full-colour pictures of galaxies, nebulae, planets and stars as seen through Hubble's eyes, along the way telling the dramatic story of the space telescope, including interviews with key scientists and astronauts.


GET YOUR COPY


3D Universe


Witness the most awesome sights of the Universe as they were meant to be seen in this 100-page extravaganza of planets, galaxies and star-scapes, all in 3D!


GET YOUR COPY