On Sale Now!





The October 2014 issue of Astronomy Now is on sale! Order direct from our store (free 1st class post & to UK addresses). Astronomy Now is the only astronomy magazine specially designed to be read on tablets and phones. Download the app from Google Play Store or the Apple App Store.





Top Stories





Earthshine used to test life detection method
...By imagining the Earth as an exoplanet, scientists observing our planet's reflected light on the Moon with ESO's Very Large Telescope have demonstrated a way to detect life on other worlds...
READ MORE

Solid buckyballs discovered in space
...Astronomers using NASA's Spitzer Space Telescope have detected a particular type of molecule, given the nickname "buckyball", in a solid form for the first time...
READ MORE

Steamy water-world gets the Hubble treatment
...Hubble Space Telescope observations of a 7 Earth-mass planet find an unusual water-rich world swathed in a thick, steamy atmosphere...
READ MORE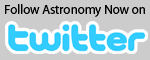 The Moon joins Venus
and Jupiter
MARK ARMSTRONG
ASTRONOMY NOW
Posted: 25 March 2012


Stargazers are in for a real treat the next few days when a young crescent moon joins Venus and Jupiter in the western sky shortly after sunset. On 25 March at around 7pm UT (around 30 minutes after sunset from London) a three day-old crescent moon, 8.7 percent illuminated, lies 3.5 degrees north-west of Jupiter. Jupiter is still an impressive sight at mag. -2.1 but it is totally overshadowed by dazzling Venus, over two magnitudes brighter at mag. +4.4 and lying about ten degrees north-east of the gas giant. The very pretty scene is further enhanced by the lovely Pleiades open cluster (M45) which is under ten degrees north-east of Venus.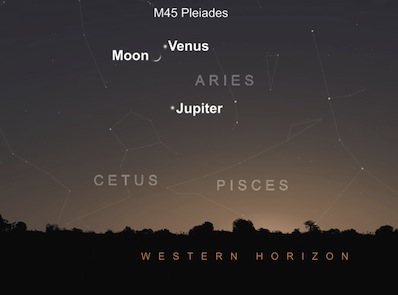 The young crescent moon is close to dazzling Venus on the evening of 26 March. AN graphic by Greg Smye-Rumsby.

The next evening, 26th March, sees the crescent moon move northwards for an even closer encounter with Venus, the two separated by just over two degrees, and then passes five degrees south-east of M45 on 27 March. Venus reaches greatest elongation east of the Sun (46 degrees) on 27 March and sets over four hours after the Sun. The sky becomes astronomically dark around 8.20pm from London (Sun 18 degrees below the horizon) when Venus is still over 20 degrees above the horizon. If the skies are clear do try to observe Venus as it is almost startlingly bright!

Through a small telescope Venus will exhibit a half-phase with an apparent diameter of almost 24 arcseconds. As Venus heads back towards the Sun its phase will steadily decrease as its diameter increases. Swing the 'scope over to Jupiter to be rewarded with a much larger disc with its major belts and zones visible along with its attendant Galilean satellites. Jupiter can't be observed in a dark sky at a decent altitude now and it's best to observe it as early as possible before it all too soon sinks into the western murk.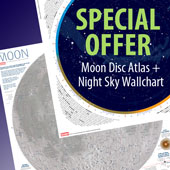 The Planets


From tiny Mercury to distant Neptune and Pluto, The Planets profiles each of the Solar System's members in depth, featuring the latest imagery from space missions. The tallest mountains, the deepest canyons, the strongest winds, raging atmospheric storms, terrain studded with craters and vast worlds of ice are just some of the sights you'll see on this 100-page tour of the planets.


GET YOUR COPY


Hubble Reborn


Hubble Reborn takes the reader on a journey through the Universe with spectacular full-colour pictures of galaxies, nebulae, planets and stars as seen through Hubble's eyes, along the way telling the dramatic story of the space telescope, including interviews with key scientists and astronauts.


GET YOUR COPY


3D Universe


Witness the most awesome sights of the Universe as they were meant to be seen in this 100-page extravaganza of planets, galaxies and star-scapes, all in 3D!


GET YOUR COPY