Current Issue






Keep up to date with all things astronomy related with Astronomy Now magazine, which includes the UK's biggest and best night sky guide, an extensive news section, readers' astronomical images, book and equipment reviews, feature articles, a beginners' section and much more. For a sneak preview of this month's issue go to our magazine page.








NewsAlert





Sign up for our NewsAlert service and have the latest space news e-mailed direct to your desktop.


Privacy note: your e-mail address will not be used for any other purpose.





Shuttle Movies






The most complete source of video from the countdown, launch and mission of space shuttle Discovery is available here! Spaceflight Now's STS-121 archive includes more than 200 movies you can watch online or download to your computer.

Video Collection





Astronomy Now's
year in space

Pluto's new moon, salty water on Mars, interstellar travel and black trees on a world with two suns; look back over the year as we count down the most read news stories of 2011.

10. New images of
beta Pictoris planet

New observations of beta Pictoris' giant planet confirm its movement around the star, as well as establishing the planet's mass and temperature.

READ MORE

9. Moon rises in eclipse

There is a total eclipse of the Moon on the late evening of 15 June, unfortunately with a very low Moon in the south-eastern sky.

READ MORE

8. Black trees in a world of
two Suns?

Scientists studying what plant life might be like on an Earth-like planet with two or three suns have found that they might appear black or grey if the system is dominated by a red dwarf.

READ MORE

7. Hubble discovers
Pluto's fourth moon

Astronomers using the Hubble Space Telescope to look for potential rings around dwarf planet Pluto have instead uncovered a fourth moon orbiting the distant icy world.

READ MORE

6. Enceladus feeds
water to Saturn

A 14 year old mystery has been solved as astronomers discover that plumes of water gushing from Saturn's moon Enceladus are the source of water in the planet's upper atmosphere.

READ MORE

5. Liquid water on Mars
might taste salty

Fingers of dark material running down steep slopes in the warmest regions of Mars could be the result of salty water flows, say scientists interpreting repeat observations snapped by Mars Reconnaissance Orbiter's (MRO) powerful HiRISE camera.

READ MORE

4. Black holes punching through stars may solve dark matter

If mysterious dark matter is made up of mini black holes formed in the first moments after the big bang, then it may be possible to test this theory and detect these black holes as they collide with stars, argue two postdoctoral researchers from the United States.

READ MORE

3. Observing the Pinwheel's supernova

Supernova PTF11kly has real potential to become bright enough to be visible in large binoculars. Amateur astronomers are strongly urged to make as many observations as possible while it is 'on the rise', as such data is so valuable to on-going research into these titanic explosions.

READ MORE

2. New view of the North America Nebula

More than 2,000 candidate stars have been detected in the North America Nebula thanks to the infrared eyes of the Spitzer Space Telescope.

READ MORE

1. Nuclear power to the stars

To send spacecraft to other stars in the space of a human lifetime, new methods of propulsion are going to be needed to provide the necessary 'oomph' to break free of our Solar System.

READ MORE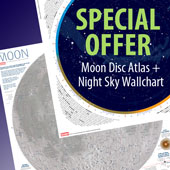 The Planets

From tiny Mercury to distant Neptune and Pluto, The Planets profiles each of the Solar System's members in depth, featuring the latest imagery from space missions. The tallest mountains, the deepest canyons, the strongest winds, raging atmospheric storms, terrain studded with craters and vast worlds of ice are just some of the sights you'll see on this 100-page tour of the planets.


U.K. STORE


E.U. STORE


U.S. & WORLDWIDE STORE


Take the tour!
A 100-page special edition from the creators of Astronomy Now magazine, The Grand Tour of the Universe takes readers from one end of the Universe to the other and, in doing so, asks the question "just how big is the Universe?"


U.K. STORE

E.U. STORE

U.S. & WORLDWIDE STORE

Infinity Rising
This special publication features the photography of British astro-imager Nik Szymanek and covers a range of photographic methods from basic to advanced. Beautiful pictures of the night sky can be obtained with a simple camera and tripod before tackling more difficult projects, such as guided astrophotography through the telescope and CCD imaging.


U.K. STORE

E.U. STORE

U.S. & WORLDWIDE STORE

Guide to the Constellations
Astronomy Now presents this 100-page, full-colour guide to the 68 constellations visible from the British Isles by Neil Bone, the respected amateur astronomer and writer.


U.K. STORE

E.U. STORE

U.S. & WORLDWIDE STORE

Exploring Mars
Astronomy Now is pleased to announce the publication of Exploring Mars. The very best images of Mars taken by orbiting spacecraft and NASA's Spirit and Opportunity rovers fill up the 98 glossy pages of this special edition!


U.K. STORE

E.U. STORE

U.S. & WORLDWIDE STORE