On Sale Now!





The October 2014 issue of Astronomy Now is on sale! Order direct from our store (free 1st class post & to UK addresses). Astronomy Now is the only astronomy magazine specially designed to be read on tablets and phones. Download the app from Google Play Store or the Apple App Store.





Top Stories





Earthshine used to test life detection method
...By imagining the Earth as an exoplanet, scientists observing our planet's reflected light on the Moon with ESO's Very Large Telescope have demonstrated a way to detect life on other worlds...
READ MORE

Solid buckyballs discovered in space
...Astronomers using NASA's Spitzer Space Telescope have detected a particular type of molecule, given the nickname "buckyball", in a solid form for the first time...
READ MORE

Steamy water-world gets the Hubble treatment
...Hubble Space Telescope observations of a 7 Earth-mass planet find an unusual water-rich world swathed in a thick, steamy atmosphere...
READ MORE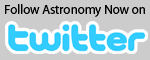 December deadline for stranded Russian Mars probe
STEPHEN CLARK
SPACEFLIGHT NOW
Posted: 15 November 2011


Russia has until early December to establish contact with the stranded Phobos-Grunt Mars probe and send it toward the Red Planet, the head of the Russian space agency said Monday.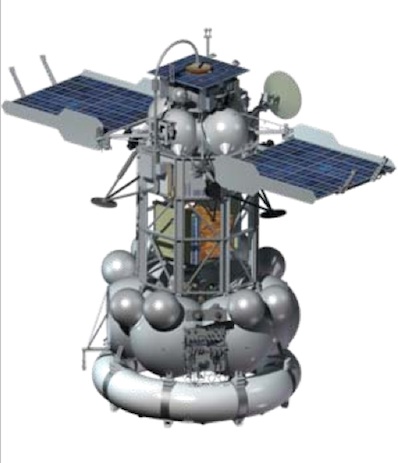 Phobos-Grunt's mission was to pick up samples from the surface of Phobos, the largest moon of Mars, and return them to Earth in 2014. Credit: IKI

Speaking to reporters after the launch of a three-man crew to the International Space Station, the chief of the space agency said Phobos-Grunt is in control of its flight and is maintaining its orientation toward the sun to generate electricity.
But controllers have not communicated with the probe since it launched Nov. 8. Phobos-Grunt's main propulsion system did not ignite for either of two planned firings to propel itself out of low Earth orbit and on a course to Mars.
Vladimir Popovkin, head of Roscosmos, said the 29,000-pound spacecraft should remain in orbit until January, but the planetary window to reach Mars closes in early December. Launches to Mars are only possible approximately every 26 months when the planets are in the correct position in the solar system.
If engineers can't recover Phobos-Grunt, it will continue flying in orbit and crash back to Earth in the next month or two.
Nicholas Johnson, a NASA orbital debris expert, said Friday he expects Phobos-Grunt to fall back into Earth's atmosphere around late December.
Popovkin said it will only be possible to further pinpoint the timeframe of Phobos-Grunt's re-entry when it reaches an altitude of 180 kilometers, or about 112 miles. As of late Monday, Phobos-Grunt was orbiting between 129 miles and 205 miles above Earth, according to U.S. military tracking data.
The source of the uncertainty in the timing of the potential re-entry is fluctuating solar activity, which can cause the atmosphere to expand and contract, changing the effect of drag on orbiting satellites.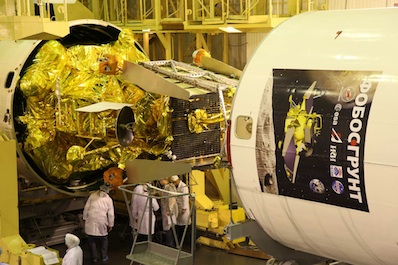 Phobos-Grunt and its propulsion pack are encapsulated inside the Zenit rocket's nose shroud before launch. Credit: Roscosmos

Because Phobos-Grunt is in a low-altitude orbit, communications stations only have about seven minutes to attempt to contact Phobos-Grunt on each pass, Popovkin said.
Without two-way communications, engineers are unable to diagnose what went wrong after launch or upload new software and commands to fire Phobos-Grunt's engine.
Popovkin's comments were the first official statement from Roscosmos on the Phobos-Grunt mission since Nov. 9. Russian news reports since then quoted unnamed sources and outside experts, but the leadership of Roscosmos had been silent until Monday.
The space agency chief rejected accusations the Phobos-Grunt probe was launched with design flaws.
Popovkin also stressed a re-entry of Phobos-Grunt would pose no threat to Earth, saying its full load of toxic rocket propellant inside aluminum fuel tanks would explode high in the atmosphere and pose no danger to the public.
Johnson also said aluminum tanks would rupture and explode during re-entry, whether the propellant inside was frozen or liquid. Phobos-Grunt, which was designed to retrieve and return samples from the Mars moon Phobos, carries an entry capsule with a heat shield that could survive and reach the surface.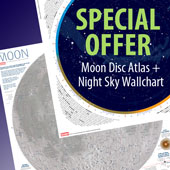 The Planets


From tiny Mercury to distant Neptune and Pluto, The Planets profiles each of the Solar System's members in depth, featuring the latest imagery from space missions. The tallest mountains, the deepest canyons, the strongest winds, raging atmospheric storms, terrain studded with craters and vast worlds of ice are just some of the sights you'll see on this 100-page tour of the planets.


GET YOUR COPY


Hubble Reborn


Hubble Reborn takes the reader on a journey through the Universe with spectacular full-colour pictures of galaxies, nebulae, planets and stars as seen through Hubble's eyes, along the way telling the dramatic story of the space telescope, including interviews with key scientists and astronauts.


GET YOUR COPY


3D Universe


Witness the most awesome sights of the Universe as they were meant to be seen in this 100-page extravaganza of planets, galaxies and star-scapes, all in 3D!


GET YOUR COPY