On Sale Now!





The October 2014 issue of Astronomy Now is on sale! Order direct from our store (free 1st class post & to UK addresses). Astronomy Now is the only astronomy magazine specially designed to be read on tablets and phones. Download the app from Google Play Store or the Apple App Store.





Top Stories





Earthshine used to test life detection method
...By imagining the Earth as an exoplanet, scientists observing our planet's reflected light on the Moon with ESO's Very Large Telescope have demonstrated a way to detect life on other worlds...
READ MORE

Solid buckyballs discovered in space
...Astronomers using NASA's Spitzer Space Telescope have detected a particular type of molecule, given the nickname "buckyball", in a solid form for the first time...
READ MORE

Steamy water-world gets the Hubble treatment
...Hubble Space Telescope observations of a 7 Earth-mass planet find an unusual water-rich world swathed in a thick, steamy atmosphere...
READ MORE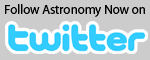 Is Comet Siding Spring splitting up?
DR EMILY BALDWIN
ASTRONOMY NOW
Posted: 17 March 2010, updated 18 March


This dramatic image, captured by Astronomy Now's Nick Howes of Comet C2007 Q3 Siding Spring on Wednesday, suggests that the comet's nucleus might be disintegrating.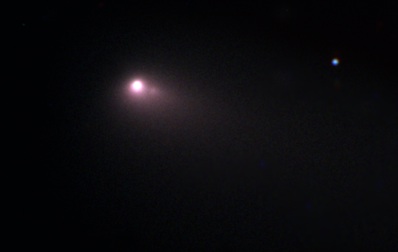 Comet C2007 Q3 Siding Spring as imaged by Nick Howes using the Faulkes Telescope North on 17 March at 15:00 UT. Image details: 6 x 60s images in R,G,B filters processed in Maxim DL (DDP). The comet was positioned at RA 15 22.76 and dec +56 12.4.

Using the Faulkes Telescope North, Nick imaged the magnitude ten comet in glorious detail, identifying a possible split in the comet's nucleus, seen in the image as a second site of denser material just behind the main nucleus.

Nick is making more observations on Friday, but tells us, "I have confirmed via creating an animation that the secondary condensation is moving WITH the comet and is not a background star."

Nick's animation of Comet Siding Spring.

Could this represent the onset of an outburst event? In just the last few days, comet C/2009 O2 (Catalina), has been reported by various observers as breaking up, and two years ago Comet 17P/Holmes displayed a spectacular outburst event that was so violent it blew huge chunks of the comet's surface clean off as it became heated up by the Sun on its elliptical journey through our Solar System. Each fragment was like a mini-comet, with its own coma of dust as ice vaporised from their surfaces.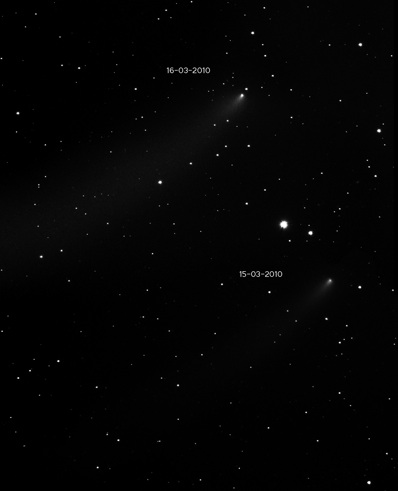 Nick's image of Comet C2007 Q3 Siding Spring taken from his back garden in Wiltshire on 15th and 16th March 2010, at approx 00:00 to 01:00 UT, imaged with an Atik 314L camera on a TMB 105 telescope.

Looking at his own images Nick comments "At the time I didn't think much of the change in tail size, but this could be related." Nick adds that an amateur with a large telescope should be able to do follow on observations of this event. Ephemerides for the comet can be found on the British Astronomical Association's Comet section webpage and you can send any reports to the BAA, and of course to us at web2010(at)astronomynow.com!

Last year astronomers Sostero, Guido and Camilleri flagged up an unusual appearance in Comet Siding Spring, commenting on "the presence of an asymmetric coma, with a possible feature exiting toward East, North-East, developing in a counterclockwise direction." At the time this was attributed to a foreshortening effect, and in their most recent image of the comet, taken on 13 March 2010, the feature seen in Nick's image is not present.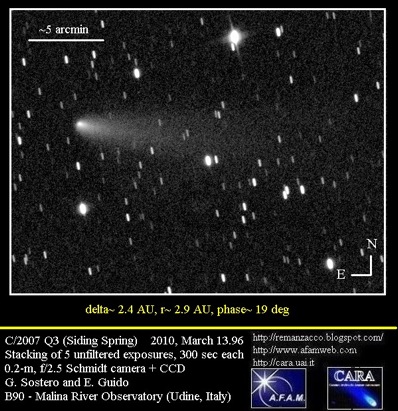 Sostero and Guido's image of Comet Siding Spring on 13 March does not reveal the splitting event.

Comet C2007 Q3 Siding Spring was discovered by Donna Burton in 2007 at the Siding Spring Observatory in New South Wales, Australia. It reached perihelion in mid-October, passing within 1.2 astronomical units of the Earth, and was visible with binoculars until the start of 2010, when it tracked through the constellation Bootes.

Read more about Comet Holmes' outburst in our reports here:
25 Oct 2007 Comet brightens a million times
15 Oct 2008 Spitzer peers inside Comet Holmes
16 Sept 2009 Comet Holmes produced mini-comets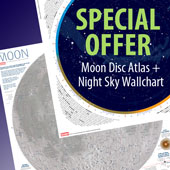 The Planets


From tiny Mercury to distant Neptune and Pluto, The Planets profiles each of the Solar System's members in depth, featuring the latest imagery from space missions. The tallest mountains, the deepest canyons, the strongest winds, raging atmospheric storms, terrain studded with craters and vast worlds of ice are just some of the sights you'll see on this 100-page tour of the planets.


GET YOUR COPY


Hubble Reborn


Hubble Reborn takes the reader on a journey through the Universe with spectacular full-colour pictures of galaxies, nebulae, planets and stars as seen through Hubble's eyes, along the way telling the dramatic story of the space telescope, including interviews with key scientists and astronauts.


GET YOUR COPY


3D Universe


Witness the most awesome sights of the Universe as they were meant to be seen in this 100-page extravaganza of planets, galaxies and star-scapes, all in 3D!


GET YOUR COPY