On Sale Now!





The October 2014 issue of Astronomy Now is on sale! Order direct from our store (free 1st class post & to UK addresses). Astronomy Now is the only astronomy magazine specially designed to be read on tablets and phones. Download the app from Google Play Store or the Apple App Store.





Top Stories





Earthshine used to test life detection method
...By imagining the Earth as an exoplanet, scientists observing our planet's reflected light on the Moon with ESO's Very Large Telescope have demonstrated a way to detect life on other worlds...
READ MORE

Solid buckyballs discovered in space
...Astronomers using NASA's Spitzer Space Telescope have detected a particular type of molecule, given the nickname "buckyball", in a solid form for the first time...
READ MORE

Steamy water-world gets the Hubble treatment
...Hubble Space Telescope observations of a 7 Earth-mass planet find an unusual water-rich world swathed in a thick, steamy atmosphere...
READ MORE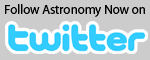 Vampire star prime candidate for Type Ia supernova
DR EMILY BALDWIN
ASTRONOMY NOW
Posted: November 17, 2009


Using ESO's Very Large Telescope, astronomers have made the first time-lapse movie of an unusual shell of material ejected by a 'vampire star' that is a prime candidate progenitor star of a Type Ia supernova.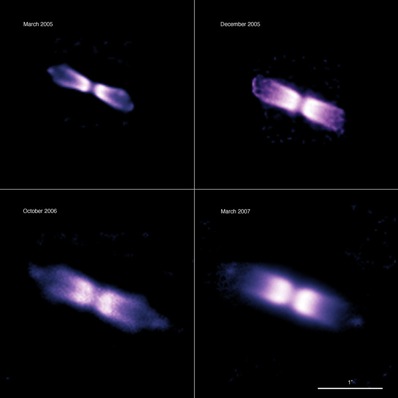 The NACO adaptive optics instrument on ESO's VLT allowed sharp images of the V445 Puppis system to be derived. The system is a prime candidate for a progenitor of Type Ia supernovae. Image: ESO/ P. A. Woudt.

In November 2000 V445 Puppis underwent an outburst after consuming some of its companion's matter and over a period of two years, ESO's VLT monitored this cannibalistic act, revealing some dramatic changes. Initially a bipolar shell with a narrow waist and lobes on each side is present. Two knots are seen at the extreme ends of the shell moving at some 30 million kilometres per hour, while the shell itself races through space at about 24 million miles per hour. Thick dust obscures the two central stars.

The double star is a prime contender to be a much sought-after progenitor of the breed of exploding star known as a Type Ia supernovae. "One of the major problems in modern astrophysics is the fact that we still do not know exactly what kinds of stellar system explode as a Type Ia supernova," says Patrick Woudt, of the University of Cape Town and lead author of the paper reporting the results. "As these supernovae play a crucial role in showing that the Universe's expansion is currently accelerating, pushed by a mysterious dark energy, it is rather embarrassing."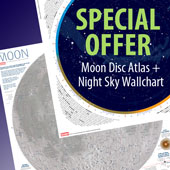 The Planets


From tiny Mercury to distant Neptune and Pluto, The Planets profiles each of the Solar System's members in depth, featuring the latest imagery from space missions. The tallest mountains, the deepest canyons, the strongest winds, raging atmospheric storms, terrain studded with craters and vast worlds of ice are just some of the sights you'll see on this 100-page tour of the planets.


GET YOUR COPY


Hubble Reborn


Hubble Reborn takes the reader on a journey through the Universe with spectacular full-colour pictures of galaxies, nebulae, planets and stars as seen through Hubble's eyes, along the way telling the dramatic story of the space telescope, including interviews with key scientists and astronauts.


GET YOUR COPY


3D Universe


Witness the most awesome sights of the Universe as they were meant to be seen in this 100-page extravaganza of planets, galaxies and star-scapes, all in 3D!


GET YOUR COPY