Top Stories





Earthshine used to test life detection method
...By imagining the Earth as an exoplanet, scientists observing our planet's reflected light on the Moon with ESO's Very Large Telescope have demonstrated a way to detect life on other worlds...
READ MORE

Solid buckyballs discovered in space
...Astronomers using NASA's Spitzer Space Telescope have detected a particular type of molecule, given the nickname "buckyball", in a solid form for the first time...
READ MORE

Steamy water-world gets the Hubble treatment
...Hubble Space Telescope observations of a 7 Earth-mass planet find an unusual water-rich world swathed in a thick, steamy atmosphere...
READ MORE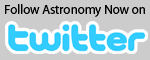 Royal Society Exhibition has strong astro presence
BY KEITH COOPER
ASTRONOMY NOW
Posted: June 30, 2009


The Summer Science Exhibition at the Royal Society in London kicks off today with a healthy dose of astronomy amongst the 26 exhibits that the public will be able to view.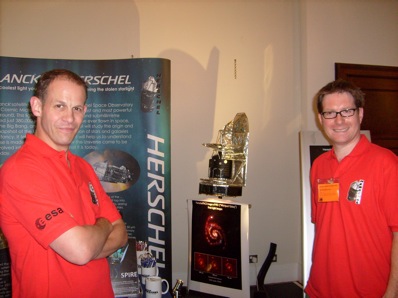 Scientists from the Herschel and Planck space missions (including Dr Nick Seymour of UCL on the right) will be on hand to answer questions about the spacecraft and the science they will be conducting. Image: Keith Cooper/Astronomy Now.


Visitors will be able to fly on a 3D tour of the Universe courtesy of astronomers from Durham University, the Max Planck Institute for Astrophysics and the Digital Learning Foundation. The visual extravaganza takes you from the Solar System, flying through space to the Orion Nebula, then out from our Milky Way Galaxy and hurtling through intergalactic space on an amazing journey through the Hubble Deep Field to the 'dark ages', half a billion years or so after the big bang. Manned by researchers from Durham University, their 'Cosmic Origins' exhibit also contains a 'galaxy wars' game where visitors can hurl galaxies at one another using a Nintendo Wii game controller. There are posters, photographs and various simulations that shed light on how we model the origin of galaxies, plus free pens, stickers and lenticular cards to give away to younger visitors.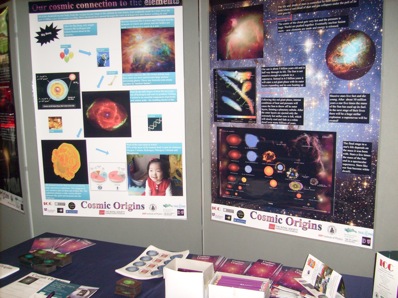 The Cosmic Origins display. Image: Keith Cooper/Astronomy Now.


Scientists working on the European Space Agency's Herschel and Planck missions, which launched this May, have also put on an impressive exhibit, with interactive touch-screen displays, models of the SPIRE instrument on Herschel and the spacecraft, plus you can talk to the scientists themselves and find out more about the two biggest science missions Europe has ever launched.

Rounding off the astro-themed displays are staff and students from Simon Langton Grammar School, who have conducted an impressive range of projects including searching for near-Earth objects with the likes of the Faulkes Telescopes in Hawaii and Australia, and even cosmic ray research. Attendees visiting their stand on Thursday 2 July will also get a chance to meet space tourist Richard Garriot, who flew to the International Space Station last year.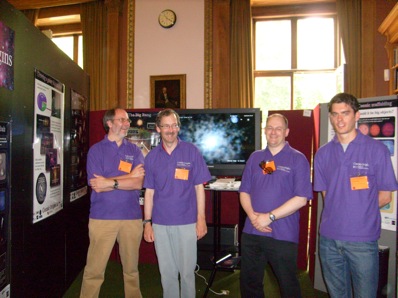 A friendly team from Durham University will help visitors learn about how the Milky Way formed. Image: Keith Cooper/Astronomy Now.


You can find out more about the exhibition at http://www.summerscience.org.uk. It runs until Saturday 4 July, between 10am to 9pm this Tuesday, and from 10am to 5pm on subsequent days. Entry is free but children under 16 must be accompanied by an adult. You can also download a version of the movie (not 3D) from the Durham University website, http://www.dur.ac.uk/n.s.holliman/CosmicOrigins.html, but it doesn't beat seeing it in person in 3D, so make sure you get down to the Royal Society this week!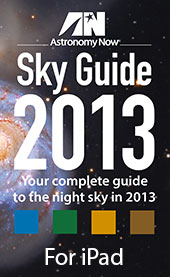 Infinity Rising
This special publication features the photography of British astro-imager Nik Szymanek and covers a range of photographic methods from basic to advanced. Beautiful pictures of the night sky can be obtained with a simple camera and tripod before tackling more difficult projects, such as guided astrophotography through the telescope and CCD imaging.


U.K. STORE

E.U. STORE

U.S. & WORLDWIDE STORE

Hubble Reborn

Hubble Reborn takes the reader on a journey through the Universe with spectacular full-colour pictures of galaxies, nebulae, planets and stars as seen through Hubble's eyes, along the way telling the dramatic story of the space telescope, including interviews with key scientists and astronauts.


U.K. STORE


E.U. STORE


U.S. & WORLDWIDE STORE


The Planets

From tiny Mercury to distant Neptune and Pluto, The Planets profiles each of the Solar System's members in depth, featuring the latest imagery from space missions. The tallest mountains, the deepest canyons, the strongest winds, raging atmospheric storms, terrain studded with craters and vast worlds of ice are just some of the sights you'll see on this 100-page tour of the planets.


U.K. STORE


E.U. STORE


U.S. & WORLDWIDE STORE


3D Universe

Witness the most awesome sights of the Universe as they were meant to be seen in this 100-page extravaganza of planets, galaxies and star-scapes, all in 3D!


U.K. STORE


E.U. STORE


U.S. & WORLDWIDE STORE


Mars rover poster
This new poster features some of the best pictures from NASA's amazing Mars Exploration Rovers Spirit and Opportunity.


U.K. STORE

E.U. STORE

U.S. & WORLDWIDE STORE