Spaceflight Now +





Subscribe to Spaceflight Now Plus for access to our extensive video collections!
How do I sign up?
Video archive

STS-120 day 2 highlights

Flight Day 2 of Discovery's mission focused on heat shield inspections. This movie shows the day's highlights.

Play

STS-120 day 1 highlights

The highlights from shuttle Discovery's launch day are packaged into this movie.

Play

STS-118: Highlights

The STS-118 crew, including Barbara Morgan, narrates its mission highlights film and answers questions in this post-flight presentation.

Full presentation
Mission film

STS-120: Rollout to pad

Space shuttle Discovery rolls out of the Vehicle Assembly Building and travels to launch pad 39A for its STS-120 mission.

Play

Dawn leaves Earth

NASA's Dawn space probe launches aboard a Delta 2-Heavy rocket from Cape Canaveral to explore two worlds in the asteroid belt.

Full coverage

Dawn: Launch preview

These briefings preview the launch and science objectives of NASA's Dawn asteroid orbiter.

Launch | Science

Become a subscriber
More video








SuperWASP scoops ten exoplanets in six months
BY EMILY BALDWIN
ASTRONOMY NOW
Posted: April 1, 2008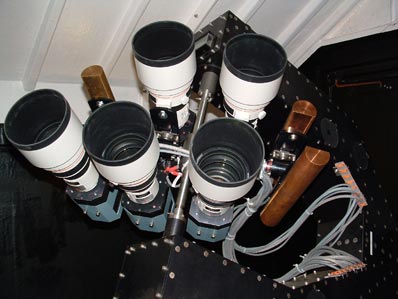 Close up of the SuperWasp North telescope. Image: Image: SuperWASP Consortium.
Ten new exoplanets have been unveiled by the UK's SuperWASP cameras in the last six months, Dr Don Pollacco of Queen's University Belfast announced in a plenary lecture at this week's National Astronomy Meeting.
SuperWASP (where WASP is an acronym for Wide Angle Search for Planets) is the UK's leading extra-solar planet detection programme, and has scooped an impressive ten new planets in the last six months, bringing the total SuperWASP factory output to 15.
Pollacco is delighted with the results: "SuperWASP is a planet-finding production line and will revolutionise the detection of large planets and our understanding of how they were formed."
SuperWASP comprises a consortium of 8 academic institutions that operate two robotic observatories, one in the Canary Islands and one in South Africa. Both telescopes operate continuously all year round, with 8 wide-angle cameras a piece. Millions of stars can be imaged simultaneously, and up to 100 Giga-bytes of data is generated each night, enabling the SuperWASP team to check for rare transit events on a vast selection of targets. The transit method - where a planet passes directly in front of a star and blocks out some of its light, so from the Earth the star temporarily seems a little fainter - allows scientists to deduce the size and mass of each planet. Each possible planet bearing star found using SuperWASP is then observed by astronomers working at the Nordic Optical Telescope on La Palma, the Swiss Euler Telescope in Chile and the Observatoire de Haute Provence in southern France, who use precision instruments to confirm or reject the discovery.

Close up of the 15 SuperWASP planets compared to their parent stars. Jupiter compared to the Sun is shown for comparison in the bottom right frame. Image: SuperWASP Consortium.
The SuperWASP planets have masses between 0.5 and 8.3 times that of Jupiter, putting them into the category of hot-jupiters. Some of the new discoveries are unveiling very exotic conditions: WASP-12B orbits its parent star in just 1.1 days, resulting in day time temperatures of up to 2300 degrees Celsius.
Over 270 extrasolar planets have been discovered since the early 1990s, and only 45 have been detected by the transit method. Now that SuperWASP claims 15 of those discoveries it has given the British instrument the honorable title of the most successful discovery instruments in the world. "It's a new level of planet-hunting," says Pollacco, "and SuperWASP is providing a huge contribution to this field."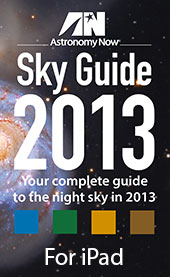 Infinity Rising
This special publication features the photography of British astro-imager Nik Szymanek and covers a range of photographic methods from basic to advanced. Beautiful pictures of the night sky can be obtained with a simple camera and tripod before tackling more difficult projects, such as guided astrophotography through the telescope and CCD imaging.


U.K. STORE

E.U. STORE

U.S. & WORLDWIDE STORE

Hubble Reborn

Hubble Reborn takes the reader on a journey through the Universe with spectacular full-colour pictures of galaxies, nebulae, planets and stars as seen through Hubble's eyes, along the way telling the dramatic story of the space telescope, including interviews with key scientists and astronauts.


U.K. STORE


E.U. STORE


U.S. & WORLDWIDE STORE


The Planets

From tiny Mercury to distant Neptune and Pluto, The Planets profiles each of the Solar System's members in depth, featuring the latest imagery from space missions. The tallest mountains, the deepest canyons, the strongest winds, raging atmospheric storms, terrain studded with craters and vast worlds of ice are just some of the sights you'll see on this 100-page tour of the planets.


U.K. STORE


E.U. STORE


U.S. & WORLDWIDE STORE


3D Universe

Witness the most awesome sights of the Universe as they were meant to be seen in this 100-page extravaganza of planets, galaxies and star-scapes, all in 3D!


U.K. STORE


E.U. STORE


U.S. & WORLDWIDE STORE


Mars rover poster
This new poster features some of the best pictures from NASA's amazing Mars Exploration Rovers Spirit and Opportunity.


U.K. STORE

E.U. STORE

U.S. & WORLDWIDE STORE