July issue on sale now!

The July 2013 issue of Astronomy Now is on sale at newsagents or available direct by from our online store.

Also available for the iPad and iPhone. Download the Astronomy Now app from the Apple iTunes store.
Focus: An illustrated timeline of twentieth century astronomy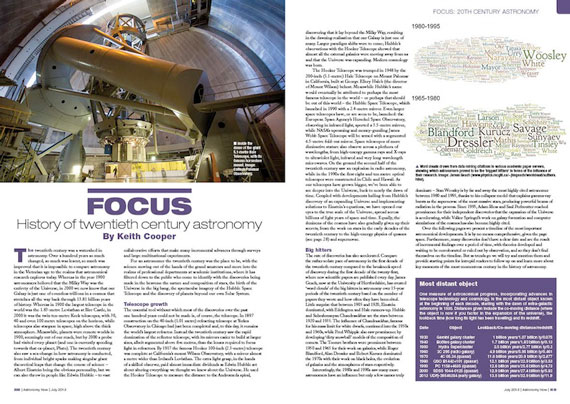 The twentieth century was a watershed in astronomy. So much was learnt, so much was improved that it is impossible to compare astronomy in the Victorian age to the realms that astronomical research explores today.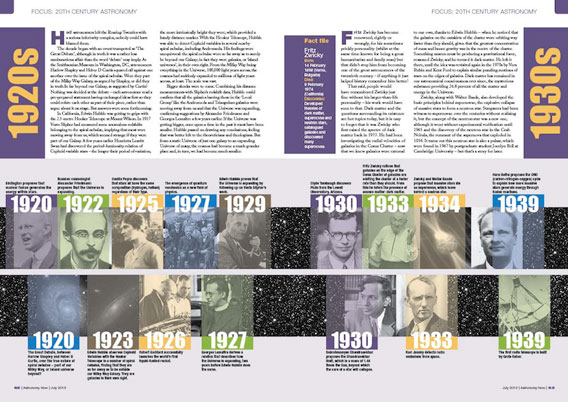 The Great Debate and Hubble's discovery of 'island universes' and the expansion of the cosmos.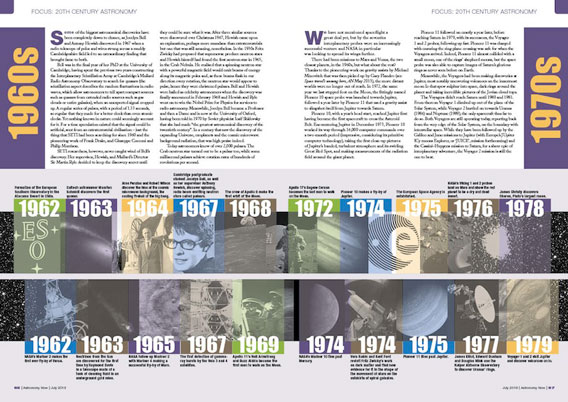 Jocelyn Bell found fame with her discovery of pulsars as a PhD student and the first human explorers step foot on the Moon.
Features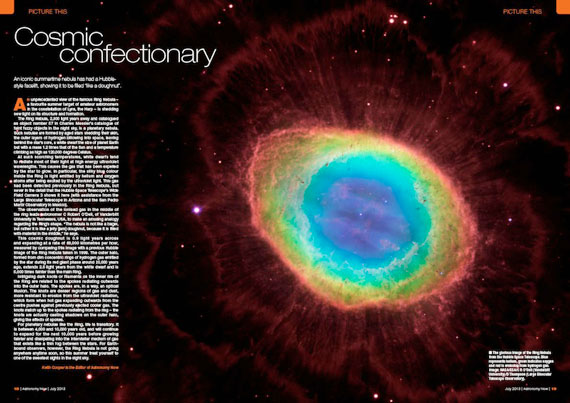 A superb new image from the European Southern Observatory of the famous Ring Nebula is teaching us about the inner workings of planetary nebulae.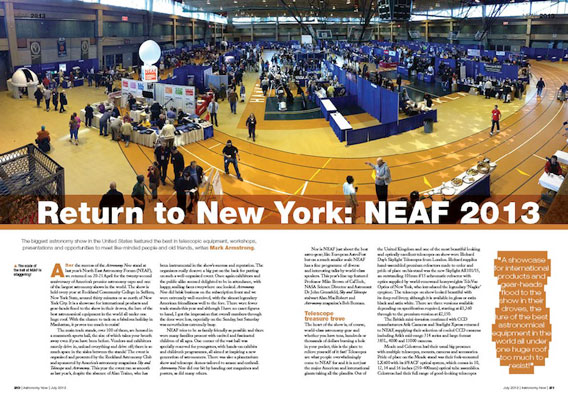 Mark Armstrong went to New York's North-East Astronomy Forum to rub shoulders with the latest telescopes and keen amateurs alike.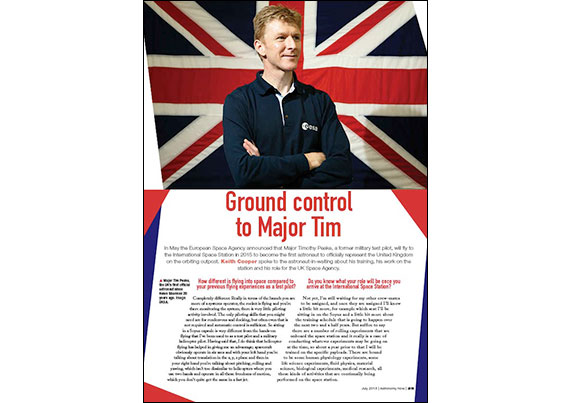 Our editor, Keith Cooper, speaks to Major Timothy Peake, the UK's first official astronaut, who is flying to the International Space Station in 2015.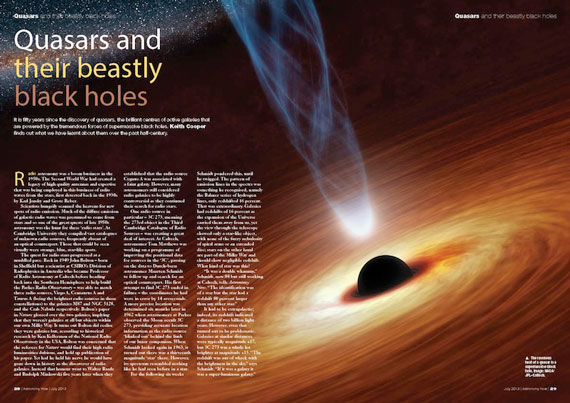 It is 50 years since the discovery of quasars and Keith Cooper sets about investigating what we have learned about them in that time, by speaking to the scientist that discovered them.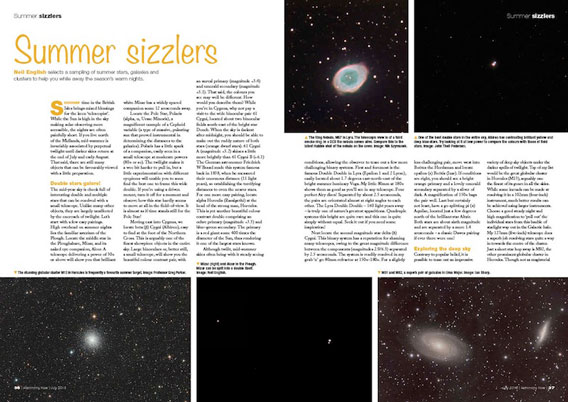 Neil English picks a selection of hot deep sky targets for observing on the warm nights of summer.

Regulars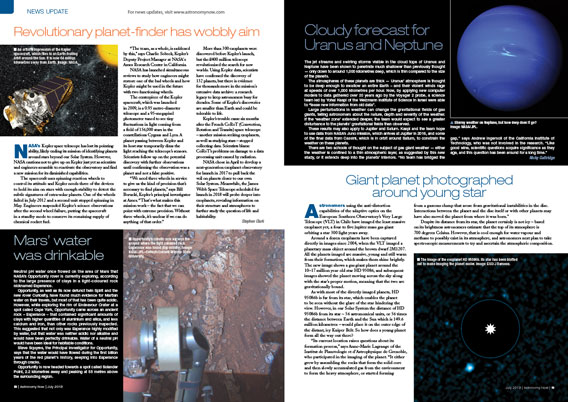 Making news this month: Kepler planet discovery is small 'Beer' • Revolutionary planet-finder has wobbly aim • Mars' water was drinkable • The Moon was born wet • The Sun's neighbourhood gets a lot bigger
In The Night Sky section this month: All the planets are visible to see - just - with Uranus, Venus and Saturn being the standouts. Plus, tour a multitude of planetary nebulae.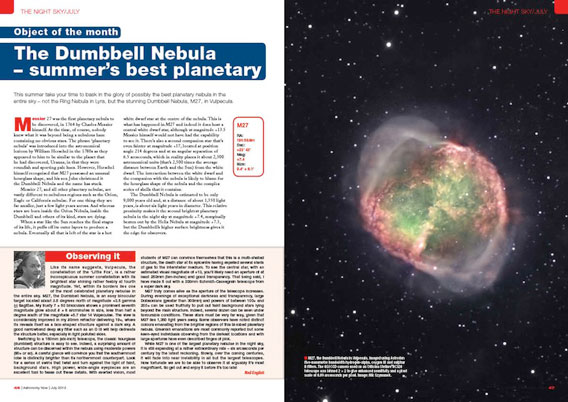 This summer take your time to bask in the glory of possibly the best planetary nebula in the entire sky, the stunning Dumbbell Nebula, M27, in Vulpecula.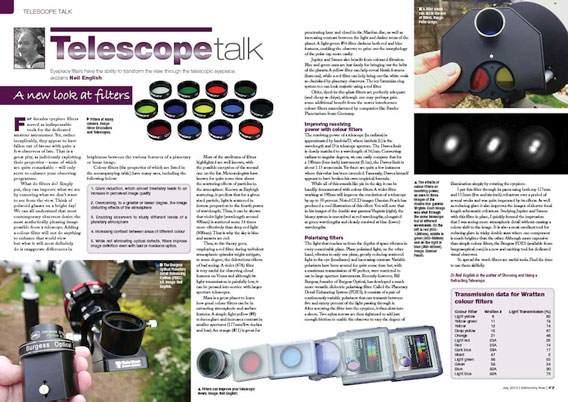 Eyepiece filters have the ability to transform the view through the telescopic eyepiece, explains Neil English.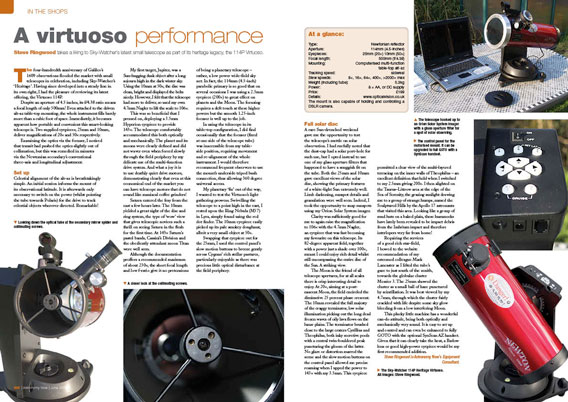 Steve Ringwood takes a liking to Sky-Watcher's latest small telescope as part of its heritage legacy, the 114P Virtuoso.
BUY ONLINE Free First Class delivery in the UK!
DOWNLOAD The iPad and iPhone edition