AstroFest on air!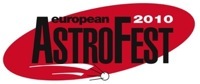 Listen to Richie Jarvis and Nick Howes talking about the treasures they found at the AstroFest 2010 exhibition as part of Under British Skies, the all new UK astronomy slot on Astronomy.FM.

Find out more about Astronomy.FM and listen to more great interviews at http://astronomy.fm/


HOME | NEWS ARCHIVE | MAGAZINE | SOLAR SYSTEM | SKY CHART | RESOURCES | STORE | SPACEFLIGHT NOW

© 2014 Pole Star Publications Ltd.