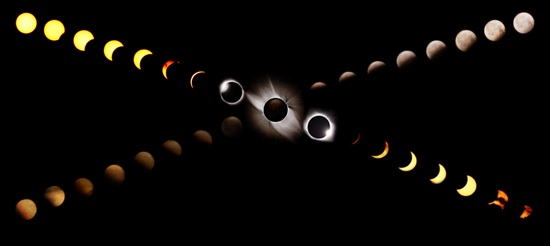 Mosaic of images from the total solar eclipse of 1 August and the partial lunar eclipse of 16 August. Image: Lynn van Rooijen, The Netherlands.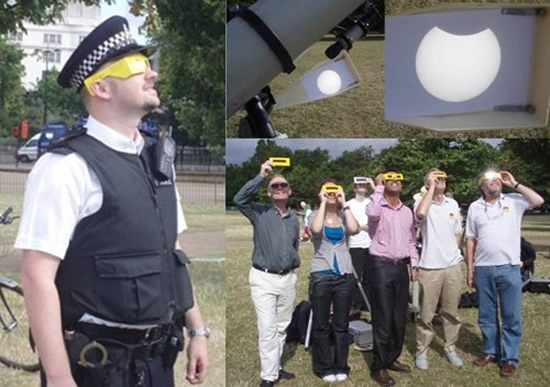 The partial solar eclipse event in Hyde Park, organised by the Society for Popular Astronomy, was a huge success, attracting keen amateurs, passers-by and even the local park police! Clockwise: A policeman stops to view the eclipse; first contact; the partial eclipse projected during maximum coverage; AN Website Editor joins other SPA members using solar eclipse glasses to witness the last moments of the partial eclipse. Images: Emily Baldwin.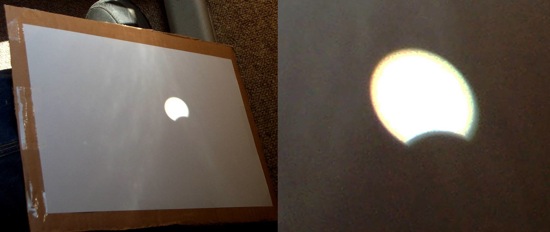 AN Assistant Editor Kulvinder Singh Chadha projected this view of the partial eclipse using a 7 x 18 Jessops monocular, as viewed from AN HQ. Images: Kulvinder Singh Chadha.
Image: Nik Szymanek.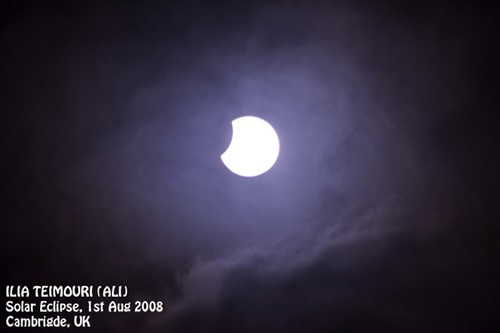 Image: Ilia Teimouri, Cambridge, UK.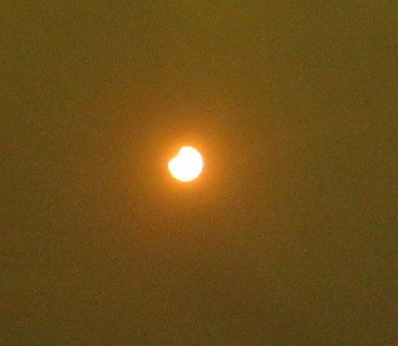 Image: Kaustav Bhattacharya took this image using a Canon digital point and shoot camera shielded by a standard pair of eclipse glasses. The photo was taken at close to maximum from London's Hyde Park.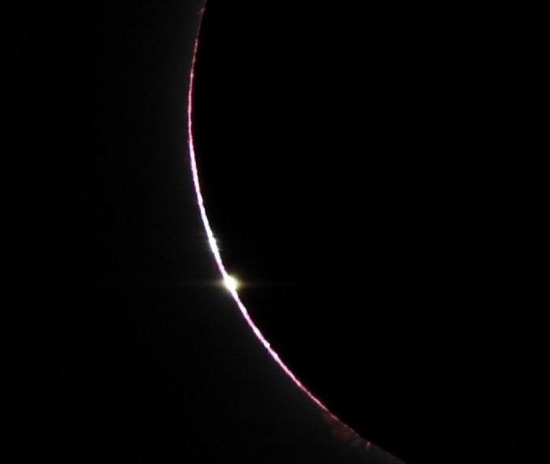 Our first image of the total eclipse, from George Pistikoudis in Greece, who travelled with a group of students and amateur astronomers to Siberia to experience totality. The image shown here was captured with a Celestron ED80 refractor (600mm, f/7.5) mounted on a EQ6 Pro mount, and a EOS 400D camera.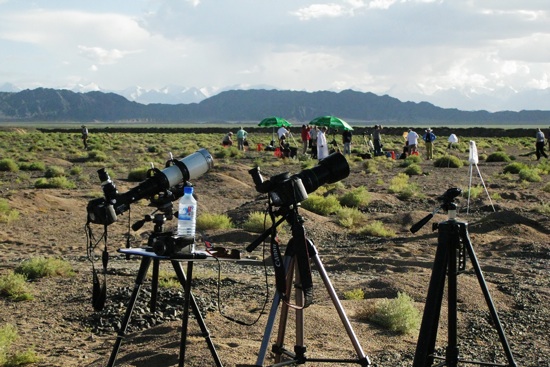 Lynn van Rooijen of the Netherlands viewed the total eclipse from the WeiXiZia viewing site near Yiwu, China (above). Most of the images shown below were taken with a Canon 20Da and 300 mm lens, ISO 200, f5.6. Image: Lynn van Rooijen.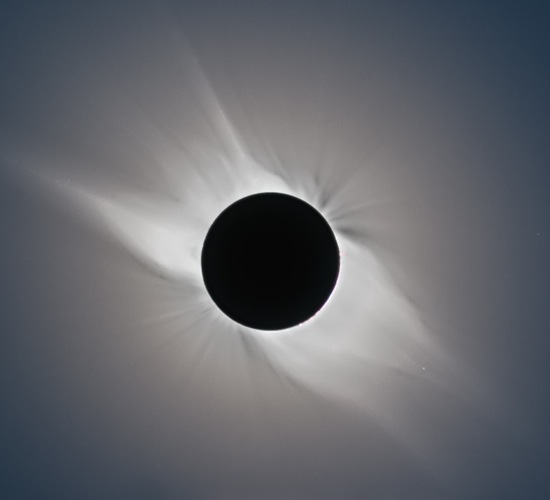 Composite stack of 12 photos from 1/1500 to 1 second (300 mm, ISO 200, f5.6), processed with Photoshop and deliberately not over-processed so that is really approximates what the eclipse looked like to the naked eye. Two stars are visible, to the bottom right and far right of the image, and identified by the observer using Starry Night Pro as Asellus Australis and HIP42970 respectively. Image: Lynn van Rooijen.

Series of images plotting the progression of the total eclipse, and highlighting a few problems with clouds that cleared only seconds before the first diamond ring, and returned soon after totality ended, blocking out the last phases before fourth contact. Image: Lynn van Rooijen.
Blended stack of three exposures between 1/500 and 1/1500 showing the Sun's atmosphere (chromosphere) and several prominences leaping out into space. Image: Lynn van Rooijen.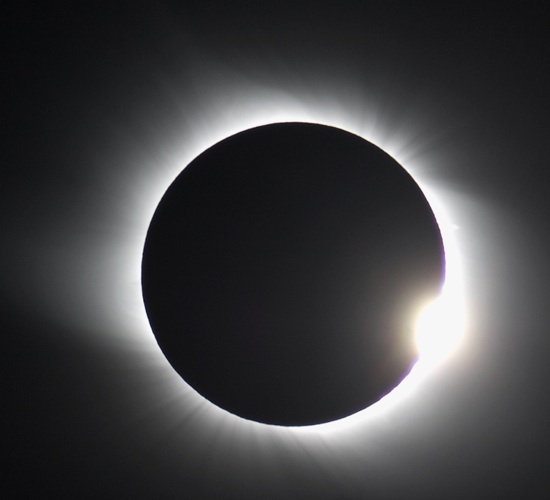 The beautiful diamond ring effect occurs as the last bead of sunlight shines through the rugged lunar topography before totality. This image was taken with a Canon 10D and Stellarvue 80 at 1/60, the only option after the observer discovered on site that the exposure wheel had broken. Image: Lynn van Rooijen.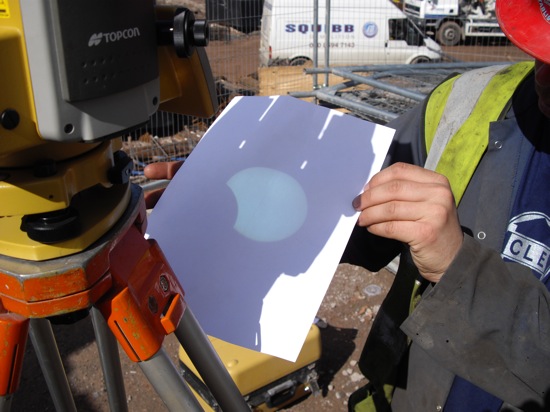 Image: Colin Rathbone.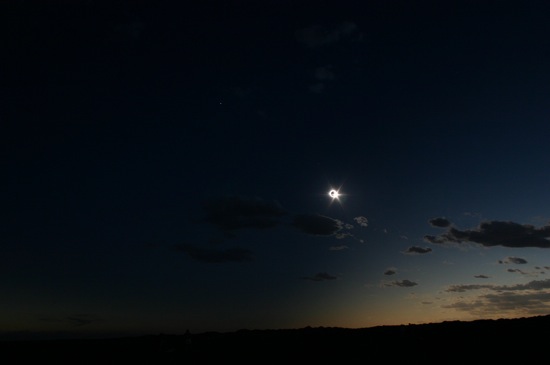 Image: Janet Young.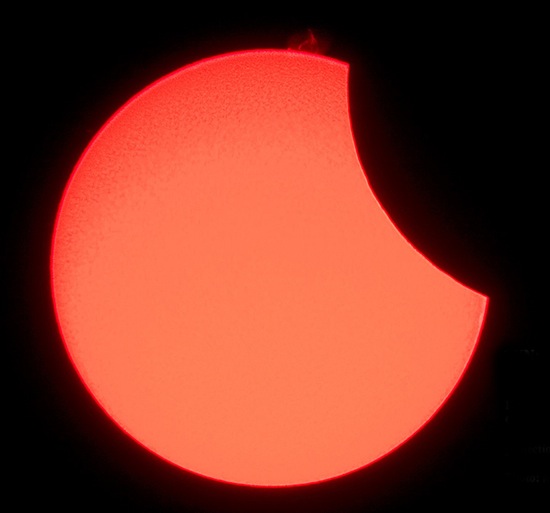 Image: Marc Delaney.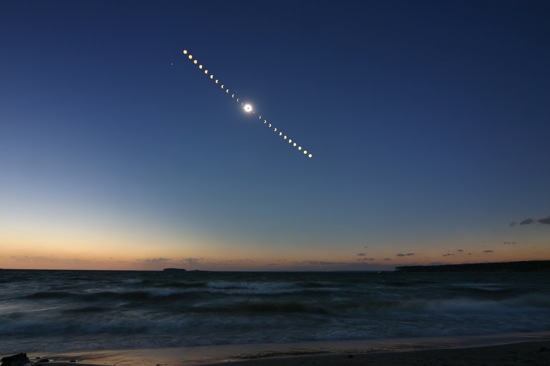 Image: Tunc Tezel.