Phobos up close
BY EMILY BALDWIN
ASTRONOMY NOW
Posted: April 15, 2008
The High Resolution Imaging Science Experiment (HiRISE) on board the Mars Reconnaissance Orbiter (MRO) has produced amazing new colour and stereo views of Phobos, the larger and innermost Martian satellite.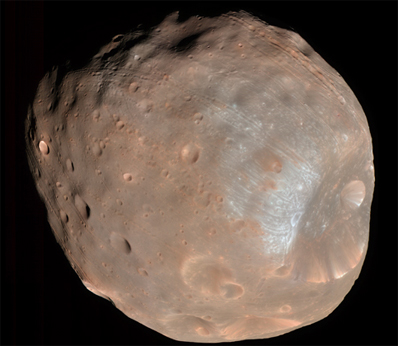 This image of Phobos was taken at a distance of 6,800 kilometres from the moon's surface, providing detail at a scale of 6.8 metres per pixel. Image: NASA/JPL/University of Arizona.
HiRISE acquired two dramatic images of Phobos on 23 March.
MRO was 6,800 kilometres away from Phobos when it took the first image, resolving surface features at a scale of 6.8 meters per pixel. Minutes later, and 1,000 kilometres closer, HiRISE took the second image, and the two images were combined to produce the stereo view.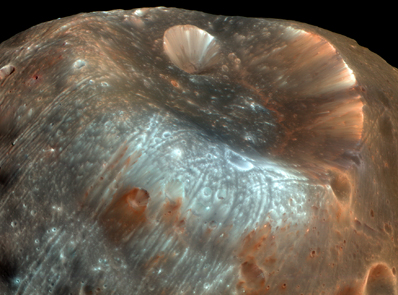 The most prominent feature on Phobos is the 9 kilometre wide Stickney crater. The lineated textures on the walls of Stickney and other large craters are landslides of material falling into the crater under the weak Phobos gravity, which is 1/1000th the gravity on Earth. Image: NASA/JPL/University of Arizona.
By combining information from the camera's blue-green, red and near-infrared colour channels, scientists confirmed that material around the rim of Phobos' largest surface feature, the 9 kilometre wide Stickney crater, appears bluer than the rest of Phobos, translating into a younger, fresher surface than other parts of the surface. The HiRISE images also show landslides along the walls of Stickney, and striking grooves and crater chains all across the surface.
Although other spacecraft, notably the Mars Global Surveyor, have taken higher resolution images, the HiRISE images are higher quality. "The new data is some of the best ever for Phobos," says HiRISE team member Nathan Bridges. "The new images will help constrain the origin and evolution of this moon."