Top Stories





Doomed planet may have been drenched in water

...A small exoplanet full of water may have been swallowed up by a dead white dwarf star, according to anomalous readings of hydrogen in the star's helium-rich atmosphere...

Comet crystals feel the heat

...The Spitzer Space Telescope has observed the infrared signature of tiny silicate crystals, commonly found in comets, being created around the young star EX Lupi...

Spirit struggles with soft soil

...NASA's Mars Exploration Rover Spirit is facing one of its biggest challenges yet with a patch of soft soil that is currently holding the rover hostage...



Spaceflight Now +





Subscribe to Spaceflight Now Plus for access to our extensive video collections!
How do I sign up?
Video archive

STS-120 day 2 highlights

Flight Day 2 of Discovery's mission focused on heat shield inspections. This movie shows the day's highlights.

Play

STS-120 day 1 highlights

The highlights from shuttle Discovery's launch day are packaged into this movie.

Play

STS-118: Highlights

The STS-118 crew, including Barbara Morgan, narrates its mission highlights film and answers questions in this post-flight presentation.

Full presentation
Mission film

STS-120: Rollout to pad

Space shuttle Discovery rolls out of the Vehicle Assembly Building and travels to launch pad 39A for its STS-120 mission.

Play

Dawn leaves Earth

NASA's Dawn space probe launches aboard a Delta 2-Heavy rocket from Cape Canaveral to explore two worlds in the asteroid belt.

Full coverage

Dawn: Launch preview

These briefings preview the launch and science objectives of NASA's Dawn asteroid orbiter.

Launch | Science

Become a subscriber
More video







First British astronaut announced by ESA
BY KEITH COOPER
ASTRONOMY NOW

Posted: 20 May, 2009
For the first time a Briton is officially among the cadre of astronauts following the latest round of recruitment by the European Space Agency. Timothy Peake, 37, a RAF helicopter test pilot from Wiltshire, has been selected along with the first female European astronaut, Italian Samantha Cristoforetti, plus four others, fellow Italian Luca Parmitano, Alexander Gerst from Germany, Thomas Pesquet from France and Andreas Mogensen from Denmark. They will now embark on three and a half years worth of training.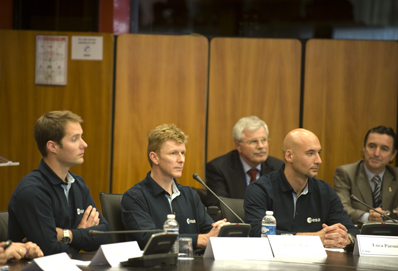 Three of ESA's new astronauts at the press conference in Paris today. From left to right: Thomas Pesquet, Timothy Peake and Luca Parmitano. Image: ESA.

The selection process began last year, with 8,413 applicants, 16 percent of which were women and 9.8 percent of the total applicants were from the United Kingdom. Peake becomes the UK's first official astronaut, after fellow Brits Michael Foale and Piers Sellers became nationalised in the United States to fly for NASA, and Helen Sharman was privately funded to fly to Mir.

"They all represent the generation that will move from low Earth orbit to the Moon," says ESA Director General Jean-Jacque Dordain of the new astronauts. "[We] required the recruitment of young talent able to draw on the experience gained by the existing astronauts, and able to become, step by step, the representatives of Europe in space who, together with their international colleagues, will live, work, explore and bring back to planet Earth and its citizens their unique experience, their accomplishments and their confidence in the future."

"This is a very important day for human spaceflight in Europe," adds ESA's Director of Human Spaceflight, Simonetta Di Pippo. "These young men and women are the next generation of European space explorers. They have a fantastic career ahead, which will put them right on top of one of the ultimate challenges of our time: going back to the Moon and beyond as part of the global exploration effort."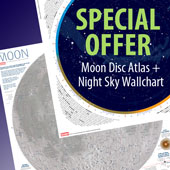 The Planets


From tiny Mercury to distant Neptune and Pluto, The Planets profiles each of the Solar System's members in depth, featuring the latest imagery from space missions. The tallest mountains, the deepest canyons, the strongest winds, raging atmospheric storms, terrain studded with craters and vast worlds of ice are just some of the sights you'll see on this 100-page tour of the planets.


GET YOUR COPY


Hubble Reborn


Hubble Reborn takes the reader on a journey through the Universe with spectacular full-colour pictures of galaxies, nebulae, planets and stars as seen through Hubble's eyes, along the way telling the dramatic story of the space telescope, including interviews with key scientists and astronauts.


GET YOUR COPY


3D Universe


Witness the most awesome sights of the Universe as they were meant to be seen in this 100-page extravaganza of planets, galaxies and star-scapes, all in 3D!


GET YOUR COPY