Top Stories





Rogue black holes skulk Milky Way perimeter

...Hundreds of rogue black holes left over from the galaxy building days of the early Universe could be wandering loose in the Milky Way...

Postcards from MESSENGER

...A previously unknown 690 kilometre wide impact basin and evidence that Mercury's atmosphere and the interaction of its magnetic field with the solar wind are more active than previously thought are the latest offerings from NASA's MESSENGER mission...

Fermi explores high energy "space invaders"

...New details of high energy particles detected by NASA's Fermi Gamma-ray Space Telescope were at the American Physical Society meeting held...



Spaceflight Now +





Subscribe to Spaceflight Now Plus for access to our extensive video collections!
How do I sign up?
Video archive

STS-120 day 2 highlights

Flight Day 2 of Discovery's mission focused on heat shield inspections. This movie shows the day's highlights.

Play

STS-120 day 1 highlights

The highlights from shuttle Discovery's launch day are packaged into this movie.

Play

STS-118: Highlights

The STS-118 crew, including Barbara Morgan, narrates its mission highlights film and answers questions in this post-flight presentation.

Full presentation
Mission film

STS-120: Rollout to pad

Space shuttle Discovery rolls out of the Vehicle Assembly Building and travels to launch pad 39A for its STS-120 mission.

Play

Dawn leaves Earth

NASA's Dawn space probe launches aboard a Delta 2-Heavy rocket from Cape Canaveral to explore two worlds in the asteroid belt.

Full coverage

Dawn: Launch preview

These briefings preview the launch and science objectives of NASA's Dawn asteroid orbiter.

Launch | Science

Become a subscriber
More video







Venetia Phair,
11 July 1918 – 30 April 2009
BY KEITH COOPER
ASTRONOMY NOW

Posted: 11 May, 2009
The little girl who named the Pluto in 1930, Venetia Phair (nee Burney), died on 30 April at the age of 90.

Venetia's story began shortly after Clyde Tombaugh, a young astronomer at Lowell Observatory in Arizona, discovered the tiny speck of light that was Pluto. On 14 March 1930, the day after Tombaugh's discovery, Venetia was sat at breakfast at her grandfather Falconer Medan's house. Falconer was the retired head of the famous Bodleian Library at the University of Oxford, and knew many important people in the world of academia. Her father had died when she was very young, and she spent much of her time with her grandfather. He showed young Venetia, who was 11 at the time, a story in the newspaper about Tombaugh's discovery, and she immediately suggested that Pluto – the Roman god of the underworld – would be a good name for this new and distant planet.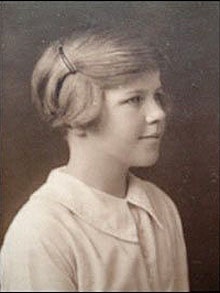 Venetia Phair named Pluto when she was just 11 years old.
Falconer, whose own brother Henry had once proposed the names Phobos and Deimos for Mars' two moons, thought it was the perfect name, and set about contacting the former Astronomer Royal, Herbert Hall Turner, who immediately sent a telegram to Lowell Observatory with Venetia's suggestion. A doctor from Cambridge University, Archibald Garrod, had also suggested the name Pluto, but according to Turner, "I have told Sir Archibald that he is just a week behind a 'small girl', whose identity I will reveal if the name is adopted." The name 'Pluto' was officially announced on 1 May 1930, a few months before the Disney cartoon character of the same name made its debut.
Venetia married Maxwell Phair in 1947, whom she had a son with. Venetia has had an asteroid named after her, (6235) Burney, as well as a student-built scientific instrument on NASA's New Horizons space probe currently winging its way to Pluto, and in 2007 she finally got to see Pluto for the first time through a telescope at Hertsmonceux Observatory.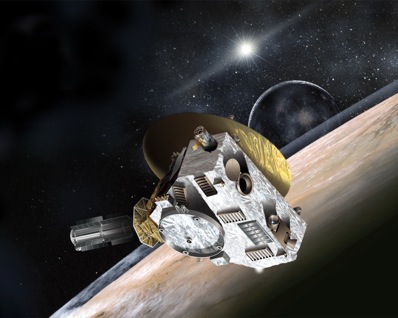 NASA's New Horizons probe will reach Pluto in 2015. Image: NASA.
To celebrate the life of Venetia Phair, we have a copy of the DVD Naming Pluto, produced by Father Films, up for grabs. Naming Pluto chronicles the story of how Venetia came to name Pluto, and how she first came to see the planet through a telescope. Featuring interviews with Venetia, Sir Patrick Moore and Dr Allan Chapman, Naming Pluto is a wonderful viewing experience. To stand a chance of winning a copy, plus a Naming Pluto poster, answer this simple question:
Who discovered Pluto in 1930?
Email your answers with your name and address to pluto2009<at>astronomynow.com with Pluto DVD Competition as the subject title. The closing date is Friday 12 June, and the first correct answer out of the hat wins the DVD and poster. Just one entry per person please, and the editor's decision is final. We'll announce the winner on astronomynow.com. Good luck!